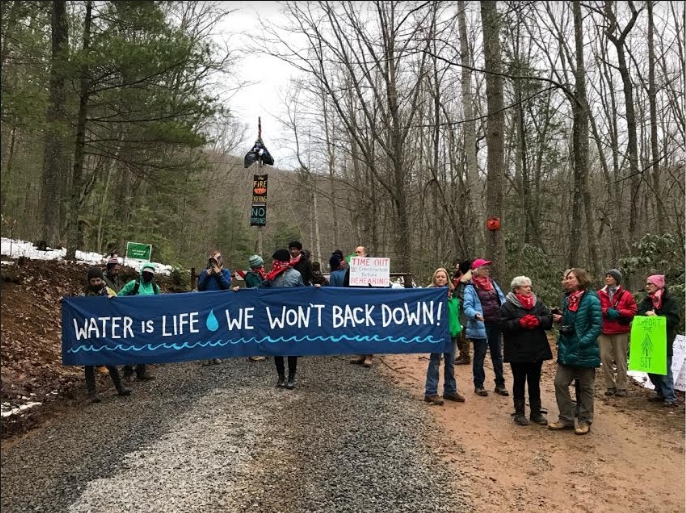 The following is from Appalachians Against Pipelines. Still waiting for some comment, or better yet action, from Gov. Northam. 
Protesters Block Mountain Valley Pipeline Access Road
[Giles County, VA] Earlier this morning, anti-pipeline activists erected an aerial blockade across an access road in the Jefferson National Forest. The blockade prevents state vehicles and Mountain Valley Pipeline (MVP) personnel from accessing the two tree sits on Peters Mountain, and halts the daily construction of a 7-mile road leading to the site of the company's planned boring through Peters Mountain. One pipeline fighter sits atop a lone 50-foot log attached to nearby trees with a banner that reads, "The Fire is Catching, NO PIPELINES." A rally of dozens of supporters has already gathered at the blockade. The tree sits, which have now been occupied for 30 days, are currently preventing MVP's tree clearing operation near the pipeline's planned crossing of the Appalachian National Scenic Trail. Mountain Valley has only three more days to fell trees before a federally mandated March 31st deadline to protect endangered species imposes a long delay. The pipeline fighter in today's action hopes to inspire others to take action to prevent construction of the pipeline.
"As I remember the local support the tree sits have received, and all the people already standing up against the destruction of their land and water along the MVP and ACP routes, I know we can be a strong force for a world without these pipelines. The flames of resistance are catching and they will spread," said the pipeline fighter.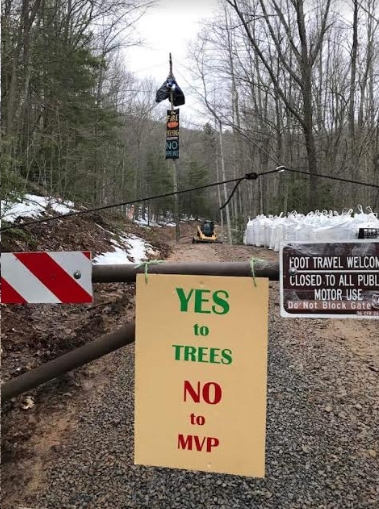 The ongoing tree sits have enjoyed strong support from local residents in both Virginia and West Virginia, many of whom have opposed MVP's plans to build a 300 mile, 42-inch high pressure natural gas pipeline through their communities. In Monroe County, West Virginia, almost half of landowners refused to sell easements to MVP and had their land taken by eminent domain. Local supporters have made regularly deliveries of food and thank-you notes to the tree sitters. Last Thursday, 20 concerned citizens spontaneously gathered near the site of today's action when word spread that the Forest Service might attempt to remove the sitters.
"Ordinary citizens, who for decades have sounded the alarm on threats to water, health, and individual rights from resource extraction, might finally be heard as a result of [these actions]. By showing up to bear witness to the power of direct action non-violence in the face of chainsaws, the people might bring an end to fossil fuel sacrifice zones in Appalachia and around the globe," said Russell Chisholm of Newport, VA who has helped rally community support for the tree sitters.
This new blockade follows the expiration of the Temporary Restraining Order against alleged tree sitters and Judge Irons of West Virginia's March 22 decision denying MVP's request for an injunction. However, the Forest Service's order closing the access road and a 400 foot corridor along the pipeline's 3.5 mile route through the National Forest remains in place.