While Lt.Gov. Justin Fairfax spoke forcefully about drawing "The Virginia State Line" against the swamp that is Team Trump, many things are happening in Washington, DC, that Virginia and Virginia cities and counties should emulate. These include strengthening building codes for greater energy efficiency, sustainability, and livability; programs for cleaning up the electricity sourcing; and steps to make the urban environment quieter and cleaner with more effective public transit.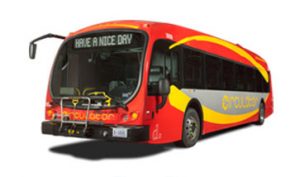 As to the last, tomorrow, 14 Proterra all-electric buses will start operations in the Circulator system along six routes.  Moving to electric buses is a smart move, with a rich spectrum of benefits. These buses will, according to the announcement,
Displace 88,900 gallons of diesel per year
Eliminate more than 243,980 lbs of CO2 emissions annually
Provide cost savings of more than $6 million during a 12 year lifetime.
Reduce noise pollution throughout the District
In terms of that cost savings, this is both due to using electricity rather than diesel (perhaps a savings of 50 percent on fuel costs — but not sure of exact figures) and due to (greatly) reduced maintenance costs (electric engines don't have the moving parts and other problematic maintenance issues of internal combustion engines.
Not mentioned there:
Diesel pollution has serious health impacts within cities — going electric eliminates that pollution load from these buses.
Every diesel bus replaced by electric means that less much mediocre/horrible odor.
Can, as what are called "V2G" (vehicle-to-grid) systems come into more common use, provide grid services when not operating to improve electrical system performance while earning revenue for the Circulator system.
Electric vehicles have higher performance — in terms of braking and acceleration — which could help improve bus service (on time and such) and potentially improve safety.
Electric buses provide, well, simply a far more comfortable passenger experience and could well lead to boosting use of public transit.
Truly, electric buses are a very smart (major) first step for electrification of road transit (the top candidate for electrification: railroads) with tremendous benefits for the urban environment.
Thus, kudos to the District of Columbia government for moving forward to making electric buses part of the DC transit solution. And, a plea to Virginia jurisdictions to follow DC's lead.
NOTE: While cheering for DC's 14 electric buses, keep in mind the reality of what is going on in the world. As U.S. cities dip their toes into the electric bus market, the Chinese are moving at a blistering pace.  From nearly none at the beginning of the decade, there are over 380,000 in Chinese cities today.  Shenzen provides a stunning example.
The rapidly growing megacity of Shenzhen, China, was choked with diesel pollution in the early 2010s. Though buses were just 0.5 percent of the city's vehicles, they were responsible for 20 percent of the air pollution. So, Shenzhen electrified them. All 16,359 of them. It took only a few short years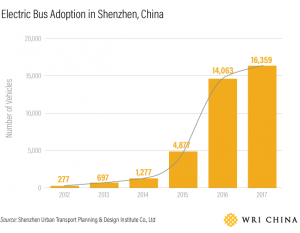 As the World Resources Institute reporting emphasized
The city's buses are the world's first 100 percent electrified bus fleet, and its largest—bigger than New York's, Los Angeles's, New Jersey's, Chicago's and Toronto's electric bus fleets combined.
Note 2: James Ayre, on Clean Technica, notes the visibility aspect of the Circulator:
Given that the Washington DC Circulator System provides over 5 million trips a year to visitors and inhabitants of the region, and that such trips cost only $1 a piece, the new deployment should expose quite a few people to their first all-electric bus rides. Perhaps the quiet ride will stand out to those who do, and spur them to take a closer look at consumer electric vehicles?
Perhaps some Virginia political leaders and planners could take a road to DC and the taxpayers splurge $1 on each one for  an electric bus test ride.
Note 3: For an excellent discussion of the DC Circulator and the e-buses role in it, see August 2017 Greater Greater Washington DC rolls out new Circulator buses in hopes of improving reliability.
NOTE 4/UPDATE: If you wish to learn more, Bloomberg recently issued a report on electric buses in urban areas.
Link to our full report on e-buses in partnership with C40 here if anybody wants to know more about TCO, charging configurations etc: https://t.co/gTLR9M8bWu

— Colin Mckerracher (@colinmckerrache) April 29, 2018