Advertisement

Recently, Gov. Ralph Northam vetoed a ridiculous Republican bill that would have "prohibit[ed] the Governor or any state agency from adopting any regulation establishing a carbon dioxide cap-and-trade program or bringing about the participation by the Commonwealth in a regional market for the trading of carbon dioxide allowances." That was the right move by Gov. Northam, as joining the Regional Greenhouse Gas Initiative (RGGI) makes a great deal of economic and environmental sense for Virginia. Note that some of the strongest environmental groups in Virginia, such as the Chesapeake Climate Action Network (CCAN) and the Virginia Sierra Club, support joining RGGI. The president of CCAN, Mike Tidwell, sent me the following statement explaining why:
"Joining the Regional Greenhouse Gas Initiative is a win-win for Virginia. From Maine to Maryland, this program has already been proven to cut dangerous greenhouse gas pollution while creating billions of dollars in funding to implement climate solutions. By joining RGGI, Virginia would receive up to $200 million annually which could be reinvested in flooding relief across the state, clean energy businesses, and economic development for residents of southwest Virginia.

"Capping carbon pollution from power plants in Virginia will lead to less coal and gas combustion while incentivizing wind and solar. So joining RGGI will mean LESS natural gas use in the state over time and MORE carbon-free energy that protects the climate, our water, and vulnerable communities."
Still not convinced? Then check out the study released today by the Analysis Group ("one of the largest economics consulting firms, with more than 850 professionals across 14 offices in North America, Europe, and Asia"), which finds that joining RGGI is basically a no-brainer for Virginia. Among other benefits, the study finds:
"The RGGI region gains 

$1.4 billion

 in net economic value – or 

$34

 in value added per capita – from the program's implementation during the 2015-2017 period"
"RGGI is boosting employment across the region and in each state, supporting over 14,500 new job-years."
"Over the past three years, RGGI has helped to lower the total amount of dollars member states send outside their region in the form of payments for fossil fuels by over 

$1 billion

."
"Energy consumers overall – households, businesses, government users, and others – enjoy a net gain of over 

$220 million

, as their overall energy bills drop over time."
Also worth noting from the report (click here):
"Since 2009, the RGGI states have received virtually all of the nearly $2.8 billion in proceeds from CO2-allowance auctions and disbursed them back into the economy in various ways, including through expenditures on: energy efficiency ("EE") measures and programs; renewable energy ("RE") projects; GHG-emission reduction measures; direct electricity consumer bill assistance, including for low-income households; and education and job training programs."
Check out the two graphics below, which are very impressive re: CO2 emissions reductions and positive net economic impact in the RGGI states.
Not surprisingly, putting a price on carbon pollution results in "Carbon-emitting power plant owners generally los[ing] revenue ($940 million), while owners of nuclear and renewable resources gain[ing] ($590 million). "
In sum, as InsideClimate News reports, the "3-year review found $1.4 billion in economic benefits across the 9 RGGI states, no harm to electric grid reliability, and long-term benefits for residents."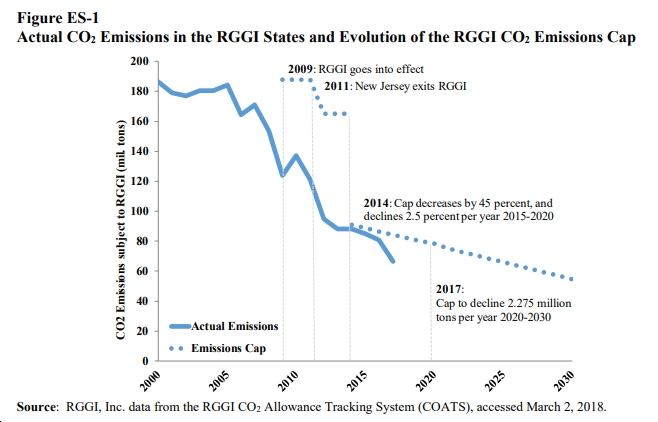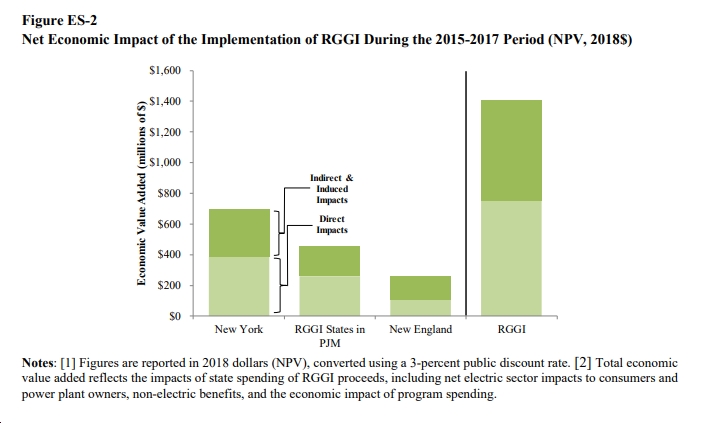 So what's the serious argument, if any, against Virginia joining RGGI? To date, it's mostly been fossil-fuel/Dominion-friendly Republicans leading the charge against doing so, which kind of tells you everything you need to know…
There's no paywall on Blue Virginia, and we definitely want to keep it that way! If you want to help support our work, you can donate here - thanks!
Also, you can
sign up for our weekly email list here
.