Advertisement

Remember how the Washington Post's Virginia editorial crew (Lee Hockstader et al) endorsed Barbara Comstock over Democrat LuAnn Bennett in VA-10 in October 2016? Remember how they wrote, "our endorsement is a calculated hope that after wrapping herself in a bipartisan banner, her actions will match her rhetoric" and how "she might bolster a conservative core of sane House Republicans who could face down the party's ascendant dead-enders?" I know, it's completely laughable, but they actually did spew this drivel.
So how did the (Com)Post's idiocy work out? Well, for starters, Comstock has voted 97.2% of the time with Donald Trump, which by the way is an enormous 53 (!) points higher than what her score SHOULD be, based on the district she represents. Wow. Second, check out one of the pages from Comstock's four-page mailer she just sent out, bragging about her "A" rating from the NRA; her support from the extreme, anti-reproductive-freedom Susan B. Anthony List; and also her explicit endorsement of Trump's Border Wall. So yeah, the (Com)Post's endorsement "reasoning" was brain dead at the time, and even more so now that we see how she's behaved under a Trump presidency. Fortunately, this coming November, we can ditch the "sane House Republicans" theory and elect a Democrat in VA-10. No matter who Lee Hockstader and company endorse.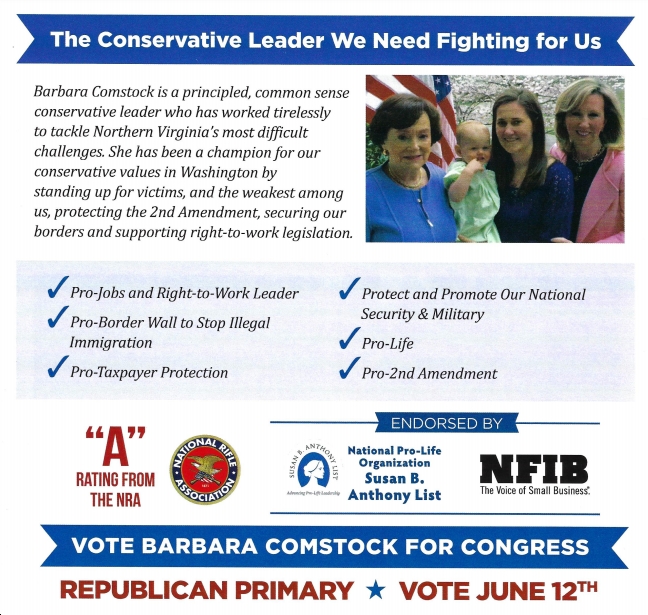 There's no paywall on Blue Virginia, and we definitely want to keep it that way! If you want to help support our work, you can donate here - thanks!
Also, you can
sign up for our weekly email list here
.