Over the past few days, VA-10 Democratic candidate Dan Helmer has been raking in media attention for his ad "comparing" how dangerous Donald Trump is for our democracy to Osama bin Laden. This morning, Helmer appeared on Fox & Friends (see video below) to argue with the right-wing host about the ad. So far, the coverage I've seen in progressive outlets has been positive: Raw Story writes that Helmer ate the Fox host's lunch, while Crooks and Liars wrote that "Fox News host Pete Hegseth on Sunday came out on the losing side of an interview with Virginia candidate for U.S. House Dan Helmer (D)."
The question is, how much earned media attention overall is this…well, earning for Helmer (and how much is it worth in $$$ and votes), at least so far? It's hard to know for sure, but one tool we can use to try and focus in on how much people are searching for the various VA-10 Democratic candidates, including Helmer, is Google Trends. So I did a few Google Trends analyses, and here's what I found. [Also note: I'd argue that earned media is much more valuable than paid TV ads, which I believe are not seen as "authentic" by a lot of people, especially compared to earned media]
First, here's a broad view, looking at the United States as a whole for the leading Democratic candidates in VA-10 going back to 9/1/17. Note that there are several Google Trends spikes for Helmer, including a big one around his "Helmer Zone" video back in mid-September 2017, an ad that was widely panned as possibly "The Most Painfully Awkward Campaign Ad Ever Made"; also a lesser one around his gun show video on April 30, 2018; and now another big one related to his ad "comparing" how dangerous Donald Trump is for our democracy to Osama bin Laden. I don't really see any particular spikes for any other candidates, although Alison Friedman's paid-TV deluge (note that she gave herself $1 million on April 19) seems to be resulting in a Google Trends "bump" for her. But yeah, this bin Laden brouhaha definitely appears to be spiking Google Trends for Helmer.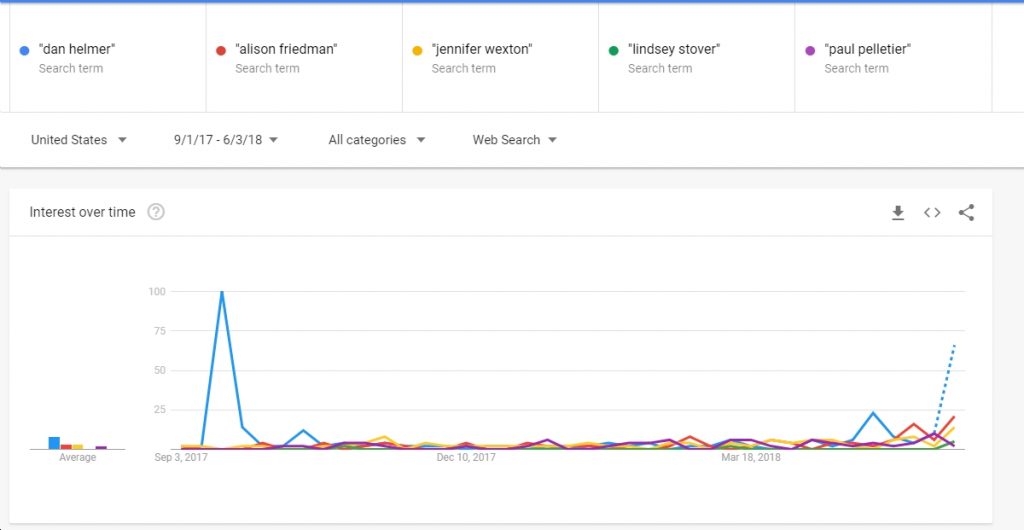 Now, let's focus in on just the past 7 days. This time, it looks like Helmer is the only VA-10 Democratic candidate spiking in Google Trends, with everyone else faaar behind.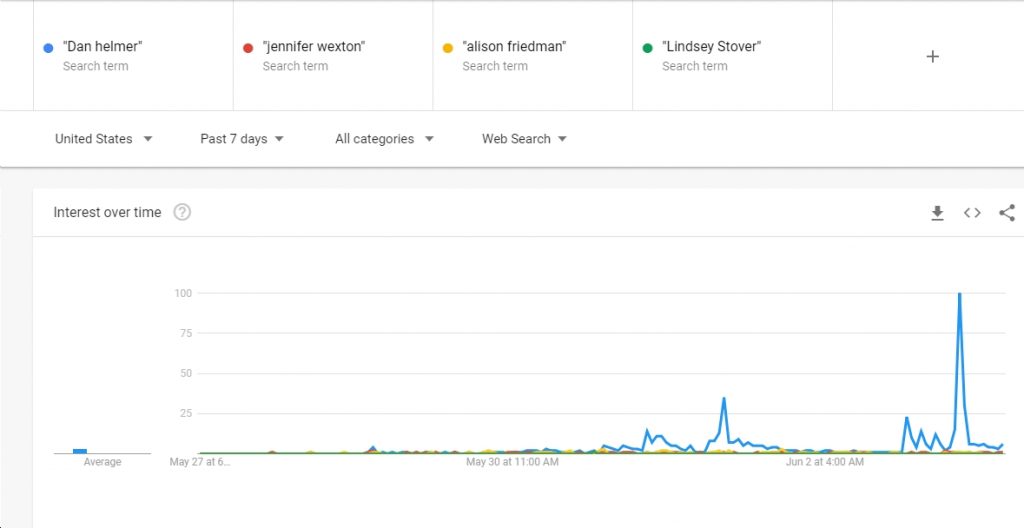 And now here's a narrower geographic focus, on Virginia only. This one also shows Helmer spiking way above the others, but also shows some "bumps" for Friedman and Wexton, presumably due to their broadcast TV (and other) advertising.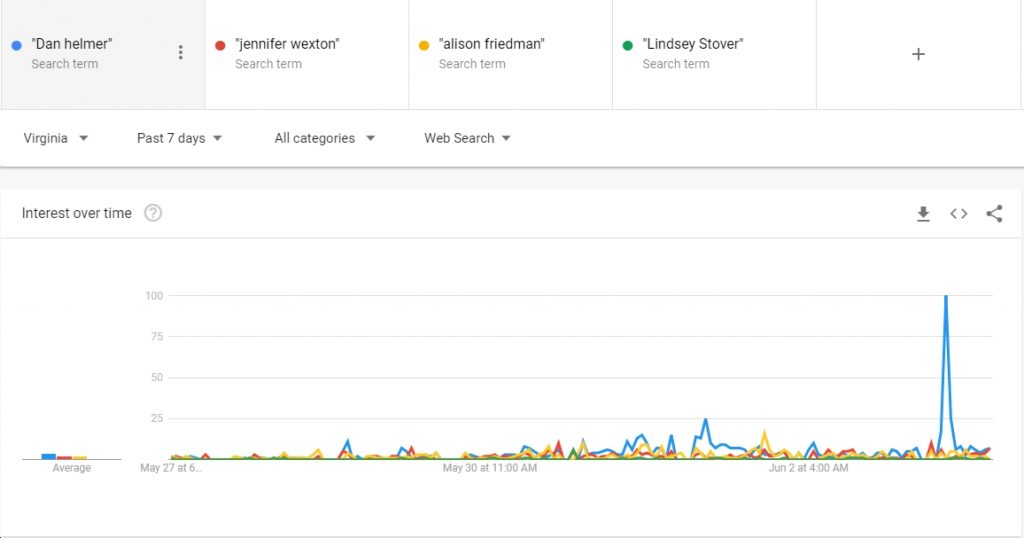 Last but not least, I used Google Trends' regional analysis to try and zoom in even closer to VA-10 itself – the metro DC parts of Virginia. Again, you can see the Helmer spike, as well as the bumps for Friedman and Wexton – presumably due to their broadcast TV advertising.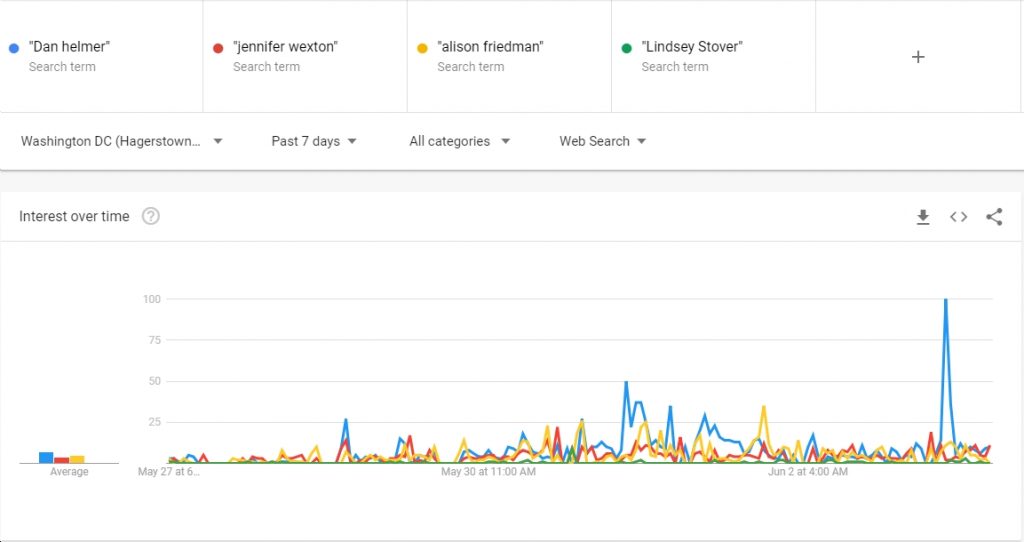 The bottom line is that Dan Helmer does appear to have gotten the most search attention, per Google Trends, during this campaign, with at least three significant "spikes" vs. none for the other candidates. How much might those spikes help him, for instance translating into votes that might help boost him on June 12? That's the real question, and I simply don't know the answer.
Regarding the "Helmer Zone" video, that one certainly got him attention, but mostly negative as far as I can tell. Of course, the old Hollywood saying about how "there's no such thing as bad publicity" springs to mind here. As for the gun show video, that one would seem to me like more of a potential positive for Helmer, since it's an issue that Democratic voters care intensely about. And finally, on the Trump/bin Laden ad brouhaha, I'm not sure what the net impact might be, but I do believe that getting into a fight with the far right – Fox and "friends," in all senses of the word – can only help a Democratic primary candidate nine days out from the election. What do you think?
P.S. I should add that there's no way to know from these Google Trends analyses WHO exactly is searching for Dan Helmer or the other candidates. For instance, is it mostly Democrats? Is it Fox-viewing right wingers in this case? A mix? If so, what's the mix?