by Guy Potucek, Indivisible VA10
According to Absentee Ballot Statistics reported by the Virginia Board of Elections and by VPAP, Democrats are more motivated than Republicans to participate in the 2018 election cycle.  Data reported 6/7/2018 show Democrats have returned 6.4% more absentee ballots than Republicans across the state, even including Congressional Districts in which there is no Democratic Primary (CD 3, 4, 5, 8, and 11). If you count only the Congressional districts that have Democratic primaries, the Democratic advantage grows to almost 24%.
Also worth pointing out is that the Republicans have a statewide primary to select their candidate to run against Senator Tim Kaine in November, while the Democrats have no U.S. Senate primary. The Democratic Party has House of Representatives primaries in CD1, CD2, CD6, CD7, CD9 and CD10.  Not surprisingly, the districts with the highest number of Democratic Absentee Ballots are the hotly contested CD10, CD7, and CD2.  CD10 is considered a toss-up district this November by the Cook Political Report, while CD7 and CD2 are both considered "flippable" districts.  Note that both Democrats and Republicans used alternatives to a state-run primary to select their nominees in CD5.
With that, here's the data.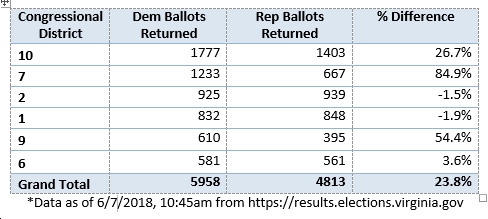 Meanwhile, in the 2017 Virginia elections and now across the country, we've seen that women are leading the charge for the Democratic Party and the "Blue Wave." See below for statistics on absentee ballots for Virginia's June 2018 primary by gender; they show 60% of absentee ballots submitted by women so far going to Democrats, with 60% of Democratic ballots cast by women.

This weekend will be a big Get Out The Vote (GOTV) event for all of the campaigns leading into the June 12th primary.  Please volunteer for your candidate of choice so we can put up huge turnout numbers. A big turnout for the primary will help carry forward into the general election. Voters will be invested, and the turnout data will inform the candidates in the general on where they need to focus their attention. Thanks.