Advertisement

There have been a ton of articles recently about how Atlantic seaboard states are racing ahead when it comes to developing the massive offshore wind resources off their east coasts. For instance, today's Wall Street Journal has a story about how "New York, Massachusetts and others want to become the wind hub as industry eyes U.S. Atlantic coast." Here's an excerpt (bolding added by me for emphasis):
All along the East Coast, politicians and economic development officials are beginning to pitch their communities as potential hubs for the burgeoning U.S. offshore wind industry. Offshore wind developers, which have largely focused on coastal Europe thus far, have plans to build a dozen utility-scale farms off the U.S. side of the Atlantic in coming years, spurring billions in investment and thousands of jobs.

The competition has ratcheted up this year, with leaders in some states, including New York and New Jersey, pushing aggressive wind-energy procurement goals and pledging financial support to develop the necessary infrastructure and workforce.
"Every state is going to be in this for themselves," said Dan Shreve, director at Wood Mackenzie Power and Renewables, which forecasts the U.S. will have offshore wind farms capable of generating nearly 6 gigawatts by the end of 2027. "The need to achieve first mover advantage is significant."
Note that last sentence, about how it's crucial to "achieve first mover advantage," and how many states – but NOT Virginia, sad to say – understand this fact and are racing ahead to develop their offshore wind power resources.
How much offshore wind power potential are we talking about? Here in Virginia, a report earlier this year by Environment America found that Virginia's offshore wind power potential is 1.4 times our current power consumption, and nearly enough to power the state even if we electrify transportation and heating! As for the other Atlantic Coast states, see below for some graphics from Environment America that show how huge a resource we're talking about.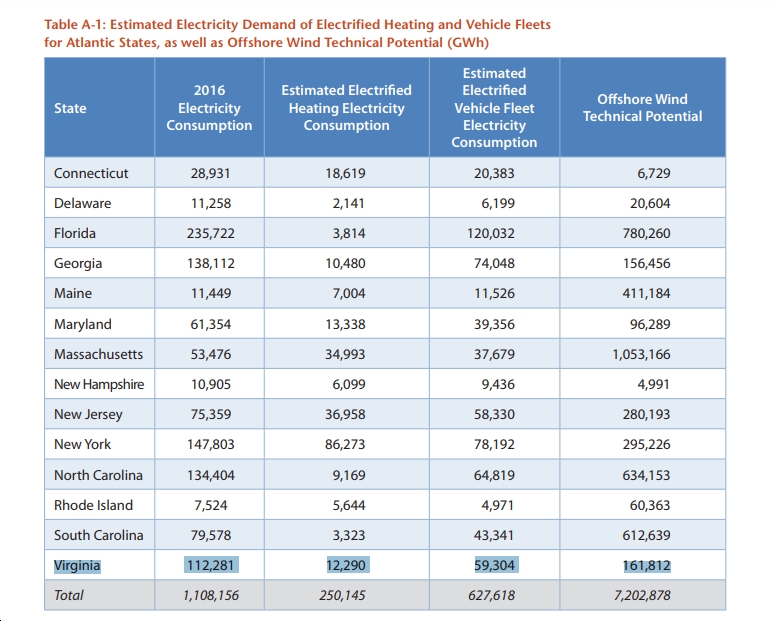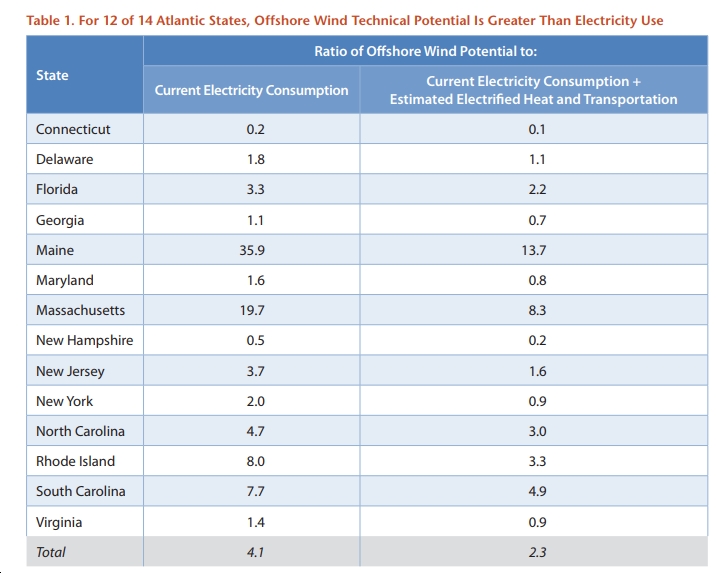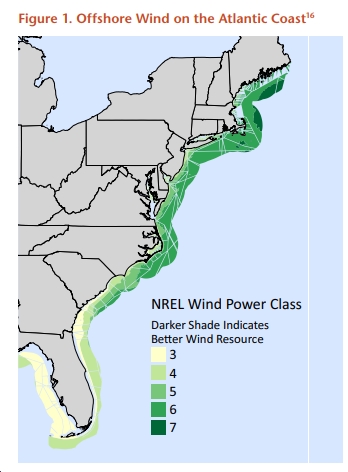 Given all this, it's clear that we need to scale up Virginia's offshore wind industry as rapidly as possible, which among other things will drive costs down. So what on earth are we waiting for? In large part, I think we need to look at the perverse, warped incentive structure faced by Dominion Energy – plus, of course, the company's corrupting influence and really bad attitude in general. We also need to point our fingers at the politicians in Richmond who do Dominion's bidding instead of doing what's right for the people of Virginia, for our economy, and of course for the environment we all share. Fortunately, the offshore wind industry along the Atlantic coast is starting to gain momentum. Unfortunately, here in Virginia, there remain unnecessary "headwinds" that are slowing that momentum to a crawl, instead of the sprint we need it to be. That needs to change – ASAP!
P.S. Also see this op-ed in the Virginian-Pilot by Eileen Woll, which writes that "Dominion CEO Tom Farrell has never made a public commitment to developing the commercial [offshore wind] area, and its 2,000 megawatts remains missing from Dominion's Integrated Resource Plan." Woll adds that "master plans adopted by other East Coast governors have inspired port investments that will net their states tens of thousands of jobs, and deliver thousands of megawatts of clean energy to power their electric grids," and that "[w]hile Dominion still dominates energy policy in Virginia, strong leadership from Northam can make it impossible for Dominion to continue its noncommittal, slow-walk on developing offshore wind."
There's no paywall on Blue Virginia, and we definitely want to keep it that way! If you want to help support our work, you can donate here - thanks!
Also, you can
sign up for our weekly email list here
.