If you somehow missed this story, in short what happened was that "Abigail Spanberger, the Democratic candidate challenging Representative Dave Brat of Virginia, sent a cease-and-desist letter to Corry Bliss, the executive director of the Congressional Leadership Fund, which has raised more than $100 million to help Republicans in the midterm elections" after said PAC obtained Spanberger's security clearance application, apparently "through a Freedom of Information Act request filed with the United States Postal Service."
As Spanberger's statement explained, the SF86 form – which many of us, myself included (I held a top-secret clearance for years), had to fill out in order to apply for security clearances – "contains some of my most personal information including my Social Security Number and medical history." In Spanberger's case, after filing her SF86, she "obtained both Secret and Top Secret//SCI security clearances before dutifully serving my country as a federal agent and then a CIA case officer." To have that information made public is utterly abhorrent, "un-American" (as Spanberger correctly describes it) and presumably/hopefully big-time illegal.
So that's terrible enough. But then, the Virginia GOP has made it even worse through its bizarre, offensive, bigoted tweets on this matter.  Specifically, see the following two tweets: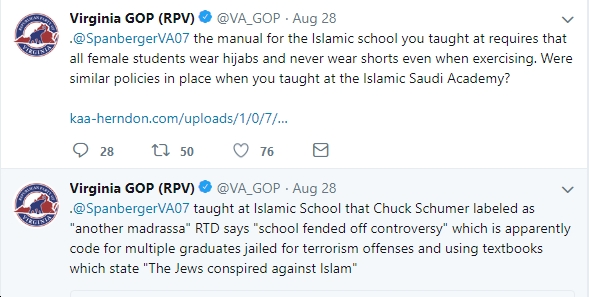 So basically, the Virginia GOP is using Abigail Spanberger's private security clearance information – bad enough in and of itself! – to try to smear Spanberger for teaching at an "Islamic School." This is where I'm going to hand things over to conservative Republican Virginia political blogger Jason Kenney, webmaster of pro-Republican blog Bearing Drift and also someone who has worked "on behalf of a range of Republican candidates and causes across the Commonwealth," and also brother of the Virginia GOP's former Executive Director, Shaun Kenney. So yeah, he's got some serious conservative and Republican bona fides, for anyone who wants to claim he's a "RINO or whatever bullshit.
Writing about the Spanberger matter, Jason Kenney has some VERY pointed things to say, such as (accurately) calling the aforementioned tweet about the Islamic school's dress code "assinine." But wait, there's a LOT more (bolding added by me for emphasis).
"Whoever is behind RPV's Twitter account and their bosses (because the buck stops at the top, folks) have decided that the rights granted by God and protected by the First Amendment in the Bill of Rights should not apply to a religious private school."
" RPV has decided Religious Liberty doesn't apply to Muslims and that makes attacking political candidates who happen to teach at associated schools or foundations persona non grata."
"By attacking a school in Herndon, Virginia, RPV is attacking the families of the 1200+ children who attend that school. Those are voters in the 11th and 10th Congressional districts where Jeff Dove and Barbara Comstock are fighting for every vote they can get."
"RPV has decided that pointing this out is grounds for a Twitter ban, thus deciding that I, as a Republican volunteer, voter, supporter, and more, shouldn't see the rest of their messages, pushing me further away from my Party."
As a "Republican because I believe in our Creed…I don't appreciate people coming into my Party and trashing the place."
"Someone is calling the shots at RPV today. And someone has to be holding them accountable…Because this? This is not how you win this November. Or next. Or any other in my lifetime."
Ouch, the truth really hurts! Not that the Virginia GOP (aka, the Party of neo-Confederate Corey Stewart) will listen or change its disgusting, demagogic, bigotry-stoking ways. Still, great job by Jason Kenney for sticking to your principles and for calling out this bigotry, fear-mongering idiocy by the cesspool also known as the "Virginia GOP." Now, if there were only a bunch more principled and courageous conservatives out there, willing to speak out against the bigotry and intolerance that has overtaken the once-great, former "Party of Lincoln" (on life support or dead since Nixon's racist "Southern Strategy," pretty much).
P.S. Oh, and Virginia GOP? If you were smart (which you clearly aren't), you'd delete your Twitter account now!