A brand-new poll by the the L. Douglas Wilder School of Government and Public Affairs at Virginia Commonwealth University is out today. Here are the key results. Also note a that a June Quinnipiac University poll had Kaine up 18 points (54%-36%).
Sen. Tim Kaine (D) leads Corey Stewart by 23 points (49%-26%), with only 66% of Republican supporting Stewart, while 88% of Democrats support Kaine. Independents split more than 2:1 in favor of Kaine.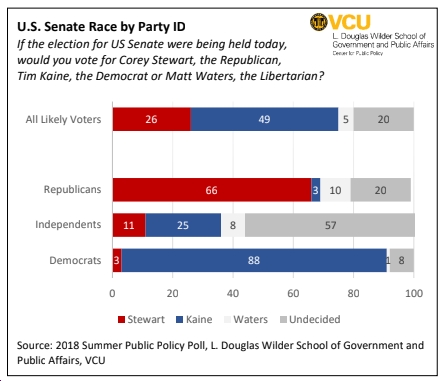 Breaking the U.S. Senate race down regionally, Kaine leads overwhelmingly (67%-19%) in Northern Virginia; big-time (44%-17%) in Tidewater, and by smaller margins in South Central (39%-30%) and Northwest (43%-36%). The only region where Kaine trails is in SW Virginia (35%-45%).
Whites narrowly (39%-35%) break for Kaine, while non-whites go massively (74%-7%) for Kaine.
There is a huge "gender gap," with women favoring Kaine by 35 points (56%-21%), while men support Kaine by just 7 points (40%-33%).
Younger voters massively favor Kaine (e.g., 61%-18% among those aged 18-34; 47%-14% among those aged 35-44); it's closer among older voters, but still favors Kaine.
Last but not least, the more education you have, the more you support Kaine (e.g., 55%-21% among those with a college degree vs. just 42%-36% among those with a High School diploma or less).

As for who Virginia voters prefer to control Congress, it's a 19-point margin (51%-32%) for the Democrats, with Independents breaking nearly 2:1 for the "blue team" this cycle in Virginia.

Breaking it down geographically, if these numbers are accurate, it's HORRENDOUS news for Rep. Barbara Comstock (R-VA10), as voters in Northern Virginia want a Democratic Congress by a massive, 66%-23% margin. It's also not good news for Rep. Scott Taylor (R-VA02), as voters in Tidewater want Democratic control of Congress by a nearly 2:1 margin (47%-26%). It's also not superb news for VA-05 Republican nominee Denver Riggleman, as voters in South Central Virginia narrowly prefer a Democratic Congress. Finally, and most surprisingly, according to this poll – and I'm not sure I buy this one – voters in heavily "red" southwestern Virginia (what the poll calls "West") prefer Democratic control of Congress by a 50%-40% margin. If true, these numbers wouldn't bode well for Rep. Morgan Griffith (R-VA09) and possibly for VA06 Republican nominee Ben Cline.

Finally, and perhaps not surprisingly, only 16% of Virginia voters prefer the Virginia General Assembly to draw district lines. Most others support some sort of neutral or bipartisan body (e.g., 24% support a "panel of local and state experts"; 20% support a "Citizens' Commission"; 18% support a "Bi-partisan commission appointed by the Governor").