Advertisement

See the video, below, of today's People's Caravan for Clean Air and Water's "No MVP/No ACP" rally in Richmond earlier today. To quote from the event's Facebook page:
At this event, we want to send a message to Governor Northam, DEQ, and the SWCB to stop construction and do a stream-by-stream analysis. Northam needs to call for the SWCB to pull the permits and direct DEQ to stop work now! At their next meeting, SWCB needs to pull the permits.

We want to tell Northam to reappoint Roberta Kellam to the State Water Control Board.
We want to highlight what the pipelines mean to the people of Union Hill who are facing the building of a compressor station 70 feet from their homes. The compressor station has a kill zone which Dominion cannot even define. We want to highlight the danger to the drinking of water of over 400,000 people.
We want the need for the Southside Connector Project in Norfolk and Chesapeake, to be reexamined. With gas demand being flat, is it worth constructing this 24 inch, fracked-gas, expansion pipeline through neighborhoods and within the potential incineration zones of several schools? This is unacceptable, our children should be safe in their classrooms and families should be safe in their homes.
We have to continue to shine the light on how bad the Mountain Valley Pipeline and Atlantic Coast Pipelines are for the environment and for peoples' health.
At the same time, we also want to tell the world that we want renewable energy.
We're doing this on a weekend hoping lots of people will STAND UP FIGHT BACK. This is everyone's issue not just the people who are directly in the path of the pipelines.
Just a few of the excellent speakers and some of their inspirational words today were:
Kendyl Crawford, Director of Virginia Interfaith Power & Light ("we refuse to forfeit our health and safety so that a private company can profit…in the case of these pipelines, the threats are severe…a business plan that relies upon the seizure and destruction of our neighbor's land is unacceptable Dominion and its corporate partners must simply find a new one");
Jonathan Sokolow, attorney and activist ("I'm so proud to join all of you today to send a loud clear and very simple message to Governor Ralph Northam and that message is this the Atlantic coast and the Mountain Valley Pipelines can be stopped, they must be stopped, and they will be stopped… Two days ago governor Northam own environmental justice council which he appointed called for a complete halt to all construction of these pipelines and a thorough investigation of the environmental racism taking place at Union Hill…This coming Tuesday, the State Water Control Board is meeting right here in Richmond to consider whether to revoke the pipeline permit and to direct DEQ to do the stream-by-stream analysis that Ralph Northam himself called for when he asked for our votes last year")
Becky Crabtree, "one angry grandma" from West Virginia ("I'm angry that fossil fuel pipelines are still building being built it's personal to me because they threaten the future of the thousands of public school children I've taught in the last 43 years…I'm so angry that I sat in my first car a 1971 Ford Pinto across the MVP trench and was arrested on our own land; yes, I know that Pintos are obsolete, but so are fossil fuel pipelines…I wish our leaders would pick up any middle school science textbook and learn that renewable energy sources are our best bet for a clean, stable future…Do not trouble yourself with people who say doesn't matter what you do, the pipeline's coming through anyway. Some of those people are bullies like the pipeline companies and some are just helpless, miserable and beat down – them no mind…Fight for [the earth] in the pasture fields, on the mountaintops, by the creeks, in the forests, on the rivers, in the stock market and inside the courtrooms. Get angry and never back down")
Emily Satterwhite, who locked herself to an excavator to protest the pipelines ("I used that excavator hoping it it would be a microphone that would be loud enough that the State Water Control Board and Governor Northam could hear what the people are saying – what we've been saying for four years now and we've been saying it in all the conventional, all the nicely southern lady kinds of ways, and it's gotten us exactly nowhere — until those tree sets went up and they inspired huge huge resistance all across Southwest Virginia… Business as usual is killing the entire planet…to Governor Northam and to Democrats, have the guts to stand up to environmental racism…The pipeline [people] deliberately chose who to prey on and we have to recognize the intersections of these kinds of oppressions and discriminations, we have to all band together to protect the most vulnerable among us…no blue wave without clean water")
Suzanne Keller, a volunteer fighting the pipelines for four years ("I ask you please write to the state air pollution control board, tell them that you expect them to protect the people of Buckingham County; first they should deny the permit")
Freeda Cathcart ("We're having some very powerful people join our ranks and we should be celebrating, we should be spreading the good news and we should be standing up and saying we won, stop construction now, pull out…strand those assets and move on – let's get some renewable green energy, because that's what the future is")
Beth Roach from the Nottoway Indian Tribe of Virginia, also the group "Mothers Out Front" and the Govenror's Advisory Council on Environmental Justice ("we're in the shadow of the Native Virginia Memorial….you'll see the indigenous names of all of our waterways that cross this land of that we call Virginia and our Commonwealth…It truly does take every single person's story and everyone's hope and urgency to get us there")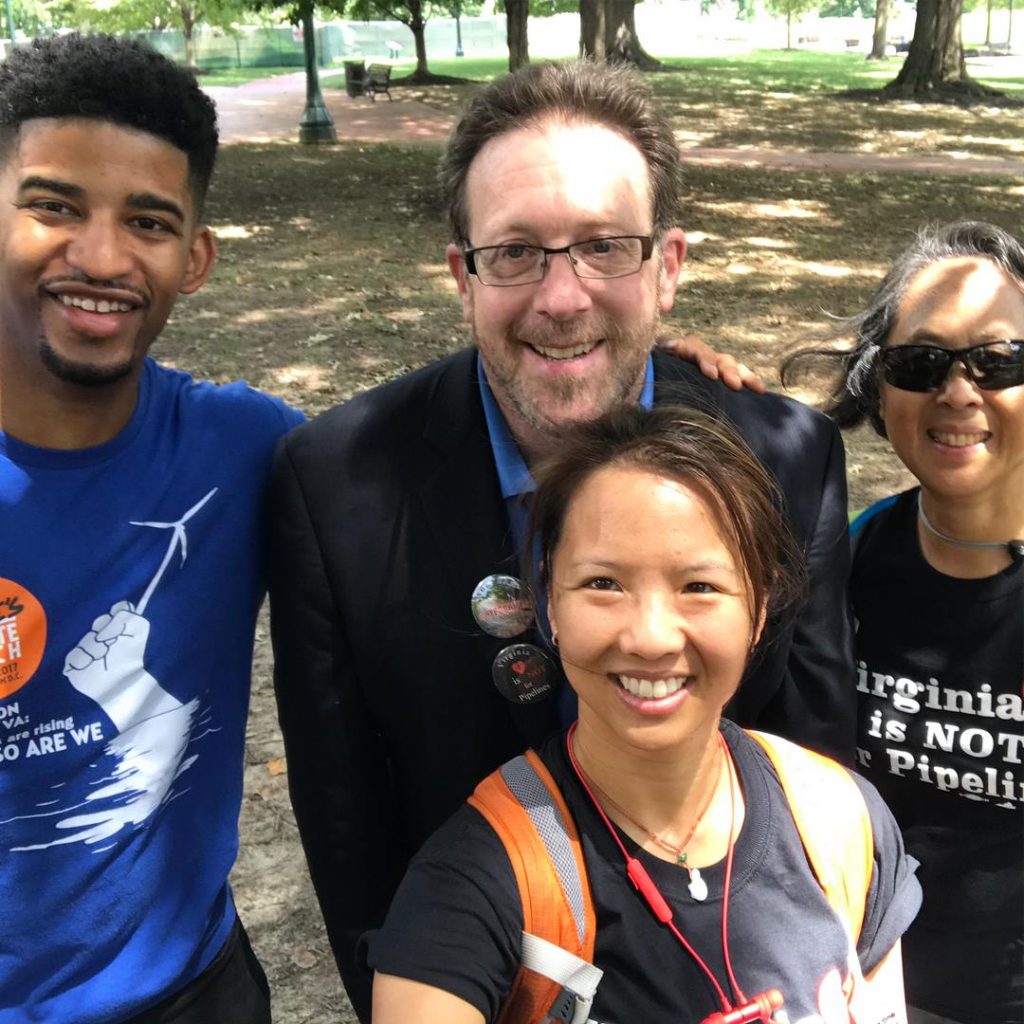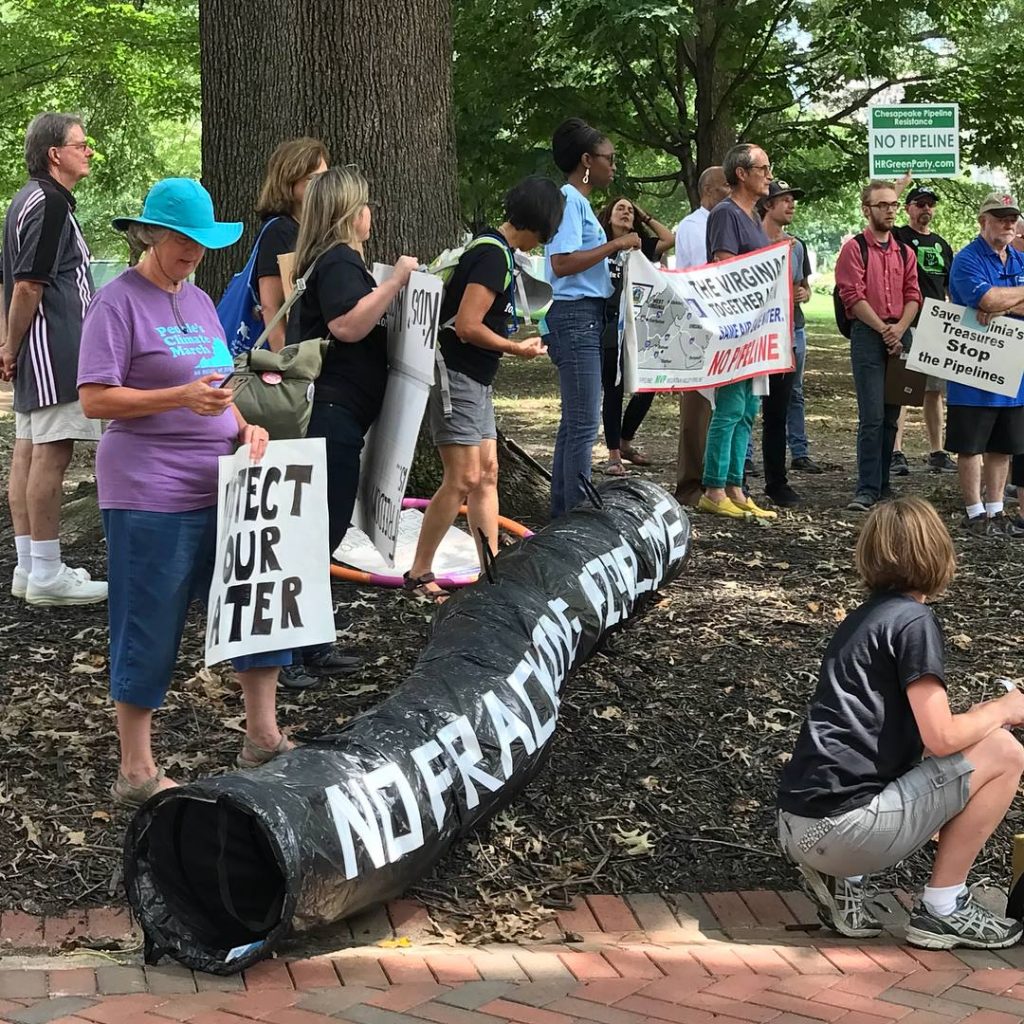 There's no paywall on Blue Virginia, and we definitely want to keep it that way! If you want to help support our work, you can donate here - thanks!
Also, you can
sign up for our weekly email list here
.