Check out the latest developments, this afternoon, on the massive political scandal unfolding in VA-02, involving Rep. Scott Taylor (R), his staffers and "independent" Shaun Brown, who Taylor' staffers helped get on the ballot in order to hurt Democratic nominee Elaine Luria. For more background on this situation, see here, here, here, here and here. Oh, and if you live in VA-02, make sure you vote for Luria over Taylor!
Democratic Party lawyer Jeffrey Breit said there are two State Police investigations involving the Shaun Brown ballot fraud case. He said he talked to special prosecutor Don Caldwell who is investigating. I think Breit expects indictments.

— Patrick Wilson (@patrickmwilson) September 5, 2018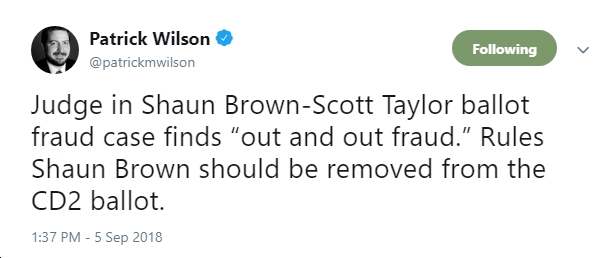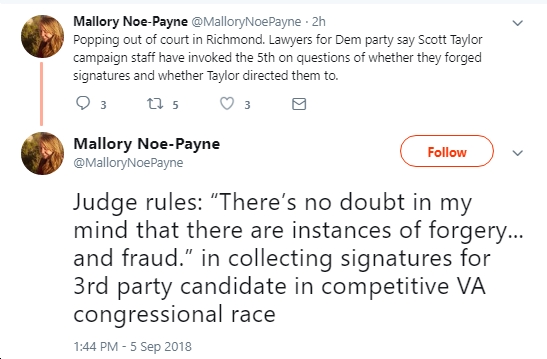 BREAKING: Virginia court orders independent candidate off the ballot as a result of Scott Taylor staff petition fraud. Several staffers take the 5th. Opinion expected soon.

— Marc E. Elias (@marceelias) September 5, 2018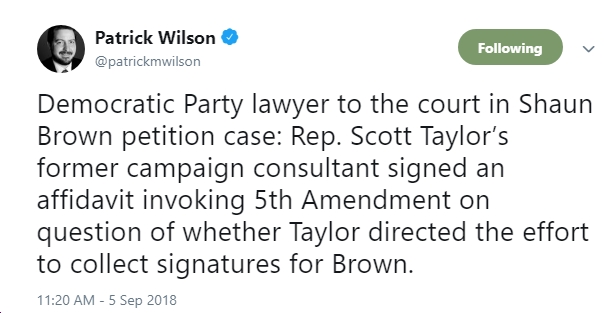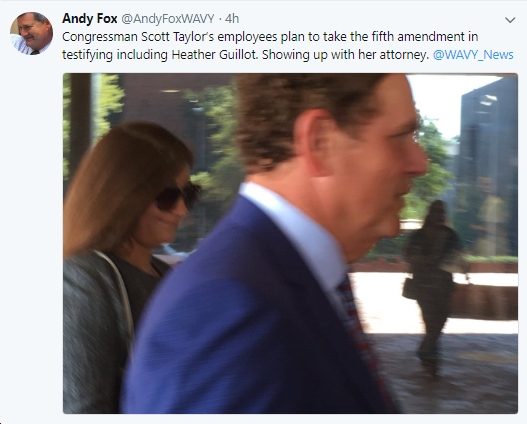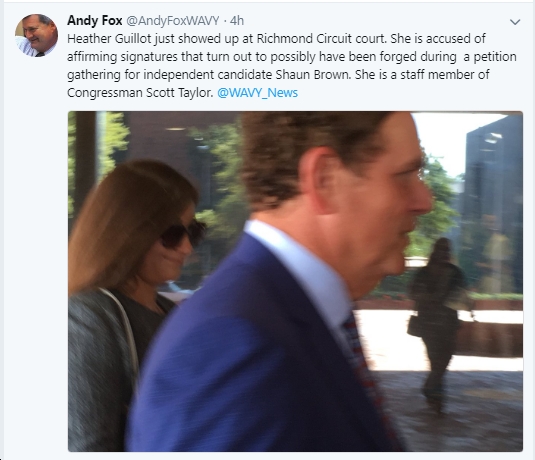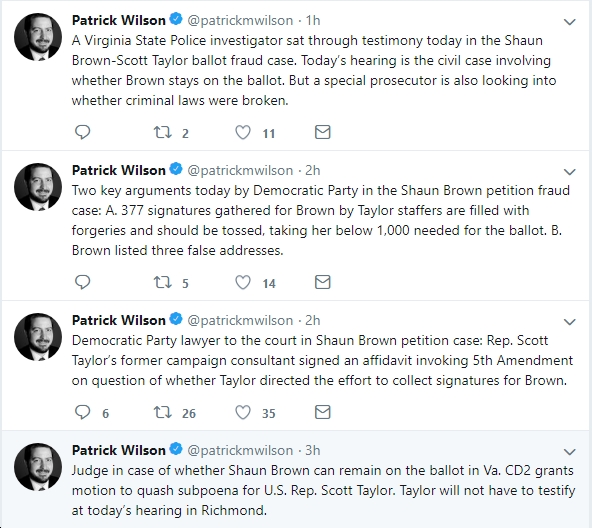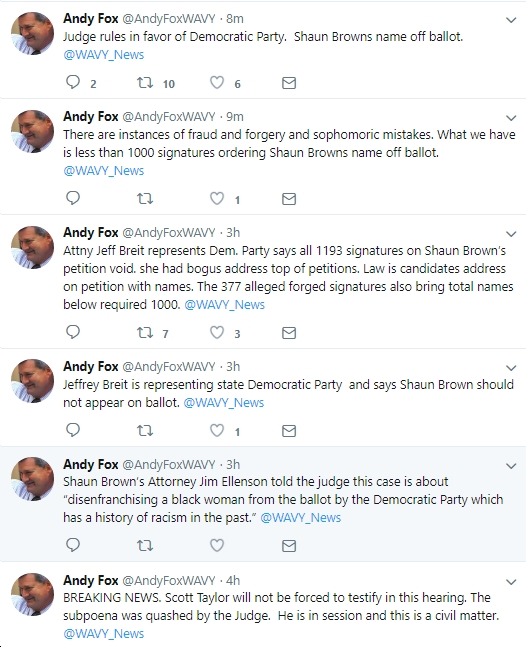 Independent candidate Shaun Brown is here and we asked her is she afraid that she won't have enough names on her petitions to be on the ballot? @WAVY_News pic.twitter.com/NtpMieDpKO

— Andy Fox (@AndyFoxWAVY) September 5, 2018
Shaun Brown reacts to decision https://t.co/22t8CMR3hT pic.twitter.com/JQZoZ42KUj

— Brendan Ponton (@brendanponton) September 5, 2018
The Crystal Ball, via House editor @kkondik, moved VA-2 to TOSS UP well before this ruling. "Out and out fraud" judgment sure won't help GOP Rep. Scott Taylor in his reelection bid. Removal of African-American independent from ballot stops drain from D nominee Elaine Luria. https://t.co/S8Jmp1wcSj

— Larry Sabato (@LarrySabato) September 5, 2018
UPDATED 4:12 pm –
Elaine Luria's Statement On Today's Court Decision in The Democratic Party of Virginia v. Christopher E. Piper, et al.
VIRGINIA BEACH, Va. – Today, Judge Gregory Rupe of Richmond Circuit Court, ordered independent candidate Shaun Brown be removed from the ballot in Virginia's Second Congressional District, citing forgery and "out-and-out fraud."
Elaine Luria released the following statement in response to today's decision:
"Today's decision by the Richmond Circuit Court makes no difference to how I will conduct my campaign. I have said from the beginning that I am running against Scott Taylor's voting record. His votes to repeal the Affordable Care Act, which would have removed health care coverage from 45,400 of his constituents, and his vote for the Republican tax bill that will increase the deficit by nearly two trillion dollars were irresponsible and favor big business over his own constituents. Additionally, Scott Taylor himself suggested that the debt could be paid for with cuts to Social Security and Medicare, two crucial programs that our families and veterans who earned these benefits depend upon.
From the time this fraud became public knowledge, Congressman Scott Taylor has dodged responsibility for the criminal actions of his paid staff.  He has blamed the 'National Democrats,' called it a 'nothing burger' and a 'smear campaign,' and threatened the individual who discovered the fraud. Scott Taylor has also said he did not direct his staff to take these actions and he would fire anyone involved in criminal activity.  Every individual associated with Congressman Taylor's campaign who did appear in court today, including three staffers and his campaign consultant, invoked their Fifth Amendment right to not incriminate themselves when asked if he directed their efforts. And while that is their constitutional right, in this situation, it has the appearance of guilt.
As a Commanding Officer in the Navy, I could always delegate authority to the lowest level, but I could never delegate responsibility. Scott Taylor needs to stand up and take responsibility for what Judge Gregory Rupe called 'out-and-out fraud.'  This is not the kind of moral character this district, or our country, deserves."
Elaine Luria is the Democratic nominee for Virginia's Second Congressional District, which includes all of Accomack and Northampton Counties, the cities of Virginia Beach and Williamsburg, as well as portions of Norfolk, Hampton, and York and James City Counties. The district supported Governor Ralph Northam by 4 percentage points last November and is rated as a TOSS-UP race by non-partisan election forecasters at Larry Sabato's Crystal Ball, POLITICO, and CNN Politics, making it one of the most likely seats to flip in 2018.