Advertisement

From Virginia Pipeline Resisters:
Nearly 100 people rally at the State Capitol for climate, jobs and justice

Richmond joined localities worldwide that held actions calling for local leaders to commit to a fossil fuel free world and putting people and justice over profits
RICHMOND, Virginia– Nearly 100 Virginians from across the Commonwealth gathered today at the steps of the State Capitol Building to call for real climate leadership and a separation from fossil fuel interests in the state's government.  The "Richmond Rise for Climate, Jobs and Justice" event, hosted by Virginia Pipeline Resisters and endorsed by almost 30 different organizations representing a variety of causes and geographic areas of the state, was part of thousands of rallies held around the world to demand that local leaders commit to public, actionable commitments to a fast and fair transition to a fossil fuel free world for all people.
Several central demands of state officials were highlighted during the action, including: officials must refuse money from fossil fuel corporations, like Dominion, and their PACS/subsidiaries and others who receive money from the corporations; officials must commit to a moratorium on any new fossil fuel projects, including the Atlantic Coast and Mountain Valley pipelines; officials must commit to a just, fair transition to a Virginia powered by 100 percent renewable energy by the year 2035; and that Governor Northam must acknowledge his Advisory Council on Environmental Justice's recommendations to freeze the Atlantic Coast and Mountain Valley pipelines' permits and prevent the compressor station in Union Hill based on the findings of racial and economic targeting used in routing the pipelines.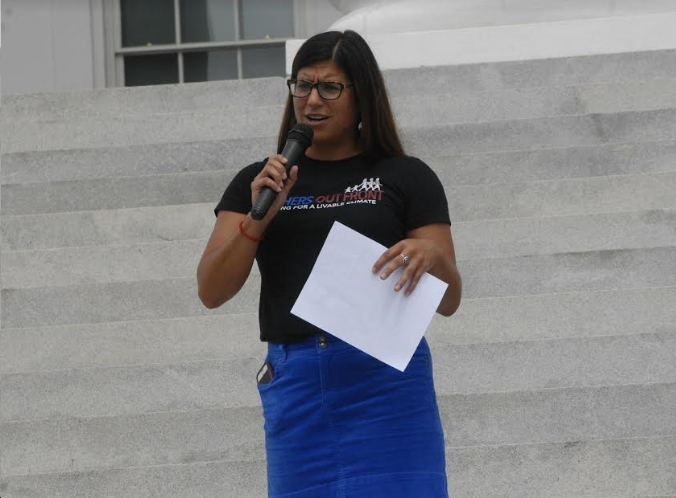 Citing the relationship between corporations like Dominion Energy and the state legislature and Governor Ralph Northam, Virginia Pipeline Resisters co-founder Stacy Lovelace said, "It's time for elected officials that are 100 percent free of dirty fossil fuel money and 100 percent committed to 100 percent clean, renewable energy by the year 2035… The winds of change are here. We are the winds of change, with our voices and our votes, and we're going to blow the corrupt corporations out of our government as well as the government officials who hang on to those corporations and their money, and we'll put in real climate leaders in their place."
The action included a series of five powerful women speakers.  Beth Roach, Tribal Councilwoman of the Nottoway Indian Tribe of Virginia  and vice-chair of the Governor's Advisory Council for Environmental Justice, was the first of the speakers.  She started with an Indigenous Thanksgiving prayer and Creation story and spoke on the power of the voices and stories of the people.  She read an excerpt from the letter submitted to Governor Northam from the Advisory Council on Environmental Justice, stating, "In order to move Virginia forward ensuring its place as a leader in environmental justice, addressing the global climate crisis, and building a 21st Century clean energy economy we recommend that the governor direct state permitting agencies to prioritize renewable energy solutions, and quickly transition away from fossil fuels."  She also asked of legislators "what kind of ancestors are [you] going to be" and spoke of the Haudenosaunee Great Law of Peace that says "we must think of the seven generations behind us, learn those lessons, and with every single decision we make today we look for the seven generations forward."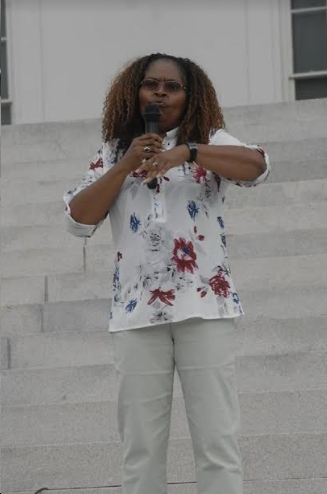 Monica Hutchinson, New Virginia Majority's Lead Political Organizer of the Richmond Metro area, spoke on the disproportionate impacts of climate change on communities of color, including in Virginia:  "If we want more people of color to be involved in the fight for climate change, we MUST understand what the fight looks like for those communities and work together. So when we talk about the pipelines and other climate change issues, we are doing our communities a huge injustice if we do not also include in those conversations, the disparities in environmental justice along racial and class lines. We must become more intentional in our racial equity discussions when talking about climate change."
Monica Flippen, Steering Committee Member of Virginia Interfaith Power and Light, spoke of the "ongoing political shift from an empowered populace toward a power-grabbing corporate autonomy" and called for a "just transition to renewable energy and new economic future [that] must and will rebuild, renew and restore the balance between people and the environment and our economy," pointing out "that balance will only be achieved when we prioritize the wellbeing of the people over profit, protect and strengthen frontline communities, mandate racial and cultural equity for those who are too often left out or left behind, and invest in institutions that enhance and strengthen in the common good for all people while combating climate change."
Jessica Bull, a founding member of the RVA Mothers Out Front team, spoke on the need for climate leadership for the future of children.  Citing the current climate crisis, she questioned, "How could this be the world our children grow up in? Will my daughter have asthma…will her school have safe drinking water?"  She called for people to "vote for science" and for "our local leaders to represent the interests of all the concerned mothers like me, and all of you and all of richmond in supporting the switch to clean energy; to stop voting for fossil fuel projects and pipelines; and stop undoing the progress we have made everytime we take a step forward."
Andrea Miller, Executive Director of People Demanding Action and organizer for the Virginia Poor People's Campaign, encouraged those in attendance to run for office and replace the elected officials that have shown poor leadership and favored corporate interests. Speaking on the corruption of Virginia's state government by Dominion Energy, she asked "who voted to give Dominion the governorship?…Dominion has ripped off the ratepayers of Virginia.  They have ripped us off, and they have claimed they are going to give us renewable energy. Yet every time they say no to mandatory renewable standards. Well we're introducing a bill that says we want [Dominion] to be providing 100 percent clean, safe, renewable energy and we're putting a date on it – 2035."
Following the series of speakers, the event concluded with a symbolic action.  Attendees gathered on the steps of the Capitol Building and sang, "People Gonna Rise like the Water" in unison to honor the work for climate justice in Virginia.  Flyers were also given to attendees with actions they could take for climate justice moving forward from the event, including to submit a public comment calling for the denial of the air permit for the Atlantic Coast pipeline compressor station slated for the historic Black community of Union Hill.
Throughout the action, attendees displayed a variety of visual materials, including large wind turbines to represent clean, renewable energy, a banner that read "The Winds of Change are Here," signs shaped like wind symbols that read "our voices, our votes" to represent the winds of change, and signs that called for climate action.  Numerous Virginia Water Flags, part of the 1000 Flags/1000 Waters project by NRDC artist-in-residence Jenny Kendler and the Water Is Life. Protect It. Coalition, were at the event to represent the waterways threatened by the Atlantic Coast and Mountain Valley pipelines.
A petition, developed by the Virginia Pipeline Resisters in conjunction with the event and signed by over twenty organizations representing Virginians from across the state, will be delivered to all state legislators, the Governor, the Lieutenant Governor, and the Attorney General on Wednesday, September 12 during their weekly action.
There's no paywall on Blue Virginia, and we definitely want to keep it that way! If you want to help support our work, you can donate here - thanks!
Also, you can
sign up for our weekly email list here
.