Advertisement

Here are some comments from Virginia elected officials and candidates on today's extraordinary (in the case of Dr. Ford), and bizarre/disturbing (in the case of Kavanaugh) Senate hearings. Note that these are largely from Virginia Democrats, as Virginia Republicans have been quiet for the most part. Do note, however, that the Virginia GOP has been tweeting and retweeting its support for Kavanaugh all day, with predictable drivel like "Join us in standing with Judge Kavanaugh #IStandWithBrett" If you were disgusted with Republican support today for Kavanaugh, make sure you vote Democratic up and down the ballot on November 6!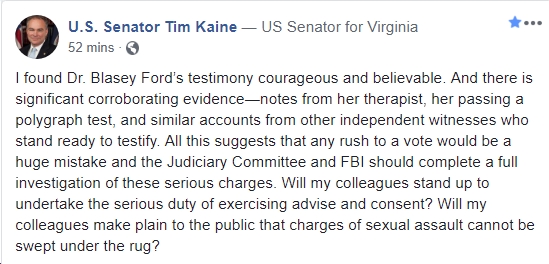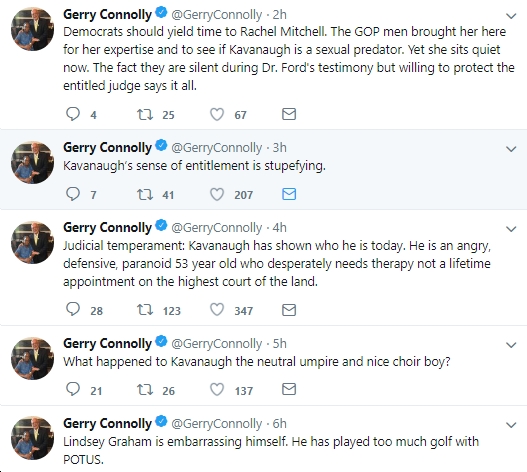 I'm in awe of Dr. Ford's bravery and poise in an unimaginably difficult and needlessly antagonistic situation. If you need support, care, or someone to talk to, reach out to Virginia's 24-hr sexual/domestic violence hotline by phone 1-800-838-8238, or text 804-793-9999.

— Mark Herring (@MarkHerringVA) September 27, 2018
Today Dr. Ford is standing up to tell her story.

For daring to speak out, she has been met with powerful people trying to silence her, Senators who refuse to investigate her allegations, and President Trump's attacks.

I believe her, and I support survivors. #BelieveSurvivors

— Jennifer Wexton (@JenniferWexton) September 27, 2018
Today as Dr. Ford is bravely telling her truth, many women will be reliving their own painful assaults. They deserve our support and compassion because we #BelieveSurvivors

— Elaine Luria (@ElaineLuriaVA) September 27, 2018
I believe Dr. Christine Blasey Ford. https://t.co/563q7fvJ5n

— Terry McAuliffe (@TerryMcAuliffe) September 27, 2018
This was an important moment in Kavanaugh's testimony just now.

When @SenatorDurbin asked if Kavanaugh wanted the FBI to investigate the allegations, he responded with silence.

If Kavanaugh really wanted the truth to be known, he'd be open to an FBI investigation. Period. https://t.co/3RnFjTxXew

— Rep. Don Beyer (@RepDonBeyer) September 27, 2018
No. Kavanaugh repeatedly avoided answering questions and attempted to cloud the truth about the allegations against him.

He showed Americans exactly why he's unfit to be a Supreme Court Justice. He's done that since he was nominated. https://t.co/kgD2DfJilb

— Rep. Don Beyer (@RepDonBeyer) September 27, 2018
Watching the testimony of Dr. Ford, I am impressed by her strength and poise, and saddened by the pain her questioning is causing so many survivors of sexual assault. https://t.co/ZgaVmUbh02

— Abigail Spanberger (@SpanbergerVA07) September 27, 2018
Tip:
If you're being nominated for a nonpartisan position as a neutral arbiter on the Supreme Court, attacking "the left," "Democrats," "the Clintons" and "the media" in your opening statement while noting there will be reprisal for years to come is, well, disqualifying.

— Danica Roem (@pwcdanica) September 27, 2018
So many reports of people responding to Dr. Ford's Senate testimony–composed yet honestly emotional, sharing her painful private experience and her professional expertise, forthright & credible–with tears, their own stories, and as @MarkHerringVA says, awe at her bravery. https://t.co/iIosNs0J1t

— David J. Toscano (@deltoscano) September 27, 2018
Dr. Ford is a role model displaying true courage. #IBelieveHer #BelieveSurvivors

— Alfonso Lopez (@Lopez4VA) September 27, 2018
The contrast in today's hearings are clear. Dr. Ford came off poised, honest, and brave. Whereas Brett Kavanaugh is wearing his anger and hyper-partisan beliefs on his sleeve with pride. Kavanaugh is simply unfit to sit on the highest court of our country. #IBelieveDrFord

— Yasmine Taeb (@YasmineTaeb) September 27, 2018
There is no excuse for those who commit sexual assault. No calendar, no letters, no hiding behind teenage antics. I #BelieveSurvivors, and I believe #ChristineBlaseyFord.

— Lucero Wiley (@LUCEROWILEY) September 27, 2018
Join us in standing with Judge Kavanaugh #IStandWithBrett https://t.co/iBY9idZdGt

— Virginia GOP (RPV) (@VA_GOP) September 27, 2018
There's no paywall on Blue Virginia, and we definitely want to keep it that way! If you want to help support our work, you can donate here - thanks!
Also, you can
sign up for our weekly email list here
.