Political representatives in democracies have many roles and responsibilities. One of these is to provide their constituents the chance to engage with them openly and honestly in reasonable ways.  These 'ways' can be through making oneself available for open discussion regularly at, for example, community events or holding planned sessions (most notably townhalls).
Barbara Comstock has been an elected official, holding political office, since 2010. First in the Virginia House of Delegates (2010-2014) and now in the US House of Representatives (Jan 2015 to present).
Perhaps the two consistent elements of Comstock's nearly eight years of holding elected political office are:
a position leading the pack among her peers of 'photo op' events and photo op social media postings; and,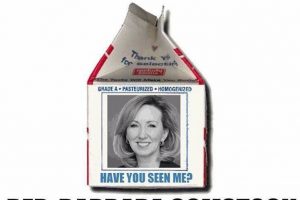 a dogged refusal to allow her constituents any form of open, honest engagement to discuss policy, raise concerns, and otherwise interact with her (where others might witness that engagement).
When it comes to refusal for open engagement in public events:
Comstock has literally run from non-supporters trying to engage with her

(even quite reasonably/calmly) and had staff (how many paid with taxpayer funds is a legitimate question) physically intrude themselves between constituents and Comstock to keep her from having to deal with the riff-raff (e.g., anyone not supportive of Comstock's enabling of Trump and voting record at odds with the District's voters preferences).
Comstock not only refuses to hold town halls, she invited her constituents to "mobile office hours" in her district, promising she'd be there in person and then… stood them up. ?https://t.co/023ZNwxBiK

— Town Hall Project (@townhallproject) October 17, 2018
For perspective from my little corner of Virginia politics, the closing day on my home was a notable day in the community: the announcement of the Evans Farm development project that threatened significant change in the local community and sparked the Save Evans Farm community activist group (in which I played a small – tiny? – part).  Being almost literally dragged into this movement as new neighbor, with its strengths and weaknesses like any grassroots group, gave me a front-row seat on the political dynamics of my little corner of the community.
The then Supervisor was Republican Stuart Mendelsohn. Without spending time to get into the minutia of the group's objectives and strategy (including who was right/wrong; thoughts as to how it might have been able to do some things differently; etc …), it is fair to say that Stu Mendelsohn was on the opposing side from the Save Evans Farm activists. He was targeted as a critical "to be convinced" official and recognized as very tough (if not impossible) "to be convinced" to stand on the side of the grassroots Save Evans Farm group.
Mendelsohn knew this quite clearly: that he was not seen as "friend" or ally, that many in the group were anywhere from frustrated to furious with him over his position on the development project.  And … and yet … over months, I can't begin to fathom how many times Mendelsohn showed up for meetings and engaged with his constituents as I only was in 'group' (citizen association sessions, open community meetings, …) events and never was part of a group visiting him in his office or otherwise.  Throughout what was a contentious (even if perhaps preordained) process, Mendelsohn was there.  Those standing in direct opposition to him, with great frustration with him, (essentially) all recognized this: Mendelsohn gave his time, he listened, he engaged with his thoughts (at least somewhat), he let his constituents directly voice and discuss their concerns with him.  I know that I (and others) respected Mendelsohn for his willingness to let people be heard and to engage with him: even as we stood "on opposite sides" of this (and other issues).
While I quite possibly (likely, almost certainly) have (significant) different policy perspectives and imperatives with Stu Mendelsohn to this day, I remember and respect his willingness to give so much of his time and energy to engage with constituents, even the constituents who were on the opposite side of the issue(s), the opposite side of the aisle from him.
Not so with Comstock.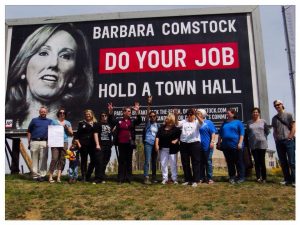 As for Barbara Comstock, on top of all the ways Comstock's politics stand at odds with the majority of VA10 voters and the damage she has done in her life-long career undermining American Democracy, Comstock has done nothing to deserve similar respect for simply showing up to allow her constituents (the people she is supposed to represent) the chance to engage openly and honestly with her.
In contrast to Comstock's zero-tolerance policy on town halls, Democratic party candidate Senator Jennifer Wexton has signed the Townhall Project pledge, has committed to holding regular events for constituents to hear from and to engage with her.
As to "meet w/voters", #VA10 voters are still waiting for #Comstock to hold her first #townhall. Refusing to meet w/voters is an utter FAIL as an elected official.#Wexton has made the @TownhallProject pledge. (https://t.co/p5gNS1LATF)#ChangeIsCominghttps://t.co/9q0yP17Lbo pic.twitter.com/VzTWeqwdZX

— A Siegel (@A_Siegel) October 18, 2018
Yet another reason to vote against Barbara Comstock and yet another reason to vote for Jennifer Wexton for US Congress.
=====
On another note …
Does any thinking #VA10 voter believe that @RepComstock acts to uphold her Oath to the Constitution? Acts to hold the @RealDonaldTrump 'administration' accountable?

On 6 Nov, we can act.

Vote @JenniferWexton for Results & Resistance
& send @BarbaraComstock packing. https://t.co/8iKsLwWTV9

— A Siegel (@A_Siegel) October 31, 2018