We recently wrote that Rabidly Anti-LGBT Virginia Delegate Dave LaRock Absurdly Claims Loudoun County School Board "Lurches Left" Because It Opposes Discrimination, Supports Public Schools.  We also linked to Dave LaRock Spews Anti-LGBTQ Hate Straight From the House of Delegates and Talking to My Delegate: Dave LaRock (in which LaRock talked about how "beautiful" discredited/harmful gay "conversion therapy" is; refused to call Danica Roem "she"; etc.). And we concluded that, in 2019, it's high time that HD33 (western Loudoun County, Frederick County, Clarke County) replaced this embarrassment – by supporting LaRock's Democratic opponent, Mavis Taintor.
Now, LaRock is back at his extremism, bigotry and ignorance, writing on his Facebook page about Peter Vlaming, a French teacher who was terminated from his job "due to his insubordination and repeated refusal to comply with directives made to him by multiple WPPS administrators," specifically his repeated refusal, after being asked "over several weeks and by multiple administrators, to address a [transgender] student by the pronouns with which this student identifies." Accordsing to LaRock, not only shouldn't Vlaming have been fired, he's a…wait for it…yeah, "a hero!" (see below) and compared transgender identity to anorexia. That set off a torrent of comments on LaRock's Facebook page, some of the "best" of which I've included below. Enjoy…or maybe not. More to the point, let's see if it's possible, even in a "red" district, to oust this embarrassment to Virginia next November.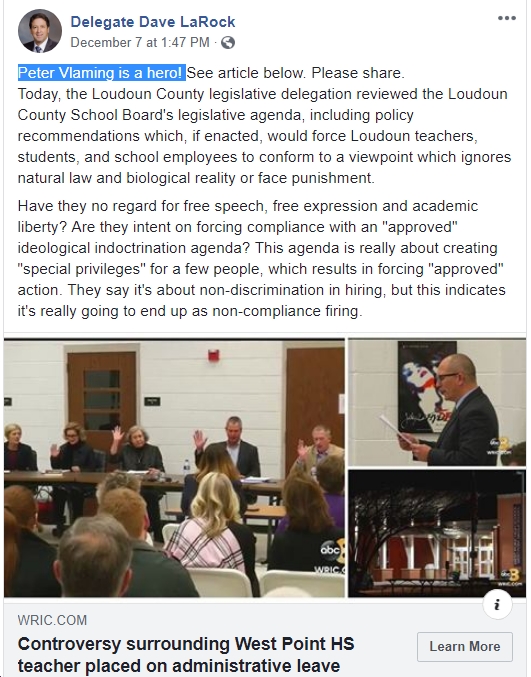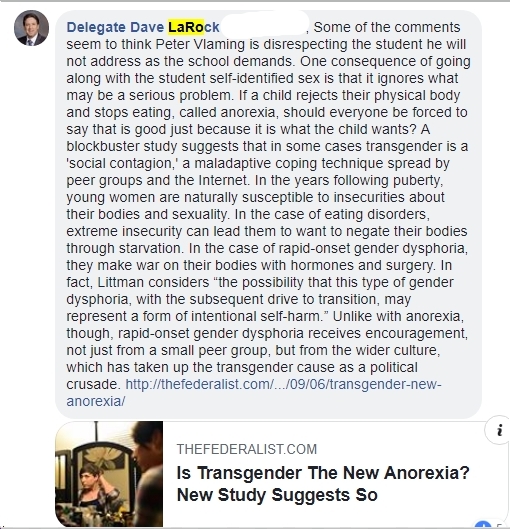 *"

Delegate LaRock, please explain what is 'natural law'?" (note: LaRock of course had no serious answer, other than to cite the dictionary definition and the Declaration of Independence – don't ask)

After comparing transgender identity to anorexia, someone responded, " I refuse to believe you are this stupid… Are you serious? False equivalency much?" Others responded, "Delegate Dave LaRock do you have a medical background?" and "

I worked in this field for years, including at the inpatient eating disorders unit at UCLA Medical Center, and this is a deeply offensive and completely erroneous analogy that makes a variety of incorrect and unsubstantiated assumptions about both eating disorders and gender identity…It's irresponsible and unprofessional for an elected official to use their public platform to spread misinformation the way that you are."

Another commenter noted, "The APA-recommended treatment for gender dysphoria is for the individual to live according to their gender. Misgendering this student is therefore contrary to medical recommendations."
Another commenter wrote, "LaRock isn't supporting this teacher but using the teacher's firing as a bullhorn to spread the very narrow ideologies LaRock believes are set for us all. This post is an absolute condemnation of an ideology to which LaRock personally doesn't agree. He's not supporting this or any other teacher on the front line of cultural change in a public school, when does he EVER really support public schools? Please don't let the smoke and mirrors fool. The teacher made a choice. LaRock is twisting that choice to suit his personal agenda."
And another: "How hard is it to use the pronoun the student prefers? Why are you siding with a bully? Do you think this child just decided one day to change genders? Do you really think that? The hero in this situation is the student for putting himself out there. Bravo to the administration."
And "I don't agree with any teacher singling out any student in this way to make a point. His opinion about her identity has no place in the school or in the news, and igniting a controversy like this about any student shows total disregard for them. I can't think of any situation where this would be appropriate. His job is to educate, not to judge."
One of my favorite comments: "LaRock, your uneducated tirade against members of the LGBTQ community (of which I am one) is just one reason why I am committed to knocking on 1,000 doors in 2019 in support of your opponent. Change is Coming."
I also really like: "For people who profess to be 'Christian,' you all sure are hateful. Shame on you."
And just to give a feel for what the far-right commenters had to say – and also their level of mentality – try " the only thing you have to do to determine your gender is look down the front of your pants. Anything else is a mental disorder." and "So they lose a perfectly good teacher simply because he would not indulge a child in HER mental illness? BRILLIANT! And the left calls us 'Fascists'."
There's a lot more – check it out if you have the stomach for it. Sadly, it's typical for how the right wing thinks these days, how it discusses topics like sexual identity, and why it's so important that we defeat Dave LaRock and everyone else (Amanda Chase, Dick Black, etc.) of his ilk.