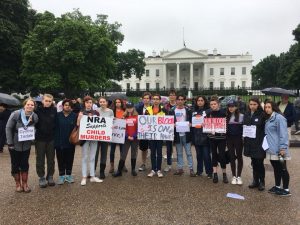 By Barrett Fife
I can't believe it's been a year.
It feels like everything happened both just yesterday and an entire lifetime ago.
I remember exactly where I was when I found out. I was in the parking lot of my high school. It was the second semester of my senior year, a time mostly spent enjoying carefree afternoons and thinking of life to come. I was celebrating Valentine's Day with some friends, and my boyfriend had just given me one of those cliched oversized stuffed teddy bears. We were goofing around. Being kids.
I remember looking down at my phone amid the shenanigans, seeing a familiar alert pop up on my screen: a new tragedy, this time in a Florida town of which I'd never heard. I remember snippets of phrases. Breaking news. High school shooting. 17 dead.
And with that one news update, my life, as well as the lives of countless others, changed in ways I could never have imagined. Over the next four months, I would shed innumerable tears. I would meet some of the most incredible people of my life. There would be protests, there would be marches, there would be town halls and vigils and rallies. Friends of mine would establish themselves as leaders and revolutionaries. My generation would put itself on the right side of history, out of it would arise the leaders of tomorrow. I'd feel indescribable despair in one instance, and then, not a moment later, untold newfound hope in my country.
I would go on to speak in front of hundreds of people, argue with administrators at my school, write articles and letters, meet with elected officials, spend hours upon hours texting and planning and brainstorming. I even went on to spend one particularly rebellious afternoon in a jail cell.
The period following the Marjory Stoneman Douglas High School shooting was characterized by a roller coaster of emotions. The highest highs building up from the very lowest of lows. We mourned. Then we marched.
Looking back, the thing I remember most about February 14th, 2018 is how jaded I was then. I can't recall exactly what I said when I heard the news, but I remember laughing darkly. I remember feeling calloused, unphased, unsurprised. I remember looking around my high school, which I often considered to be a sanctuary, and reminding myself that it wasn't the safe place I so dearly wanted it to be.
A year ago today, I expected Parkland to be confined to oblivion within the week. I expected it to be a momentary pit stop on the never-ending road from one shooting to the next. I never expected this.
Of course, there have been disappointments, especially as time as has passed. A new NPR/PBS/Marist poll, which found that the percentage of Americans who believe laws covering the sale of firearms should be stricter, has declined from 71% immediately after Parkland to 51% now, is devastating. In my home, the Commonwealth of Virginia, our Republican-controlled General Assembly never fails to disappoint by brutally killing of almost all laws that provide the slightest bit of common sense gun reform.
But hope is still incredibly alive. In the year since Parkland, my expectations have been exceeded time and time again. In the wake of such terrible tragedy, people of all ages, of all backgrounds and identities, have stepped up and made the best out of the very worst. From the March for Our Lives to the consolidated gun sense voting efforts going into the (highly successful) midterm elections, beauty and change have come out of this heartbreak.
Today, my Instagram and Facebook feeds are overflowing with impassioned kids my age (and much, much younger!) who haven't forgotten. Who will never forget until #NeverAgain becomes more than just a catchy slogan. Until it becomes a reality.
One year. It's been one year since we lost Alyssa Alhadeff, Martin Duque Anguiano, Nicholas Dworet, Jaime Guttenberg, Luke Hoyer, Cara Loughran, Gina Montalto, Joaquin Oliver, Alaina Petty, Meadow Pollack, Helena Ramsay, Alex Schachter, Carmen Schentrup, Peter Wang, Chris Hixon, Aaron Feis, and Scott Beigel.
I hope that I always remember their names, that I never put them fully out of my mind. They are there when I see the color orange, when people talk about Valentine's Day, when I think about having reached my high school graduation and the opportunities that lie ahead.
I think about their parents, their friends, their loved ones. My own parents are visiting me at college today, and I'll hug them a little tighter, feel a little bit more grateful. Today, I will continue to mourn, but I'll also feel that old anger rise back up again. As we celebrate this cheesy, hallmark-y holiday that honors love and romance, these seventeen families will be facing with the second worst Valentine's Day of their lives. They will continue to deal with, today and everyday, a level of heartbreak and suffering that I cannot even pretend to fathom.
We've come a long way, and it's one of the proudest experiences of my life to have been a part of this movement. But we have a long, long way to go. We can't keep existing like this, as a country that does nothing but sit around and wait, docile and broken, for the next big tragedy to occur.
To all of those who continue to fight–to the tireless members of Moms and Students Demand Action, to the politicians who are truly committed to this issue, to those who realize that the passage of time does not heal all wounds, that thoughts and prayers aren't enough–thank you. We're on our way. But we can't give up now.
One year later. One year since tragedy, and one year closer to peace.