by A Siegel
America's infrastructure is in a near-failing state. The most comprehensive look, by the American Society for Civil Engineers, assesses (across all key physical infrastructure elements) that U.S. infrastructure merits a D+.  Going across all infrastructure types (information technology, education, medical, fiscal, …) would likely result in roughly the same mark. Amid international competition, when others out-perform the U.S. in infrastructure quality and investment, a D+ isn't barely passing but a long-term path toward systemic failure.
This "failure to invest," with a crumbling infrastructure, hit the news in Northern Virginia Friday.  While never originally meant to be so, the George Washington Parkway is a critical commuting route, carrying perhaps 33 million cars per year.  Yet, driving the Parkway has become something of a near-Mad Max adventure with a need to split attention between other vehicles and the ever-increasing number and variety of potholes, cracks, and other forms of uneven, poorly maintained road surface.  Virginia politicians have taken notice. And, Virginia's Congressional delegation has been pushing hard to the get the Trump Administration to act to fund and execute serious work along the Parkway (which has a $230M backlog just in its maintenance budget).
The glaring need for this investment came crashing into the news yesterday, with a major sinkhole — evidently due to a cracked storm pipe under the Parkway — shutting down the Parkway northbound from 123.
#BreakingNews GW Parkway south of 495 in #vatraffic is now completely CLOSED, video from #Chopper4 shows workers measuring a sinkhole appearing to be about 6-8 feet deep and three feet wide, possibly running under roadway #dctraffic @nbcwashington @wtop pic.twitter.com/uwdYQYoqvW

— Brad Freitas (@Chopper4Brad) March 22, 2019
Amid this mess, literally dozens of cars ended up with flat tires though, perhaps luckily, there appear to have been no injuries or fatalities due to the rapidly deteriorating road conditions.  This shutdown will last at least through the weekend as the National Park Service executes emergency repairs.
. @NatlParkService is repairing the sinkhole on the George Washington Memorial Parkway. Expect the northbound closure to last through the weekend. #VATraffic pic.twitter.com/giMNLoo2e6

— Jenny A-S NPS (@NPSJennyAS) March 22, 2019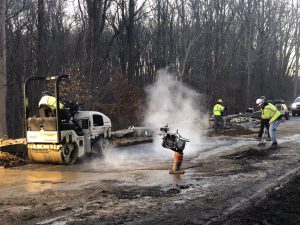 The question "after the repair" and the Parkway's reopening:
Will this indefinitely remain a patched piece of the Parkway, along with nearly innumerable other patches and potholes requiring patching, or will the investment occur to revamp the Parkway to 21st standards and quality? (Which could include, perhaps, bike lanes and other green highway approaches/concepts.)
This question, of course, isn't isolated to a sinkhole on the GW Parkway, nor to roads and highways across Virginia, nor just to highways nationwide, but is a core question for the nation in the years to come: Will we continue to underinvest (significantly) in our road/energy/telecommunications/educational/intellectual/parks/etc. infrastructure (both in absolute — what is needed to bring it to 21st century quality/standards — and relative terms — compared to, for example the PRC and South Korea's infrastructure spending) or will "we" chose to leap forward (as part of a Green New Deal) to invest in 21st century infrastructure to foster a prosperous, climate-friendly American infrastructure, economy, and society?