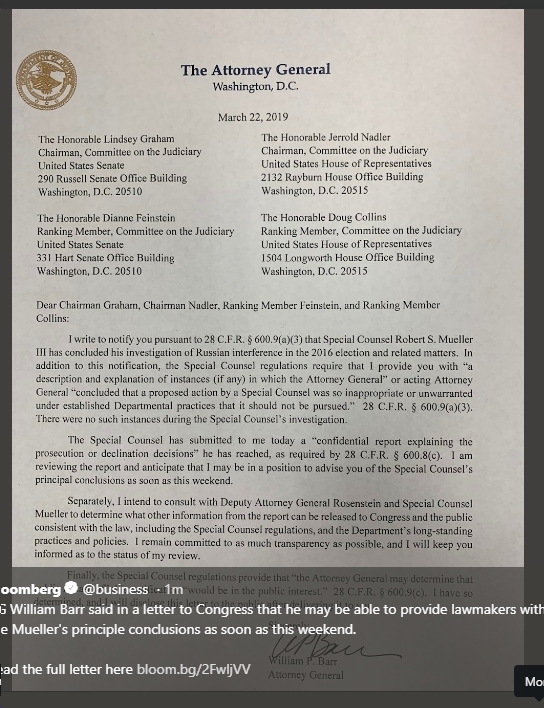 Big breaking news…see below for a statement by Sen. Mark Warner, and others as they come in.
STATEMENT OF U.S. SEN. MARK R. WARNER
~ On the Special Counsel's report ~
WASHINGTON — U.S. Sen. Mark R. Warner (D-VA), Vice Chairman of the Senate Select Committee on Intelligence, issued the following statement after Special Counsel Robert S. Mueller III delivered his report on Russia's interference in the 2016 U.S. presidential election to U.S. Attorney General William Barr:
"Congress and the American people deserve to judge the facts for themselves. The Special Counsel's report must be provided to Congress immediately, and the Attorney General should swiftly prepare a declassified version of the report for the public. Nothing short of that will suffice.
"It is also critical that all documents related to the Special Counsel's investigation be preserved and made available to the appropriate Congressional committees. 
"Any attempt by the Trump Administration to cover up the results of this investigation into Russia's attack on our democracy would be unacceptable."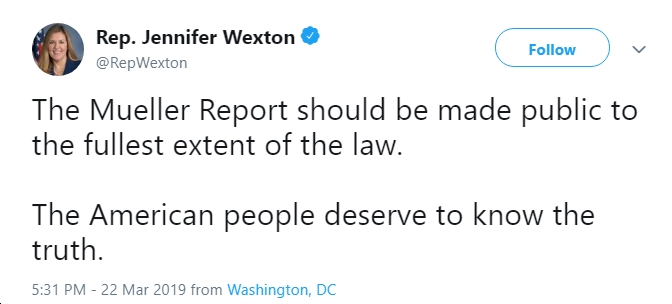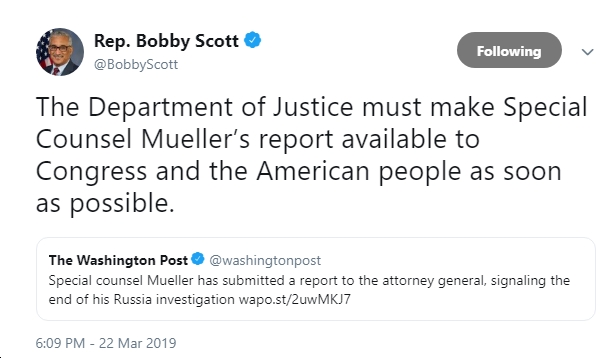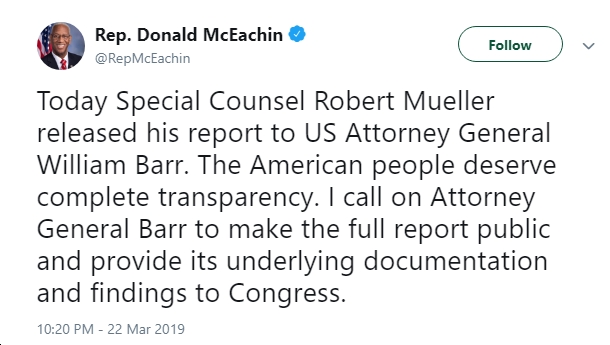 HERRING CALLS FOR PUBLIC RELEASE OF MUELLER INVESTIGATION'S FINDINGS
~ Herring and 17 additional state attorneys general urge U.S. Attorney General William Barr to release the investigation's findings as soon as possible ~
RICHMOND (March 22, 2019) – Attorney General Mark R. Herring and his colleagues tonight released the following joint statement calling on U.S. Attorney General William Barr to make public the findings of the Mueller investigation as quickly as possible:
"As the top law officers in states across the country, we strongly urge United States Attorney General Barr to immediately make public the findings of the Mueller investigation. The American people deserve to know the truth."
Eighteen attorneys general joined the call for a public release of the Mueller investigation's findings. Joining Attorney General Herring in issuing the statement are:
New York Attorney General Letitia James
California Attorney General Xavier Becerra
Colorado Attorney General Phil Weiser
Connecticut Attorney General William Tong
Delaware Attorney General Kathy Jennings
District of Columbia Attorney General Karl Racine
Kentucky Attorney General Andy Beshear
Maine Attorney General Aaron Frey
Maryland Attorney General Brian Frosh
Massachusetts Attorney General Maura Healey
Michigan Attorney General Dana Nessel
Minnesota Attorney General Keith Ellison
New Mexico Attorney General Hector Balderas
Oregon Attorney General Ellen Rosenblum
Pennsylvania Attorney General Josh Shapiro
Vermont Attorney General T.J. Donovan
Washington State Attorney General Bob Ferguson