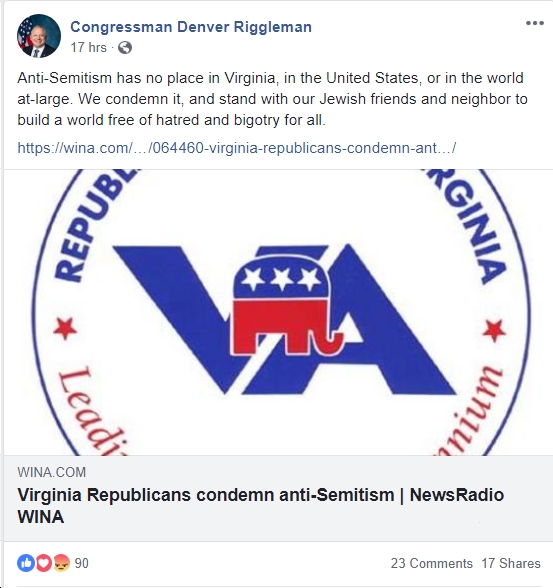 It seems there's only one thing Rep. Denver Riggleman (R-VA05) is more obsessed with than "Bigfoot," and that's anti-Semitism, real or (overwhelmingly in his case) imagined. The latest example of this is on his Facebook page, where he writes:
"Anti-Semitism has no place in Virginia, in the United States, or in the world at-large. We condemn it, and stand with our Jewish friends and neighbor to build a world free of hatred and bigotry for all."
Which of course is true, but why does Riggleman (and the Virginia GOP) feel the need to keep repeating this sentiment, over and over again?
Hint: as this superb post explains, "The Right is justifying their Islamophobia/attacks on a Muslim woman of color by pretending to care about anti-Semitism (which, of course, they don't)." Or, as a highly "liked" comment on Riggleman's Facebook post puts it:
During the campaign last year you falsely accused Leslie Cockburn of being anti-Semitic. In essence you politicized and used the issue of antisemitism to gain a political advantage. To falsely accuse someone of antisemitism does a great disservice to those who actually suffer from true anti-Semitic beliefs and behaviors. That is shameful and you owe Ms. Cockburn as well as your Jewish constituents an apology.
So true. But don't hold your breath for any apologies by Riggleman, who would rather rant and rave about real (or imagined) anti-Semitism by one Democratic member of Congress than deal with the rot in his own party.
Speaking of which, the Republican Party is of course filled with bigots – homophobes, Islamophobes, racists, xenophobes, etc. – of all kinds, starting with the Bigot in Chief in the White House. Yeah, the same guy who actually managed to claim, regarding the tiki-torch-carrying white supremacists and neo-Nazis who marched in Charlottesville and chanted things like "Jews will not replace us," that there were "very fine people on both sides." And then, of course, there's also the fact that Trump's 2016 campaign " appeared to take special pains to mention the names of Jewish acquaintances, colleagues and advisers to Secretary Clinton." Trump even posted a tweet, "a blatantly anti-Semitic image…[which] featured a picture of Hillary Clinton pasted over a backdrop of $100 bills with a six-pointed star — the Jewish Star of David — next to her face" (see image, below).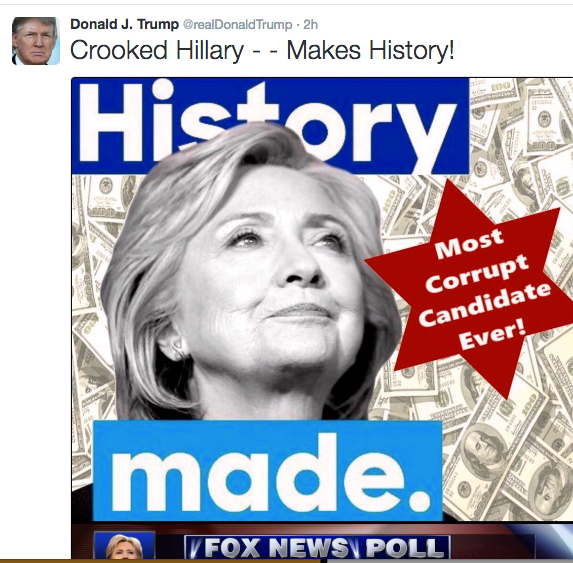 And Trump used blatantly anti-Semitic language at a Republican Jewish Coalition forum, saying, "I'm a negotiator, like you folks" and "Is there anyone who doesn't renegotiate deals in this room?" and "You're not going to support me because I don't want your money." How is that crap any different than what Ilhan Omar said about "the Benjamins?" Uhhh.
Also, more recently, Trump refused to "call on Rep. Steve King (R-Iowa) to resign after the congressman questioned what was so offensive about 'white supremacy,' the ideology at the heart of the Holocaust and other anti-Semitic movements throughout history, during a January interview with The New York Times."
You've also got to love the fact that 23 Republicans actually voted against a U.S. House resolution condemning anti-Semitism and other forms of bigotry.
You also had an explosive device targeting billionaire George Soros, who is Jewish, after relentless attacks against him by Republicans, and while "several conservative groups — including the GOP House campaign committee — [we]re running ads that feature Soros as a boogeyman."
In a since-deleted tweet that was posted before the November midterm election, Rep. Kevin McCarthy (R-Calif.), then-House majority leader, accused Soros, who had just been targeted by a homemade explosive, of seeking to "BUY this election!" Also in on the plot, he wrote, were former New York mayor Michael R. Bloomberg and Tom Steyer, a California billionaire. The two men are Jewish and of Jewish heritage, respectively.
Closer to home, here in Virginia, the former Chairman of the Virginia GOP, John Whitbeck, is of course infamous for telling a Jewish "joke" at a Ken Cuccinelli rally and then claiming it wasn't anti-Semitic because he "heard [it] from a priest at a church service."
You've also got former Gov. Bob McDonnell (R) now teaching at his pal (and major Virginia GOP donor) Pat Robertson's Regent University. Yep, the same Pat Robertson who once asked on his TV show, "What is it about Jewish people that make them prosper financially?" Robertson mused further (see video, below):
"You almost never find Jews tinkering with their cars on the weekends or mowing their lawns. That's what [right-wing Rabbi and pal of Jack Abramoff] Daniel Lapin says, and is there's a very good reason for that, and it lies within the business secrets of the Bible…polishing diamonds underneath the car…"
Not sure where Virginia Republicans like Denver Riggleman were back then, but I don't recall them condemning Pat Robertson for his anti-Semitic ramblings. Or Trump's repeated use of anti-Semitic tropes. Or former VA GOP chair John Whitbeck's anti-Semitic "joke." Etc., etc. But Riggleman et al just happen to be *obsessed* with a Democratic Muslim woman (Rep. Ilhan Omar) who has made her own remarks that employed anti-Semitic tropes (and was promptly condemned by Democrats for doing so). It's fascinating, isn't it, how Republicans are so obsessed with Omar but give Trump and others in their party a pass, over and over again, on all types of bigotry, including anti-Semitism? More to the point, can the Denver Rigglemans of the world be any more cynical, politically calculating and shameless in their laughably obvious efforts to distract from the racist rot in their own party by bashing Ilhan Omar 24/7? Hey GOP dudes, look in the mirror for a change!