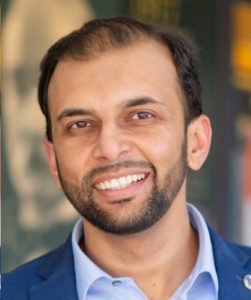 by Marc Broklawski
Next Tuesday, June 11, Democrats have a choice to make for the best person to challenge incumbent Sen. Richard Stuart (R-28th Senate District).
As the primary campaign has unfolded, it is clear that Qasim Rashid is the best candidate to put forward.
While it is my usual policy to remain publicly neutral during primaries, this year circumstances have compelled me to discuss my choice in an open forum.
Improving healthcare for all Virginians is critically important — not just from policy, but it affects so many of us personally. 400,000 Virginians are now eligible for Medicaid cover, thanks to Medicaid expansion, where they did not have healthcare before.
This was brought home to me personally, when my wife was diagnosed with cancer. Fortunately, we had health insurance. But, if we were among the 400,000 Virginians who had no access to healthcare, what would we have done? No Virginian should have to worry about having to check their bank account before seeking treatment.
In the 28th Senate District, there are thousands of people who had to forgo taking their child to the doctor for something as simple as the flu. Qasim Rashid believes, like me, that healthcare is a human right and not just a privilege based on one's income or job.
Qasim believes we need to make healthcare better for all Virginians and has consistently advocated for access and affordability of quality healthcare.
Qasim's opponent has yet to come out unequivocally in favor of Medicaid expansion. Given the opportunity to vote for Medicaid expansion, Qasim's opponent voted NO. The Republicans have stated that they want to repeal or weaken Medicaid expansion with more restrictions. It is vitally important that we send someone to the Senate who will stand up for us in this fight. That person is Qasim Rashid.
Qasim Rashid has served our community as a human rights attorney, giving pro bono legal assistance to sexual assault survivors and victims of domestic violence. He's also had a lifelong focus on improving education for pre-K through college. Qasim understands the importance of teacher pay and smaller class sizes, as well as providing access to educational opportunities after high school. He's got solid ideas on economic development including expanding high-speed Internet access to rural areas, improving our roads and infrastructure and expanding post-secondary education opportunities and minimizing student debt.
Meanwhile, his opponent never had any problem rubber-stamping developer wish lists, even those that added burdens to roads, pushed school capacities to the breaking point, endangered the safety of residents and are environmental nightmares. Some of these developments even Republicans wouldn't support!
Today, as Virginia mourns the loss of 12 innocent lives in Virginia Beach, how can we nominate a candidate whose primary economic development idea is for a super-sized gun range?
Qasim understands we can do better for all Virginians and has put forward common sense solutions to the challenges we all face. Clearly he is the best candidate in this election. I urge you to join me in supporting Qasim Rashid on Tuesday, June 11.