by Cindy
Burkeville, Virginia. An excessive heat warning is in effect, as heat indexes climbed to 110 degrees Saturday afternoon. With the same predicted for Sunday and Monday. It's recommended that people drink plenty of fluids and stay in an air-conditioned room. But inside the Nottoway Correctional Center, there is no air conditioning. The same is true at prisons in Buckingham County and Augusta. Meanwhile, in the Henrico County Jail, there has been a water shortage AND no air conditioning.
These conditions are inhumane, and unsafe for the inmates as well as the guards. Excessive heat like this causes sickness and dehydration, and is likely to lead to increased fighting. Additionally, inmates are more likely to have the types of medical conditions that make such exposure to high temperatures even more dangerous. And prisons are built of more heat-retaining materials, so inside temperatures can be even hotter than outside.
Courts have repeatedly found that subjecting inmates to extreme temperatures is a violation of the Eighth Amendment, prohibiting cruel and unusual punishment. And yet, many prisons, especially in the hot South, are still without air conditioning.
After reading about the lack of working air conditioning in several Virginia prisons during this weekend of excessive heat warnings, several legislators have contacted Public Safety Secretary Brian Moran, who oversees the Department of Corrections responsible for prisons and jails in Virginia. This is the same Brian Moran who issued a report last year declaring that restraining children at the Shenandoah Valley Juvenile Center by placing mesh drool bags over their heads and taping them to chairs did not constitute abuse or neglect. 
The official Department of Corrections response (below) is that there are "protocols in place" for dealing with lack of air conditioning during 110+ degree heat indexes–that protocol being, wait for it, fans and ice. FANS. AND. ICE. And even that is an exaggeration–one inmate's mother said that there's a shortage of ice at Nottoway Correctional Center, rather than having extra ice for the heat. And fans don't really help with this kind of heat and humidity–in fact, experts say you're more likely to die with a fan on than not.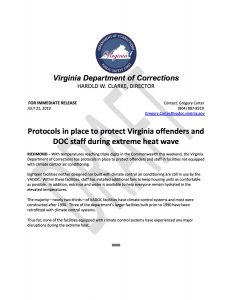 This is unacceptable, and, frankly, an embarrassment. We must demand better. As Dostoevsky said, "The degree of civilization in a society can be judged by entering its prisons. A society should be judged not by how it treats its outstanding citizens but by how it treats its criminals." Being imprisoned is supposed to be the "punishment" meted out, not torturing those who are imprisoned.