Advertisement

Earlier today, Virginia Delegate Sam Rasoul (D-Roanoke) joined his fellow Virginian Khizr Khan, Rep. Ilhan Omar (D-MN05) and Minnesota DFL Party Chair Ken Martin on an "Anti-Muslim Discourse in America" panel, hosted by the Muslim Caucus of America. Click here or on the image, below, for video. Also, here are a few quotes that I thought were interesting from the two Virginians (Khan and Rasoul):
Khizr Khan: "This is a nation of multi-racial democracy. If you want to see the proof of it, go to section 60 of Arlington Cemetery. I have extended that invitation to this president. Go to section 60, face the tombstones and you will see all races, all faiths, defending this country. That is true America and that is where the majority stands."

Khizr Khan: "I have seen throughout my travels…how encouraged, how enthusiastic this nation is to get rid of this unconstitutional, illegal rhetoric, unAmerican practice…I come from Charlottesville, Virginia; we are going to elect…Virginia [General] Assembly majority…We are going to elect in 2020, we are going to repeat 2018, we are going to elect a majority in our Senate and throw the demagogue out of the White House. But it will require all of us…to contribute to each and every campaign…You are the hope, you are the organizers at the grassroots level; that is how we are going to build and that is how we are going to win."
Khizr Khan: "Those who chanted at the North Carolina rally…they have forsaken the maxims of enlightenment, equality and inclusiveness…So this election, next election…is going to be, are we for multi-racial democracy or democracy only for some?"
Del. Sam Rasoul: "All of us Muslim men…we stand with you Muslim women who are standing very strong and really representing a bold voice in moving forward…"
Del. Sam Rasoul: "When the Muslim ban came up, I don't want people to defend Muslims, I want people to defend the constitution…our collective values…In the House of Delegates, there is one document on the wall…the Statute for Religious Freedom…religious freedom in the western world began in the House of Delegates here in Virginia…"
Del. Sam Rasoul: "My challenge to our Democratic Party, this is a bold new vision that these four women and many others are pushing. And they have made it clear, we're not bringing up the left, we're coming from the bottom up. And this is something different…they are writing the book as we go…This is a whole new political movement, and that's why it's so exciting for me to be able to support Rashida, AOC, Ilhan and some of these folks, because they represent something that is just uniquely different that our country needs now more than ever if we're going to push back against these phobias."
UPDATE: Also see here for some more thoughts by Del. Rasoul, such as: "All of us have prejudice; all of us. A few are hateful; but vast majority are just trying to live." and "when elected to Va. House 'the best thing was when people forgot I was a Muslim. I am proud of my faith, but they know me just like they know Abdul, as a fight for economic justice, walking picket lines…'"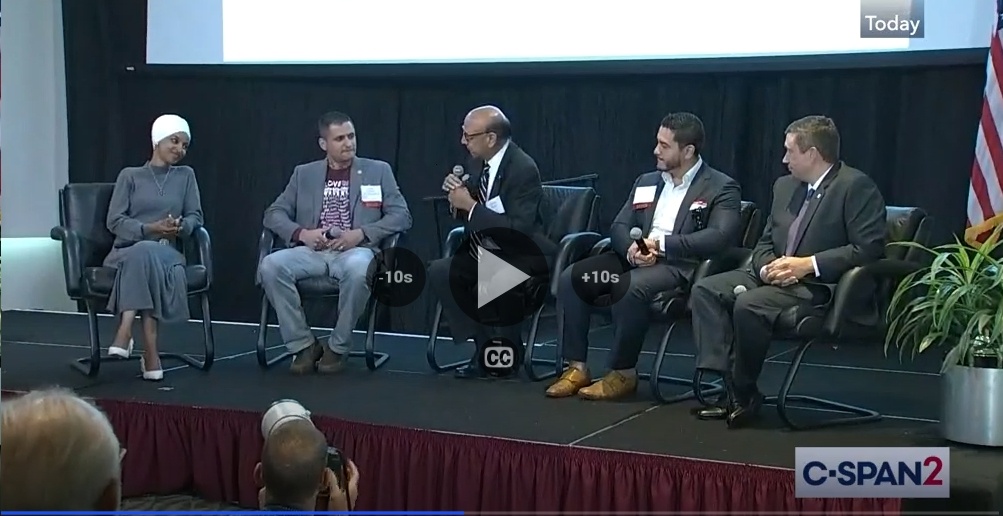 There's no paywall on Blue Virginia, and we definitely want to keep it that way! If you want to help support our work, you can donate here - thanks!
Also, you can
sign up for our weekly email list here
.