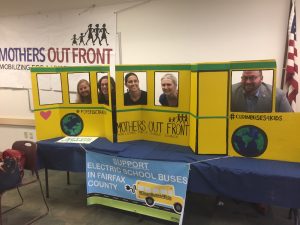 Tuesday evening, Mothers Out Front Fairfax County (MOF-Fairfax) held the kick-off of their campaign for the Fairfax County Public Schools (FCPS) to move off polluting, expensive diesel buses and set the path forward toward an electric bus fleet. With a packed room, the speakers were MOF-Fairfax leaders Julie Kimmel and Bobby Kyle Monacella; Fairfax County Public Schools (FCPS) School Board member Pat Hynes; Providence District School Board candidate; and passionate advocates Karl Frisch (Democratic-endorsed candidate for School Board from the Providence District) and Delegate Mark Keam (HD-35) .
Up front, electric school buses have become the right choice for school system capital investment programs now, because they provide:
Improved performance (better acceleration, quieter, smoother) that contributes to
Improved student (and driver and community) health due to
Significantly reduced pollution (at street, regional, and global levels) with
Much lower ownership costs.
While the benefits are clear, there are bureaucratic obstacles (driving change is hard — though the school staff is clearly interested in exploring EV buses) and, even more importantly, a financing challenge found across the clean energy/efficiency world: while ownership costs are far lower, the upfront costs are higher. This last is perhaps the key challenge: how to secure financing to cover those higher upfront costs and use long term savings to pay off the loan. Many electric bus manufacturers have such financing programs (such as Proterra, Virginia's preferred electric bus provider, and BYD, the world's largest electric bus manufacturer). With over 1,600 buses, FCPS should be able to secure such a financing package if it were to commit to a serious program of electrifying the bus fleet.
While the speakers are well worth listening to (see video, below) in full, some key points/highlights.
MOF Fairfax's Julie Kimmel opened the event and laid out some of the key truths:
Diesel buses are a threat to children's health … and to the larger environment.
Real-world experience shows significant cost savings through using electric buses — perhaps as much as $175,000 in savings over the 15 year life cycle of a normal bus.
School Board Member Pat Hynes spoke strongly about the value of electric buses and the necessity for moving forward and that the School Board wants this logical next step to adding solar to school rooftops. Hynes spoke to a just forming Joint Environmental Task Force (JET), where the School Board and County Supervisors will coordinate for best paths forward — EV buses as a logical item for the JET to tackle.
Hynes' key concern: that upfront cost and how to finance it.
EV buses cost three times as much to buy as diesel buses. As a public entity, we have to be good stewards of public resources and that upfront cost is a barrier that we can't cross alone.
Hynes spoke of working with Dominion Power to see if and how they might engage to help leap that upfront capital cost challenge.
Delegate Keam demonstrated his off-the-cuff ability to communicate powerfully, discussing how he had seen Moms Demand Action in Richmond earlier in the day battling for gun-sense action over Republican opposition, and then being in the room with Mothers Out Front Fairfax on electric vehicles. "We all know that when mothers get involved, things get done."
While Keam discussed climate issues and the need for serious action, the most striking (to me, at least) was the powerful relationship of electric school buses to his family's experience. As he summarized in a note to me,
I have two kids who attend public schools right here in Vienna, and when they were small, they both took school buses everyday.  They both also suffer from various allergies and asthma, so it was hard for them at times to sit on a bus that emits diesel fuel emissions and other toxics into the air. Converting school buses from fossil fuels to electric power will not only help our environment, but also our children's health.
Providence (Fairfax County) School Board candidate Karl Frisch has laid out his support for electric buses, as part of his Green New Deal for FCPS, since the beginning of his candidacy. Karl highlighted that an EV bus program would create an economic development opportunity — with a major County/FCPS purchase, part of the terms could be setting up infrastructure in the County to support EV buses throughout the mid-Atlantic region.  Karl powerfully stated a truth about the climate crisis and political responsibility. As he summarized it in a note to me,
I am incredibly grateful that students and parents are leading the fight against climate change in Fairfax County. We can't wait on Washington to get the job done — not while Trump and his fossil fuel friends are in office. Instead, every level of government must do its part to address this humanity-threatening crisis. On the school board, I will make electrifying our buses and greening our schools a top priority.
MOF Fairfax leader Bobby Monacella closed out the event with a thoughtful and passionate relating of electric buses to being a mother and demonstrating, in a tangible way, to her teenage daughter her understanding of climate risks for her daughter's generation (for today's FCPS students) and that she is acting to help reduce those risks.
"…made us realize we simply can't buy one more diesel school bus because it locks us into 15 years of fossil fuel emissions and our kids future can't afford that. Here is something we can do to show that we understand the dire consequences of climate change and that we're working with them to have a livable future. It's such a concrete way to show them. The buses are right in front of them every day. It's a great teachable moment for sustainability but it's also a show of support and caring their future."