Want to understand what a "Green New Deal" would mean for Virginia and how it would work? See below for an excellent presentation ("Green New Deal Virginia 101") by 2018 Democratic VA-09 nominee Anthony Flaccavento – who, by the way, would be INFINITELY superior to climate science denier Rep. Morgan Griffith (R-VA09) in Congress – on this topic, presented in Manassas on July 17. Here's a good summary, by Flaccavento, of what this is all about:
"What I most like about the Green New Deal, it's driven by climate change, it's driven by the utter urgency of climate change, but it is first and foremost in my mind…an economic strategy – more so than an environmental strategy. It's a recognition that the way we've been going about creating economic prosperity hasn't worked, and that we want to redo that so that ultimately, people, communities and the ecosystem are not collateral damage of economic prosperity or economic development, but they are actually built into the system, baked into the system, so that the economy promotes health, the economy sustains the land and the environment, and the economy helps rekindle community resilience and self-reliance. That's what we think the Green New Deal can do, that's what you think it will do."
And here are the main planks of the Green New Deal, all of which make a huge amount of sense.
Goal #1 of the Green New Deal: "A just and equitable 100% renewables plan that leaves no workers or communities behind"
Goal #2 of the Green New Deal: "Direct large investments and job-training programs in renewables, building an energy-efficient smart grid, residential and commercial energy efficiency, and more."
Goal #3 of the Green New Deal: "The absolute priority of clean air and clean water for all Virginians."
Goal #4 of the Green New Deal: "Investments in small-scale, local, sustainable agriculture."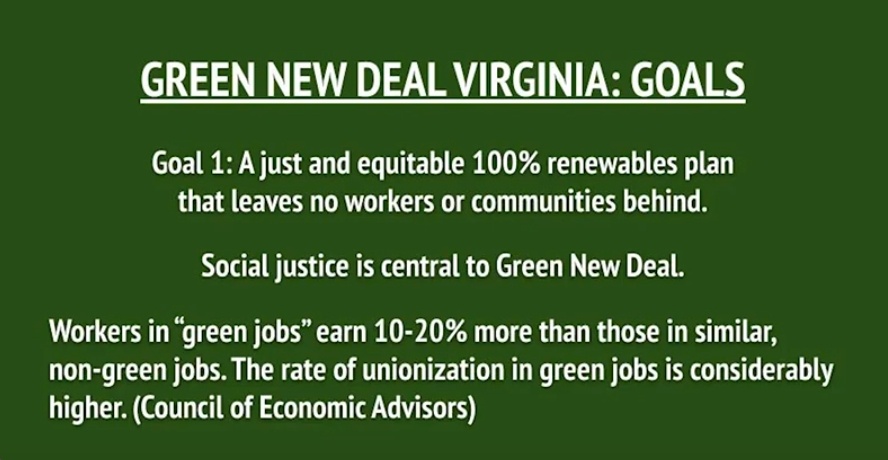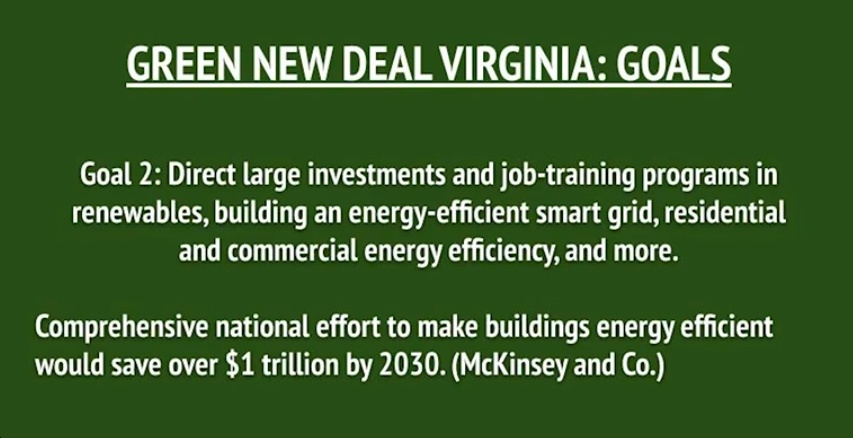 Of course, to accomplish these things, we're going to need Democrats to take control of the Virginia General Assembly this November 5 – so don't forget to vote! But we're also going to need to elect BETTER Democrats, people who aren't in the pocket of Dominion Energy, people who understand – and are willing to act on – the urgency of the climate crisis, as well as people who understand the need for 100% clean energy and a sustainable economy more broadly, etc.
As for those "Dominion Democrats" remaining in the General Assembly? If we can't replace them, we're going to have to make clear to them – in no uncertain terms – that they need to either lead, follow, or get the hell out of the way. Because at this point, with the glaciers melting, the oceans acidifying, storms intensifying, and clean energy costs plummeting, we simply don't have any more time to waste. And there's certainly no good excuse at this point – if there ever was – for any elected official to be catering to polluters and corrupt/unscrupulous actors like Dominion Energy. So…quibble about the details, and call it whatever you want (personally, I love the "Green New Deal" framing). But the non-debatable bottom line is that the time has come for a rapid transition to 100% clean energy and to a just, sustainable economy. Let's do it.