Want to understand what a "Green New Deal" would mean for Virginia and how it would work? See below for an excellent presentation ("Green...
From Senators Tim Kaine and Mark Warner, on Trump's disastrous trade war with China. WARNER & KAINE: THE PRESIDENT'S ESCALATED TRADE WAR WITH CHINA THREATENS...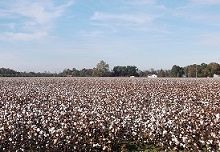 While Virginia exports of agricultural and forestry products approaching
$3 billion last year
is impressive, there is a downside. To a large extent, it is a function of geography and climate. Virginia has not positioned itself to take advantage of the bountiful harvest. Much more impressive would be sustainable jobs.
Bob McDonnell didn't make this happen under his watch. The convergence of conditions, largely out of human hands, did. And though you can claim that there is some correlation between this outcome and jobs, any additional employment is at the margin and highly susceptible to the vagaries of weather. So this is a moment when another man who told us he had a jobs plan, Governor McAuliffe, can step forward to show the world how to turn this advantage into something that can shield the state in the lean years.
As long as these products are shipped off to other places to be processed, ignoring the potential benefit resulting from jobs that are immune to weather, this portion of the economy will remain as vulnerable as any backwater that is content with shipping off raw materials for processing until they are exhausted. And then what?
It is the transformation of raw materials that creates wealth. In Virginia some of this does occur; sometimes due to force of circumstance. Hams keep and ship over long distances better than pigs, for instance. The grapes that we harvest are generally economical to grow because they reap a premium when transformed into wine. But we should not be satisfied when so much of the raw agricultural and forestry production in Virginia goes off to other lands where labor is rewarded for the potential that is unlocked there.
Production of end-products is not dependent upon Virginia agricultural conditions. If Virginia has a bad harvest as a result of drought or pestilence or whatever, there's always someplace else to find raw materials. If transformation of raw materials happens to be in Virginia, then the port continues to operate (and is potentially busier with the import of materials) and end product continues to be produced and sold. We are positioned to assist the sectors which are suffering misfortune to sustain them for the future good years.
So let's learn from this moment. We should all look forward to initiatives coming out of the McAuliffe administration that will leverage our great agricultural and forestry fortune. It certainly didn't happen under the other jobs governor.
For three years we have heard that Virginia is enjoying budget surpluses. All the while, a series of gimmicks have been employed that will unravel during the years to come; some immediate, some long term. Terry McAuliffe would be well advised to determine baselines that provide context for funding obligations.
Ken Cuccinelli was right when he claimed that taxes would increase during a McAuliffe administration; what he failed to point out was that they also had consistently increased during the current administration and would under his own. The difference will be that Governor McDonnell was allowed to borrow against the future and underfund capital requirements, in effect levying the tax on his successors and generations to come. Cuccinelli would have done much more of the same. Such maneuvers by the coming McAuliffe administration will not be met with the deafening silence afforded the current administration.
Maintaining the Illusion of Surpluses
The Virginia Retirement System (VRS) "loan" amortization, the legislatively mandated 20% annual contribution deficiency, and total unfunded pension obligations
Education infrastructure maintenance, capitalization and re-capitalization underfunding
Transportation infrastructure maintenance, capitalization and re-capitalization underfunding
Positive growth of revenue streams; particularly from areas such as agricultural production where weather and markets are beyond the influence of state government but have had a good run
Terry McAuliffe should conduct an audit early on so that the inevitable future claims of fiscal malfeasance can be placed in context when the bills come due. This one must be much more honest than the audit by McDonnell's team which made claims like turning up over $100 million that had been "mismanaged" by the Department of Transportation during the Kaine administration (conversely, McAuliffe should make certain that operating funds and reserves have not been drawn down). No, this audit should nail down underfunded and unfunded obligations that are currently, to a great extent, off the books. Some will come due during the next four years; some will continue to grow otherwise unacknowledged until they explode with consequences similar to the Detroit pension crisis. is the title of
this New York Times op ed by Samuel Loewenberg
. I think it should be mandatory reading. The Horn of Africa is facing massive famine. Loewenberg writes, appropriately I would say,
American attention to the hunger crisis has focused on the dire conditions of Somalis, but they account for just about a third of the 13 million people affected. According to the United Nations, hunger afflicts 4.5 million people in Ethiopia and 3.75 million people in Kenya, which has about half of Ethiopia's population. An estimated half a million Kenyan children and pregnant or breast-feeding women suffer acute malnutrition.
He also writes
Unlike earthquakes or hurricanes, droughts and food price increases take time to develop, and the resulting hunger crises are forecast well in advance. From water harvesting to livestock support to cash assistance, there are a plethora of steps that could have significantly ameliorated the current crisis. Why weren't they taken?
There is more, much more, in his op ed, including why it makes more sense to send money than our excess food - the latter loses half its value in transport, while the former allows local purchase which can help build up a sustainable food production system; to build roads - transport of food stuff and broader markets for local agriculture. We know that. You can read what he has to say.
I want to use his column as a starting point for a further discussion.