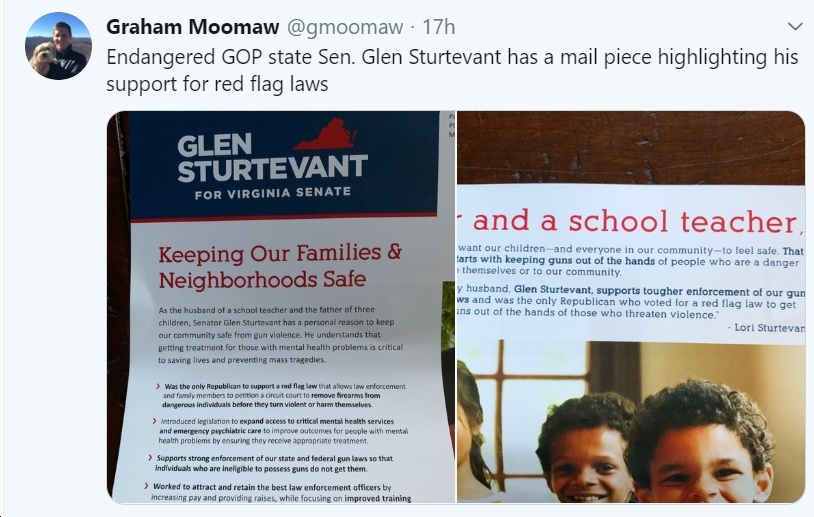 Among the numerous endangered incumbent Virginia Republican State Senators and Delegates this fall, State Sen. Glen Sturtevant (R-SD10) certainly ranks high on the list. For starters, note that SD10 was won by Ralph Northam by 15 points over Ed Gillespie in 2017, and by Tim Kaine by 24 points over neo-Confederate Corey Stewart in 2018. As if that's not bad enough for Sturtevant, he also has the misfortune to face a super-strong Democratic challenger in Ghazala Hashmi, who of course would be an infinitely better State Senator than Sturtevant, and also right now can certainly be viewed as the favorite in this race.
So what's a conservative Republican to do in a heavily "blue" district against a strong Democratic opponent? What else than try to dishonestly reinvent himself, John Whitbeck style, as some sort of moderate or whatever? Which is exactly what Sturtevant's been doing, first with his ultra-cynical "support" for ERA ratification, even as Sturtevant sports a ZERO rating from NARAL Pro-Choice Virginia and an 88% rating from the hard-right "Family Foundation of Virginia." Now, as if his ERA chicanery wasn't brazen enough, Sturtevant now is pretending to be a gun violence prevention champion. Check out that mailer, above, in which Sturtevant claims to be the "only Republican to support a red flag law," also that he supposedly support "strong enforcement of our state and federal gun laws," etc.
The reality? Sturtevant's ratings from gun groups are very high, ranging from 80% to 96% since 2015. More reality?  Let's check out some of Sturtevant's firearms-related votes:
We could go on all day, but you get the picture: Sturtevant overwhelmingly – with little exception, including the "red flag" law he cited in his campaign literature – has voted with his fellow Republicans to kill gun violence prevention legislation. So where does Sturtevant's Democratic opponent, Ghazala Hashmi, stand on gun violence prevention?
Bottom line: Democrats need to turn out in droves on November 5 to vote for the superb Ghazala Hashmi and to boot out the fundamentally misleading, fake "moderate" (on guns and other issues as well) Glen Sturtevant.