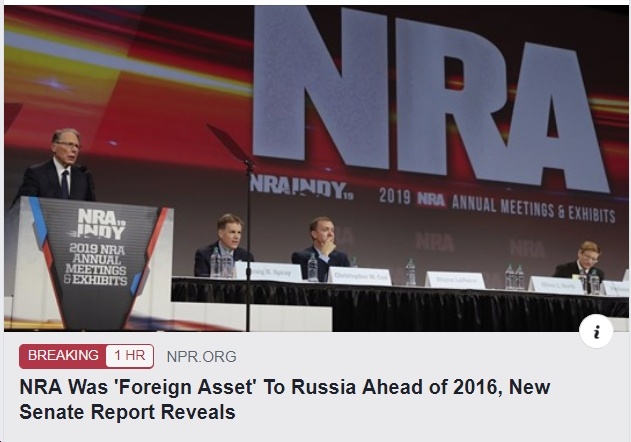 According to breaking news this morning:
The National Rifle Association acted as a "foreign asset" for Russia in the period leading up to the 2016 election, according to a new investigation unveiled Friday by Sen. Ron Wyden, D-Ore.
Drawing on contemporaneous emails and private interviews, an 18-month probe by the Senate Finance Committee's Democratic staff found that the NRA underwrote political access for Russian nationals Maria Butina and Alexander Torshin more than previously known — even though the two had declared their ties to the Kremlin.
The report, available here, also describes how closely the gun rights group was involved with organizing a 2015 visit by some of its leaders to Moscow.
Appalling, right? And that's on top of all the other bad stuff the NRA does. So presumably, no politician would want the NRA's money, right? Except, that is, for…lots of Republicans, including Virginia Republicans such as the following (see screen shots from VPAP, below).
First off, note that the NRA has given

$262,080 to Virginia politicians in 2017-2019 — ALL OF WHICH went to Republicans.

Second, check out the long list of Virginia Republican recipients of NRA cash, including ones in tough races this cycle like

House Speaker Kirk Cox, State Sen. Bryce Reeves, Sen. Jill Vogel, Del. Tim Hugo, former Del. Rich Anderson, Del. Glenn Davis, Del. Chris Jones, former Del. Rocky Holcomb, Del. Dave LaRock, former Del. Randy Minchew, Del. Roxann Robinson, Del. Chris Stolle, Del. David Yancey, etc.

Please make sure you support the Democratic opponents – Sheila Bynum-Coleman, Amy Laufer, Ronnie Ross, Dan Helmer, Del. Hala Ayala, Karen Mallard, Clint Jenkins, Alex Askew, Mavis Taintor, Del. Del. Wendy Gooditis, Larry Barnett, Nancy Guy, Shelly Simonds, etc. to all the aforementioned, as well as everyone else on this list.
P.S. It's also worth noting that a lot of NRA money flows to Republican candidates indirectly, for instance via Colonial Leadership PAC (Speaker Cox's PAC) and the Republican State Leadership Committee (RSLC), which for example has donated nearly $200k to Republican Mary Margaret Kastelberg, and which itself gets tons of $$$ from the NRA. So make sure you support Kastelberg's Democratic opponent, Rodney Willett, and other Democrats running against NRA-funded Republicans – even if the funding comes indirectly.