From the Sierra Club, Virginia Chapter:
Hundreds Celebrate Fourth Annual "Hands Across the Appalachian Trail"
Events in three locations hosted attendees from VA & WV, Youth Leaders and State Officials
Pearisburg, Lyndhurst and Bluemont, VA. ―  On Saturday, September 28 and Sunday, September 29, hundreds of community members, youth leaders, environmental groups and protectors of the Appalachian Trail, including State Delegate Chris Hurst and State Senator Creigh Deeds, gathered for the fourth annual "Hands Across the Appalachian Trail." This two-day community event featured speakers, music, artmaking and calls for attendees to protect and preserve the Appalachian Trail, currently under threat from the fracked-gas Mountain Valley and Atlantic Coast pipelines, and to take immediate action on the climate crisis.
In Pearisburg, attendees heard from speakers Russell Chisholm of P.O.W.H.R (Protect our Water, Heritage, Rights); Maury Johnson of Preserve Monroe; Rachel Spector of the Virginia Tech Environmental Coalition; Ryan Wesdock, Chair of the New River Valley Greens; Shayla Utzinger and Christian Shushok of the Appalachian Youth Climate Coalition; and State Delegate Chris Hurst. Ryan Wesdock spoke of the need to divest from financial institutions that support the fossil fuel industry, and for a reinvestment in communities. Utzinger and Shushok of the Appalachian Youth Climate Coalition spoke of our responsibility for stewardship, the importance of being the "voices of these mountains, (that) they need to be heard and we need to speak louder," the negative impacts of Mountain Valley Pipeline and that "our fight will go on as long as there is still an Appalachia to protect." (Livestream featuring Shayla Utzinger and Christian Shurlock) Delegate Chris Hurst spoke of the need for immediate action for the environment, and a return to an era of conservation: "Everything we are doing to try and save the planet and save our species needs to happen with even more urgency than we are doing today." (Livestream video of Delegate Chris Hurst)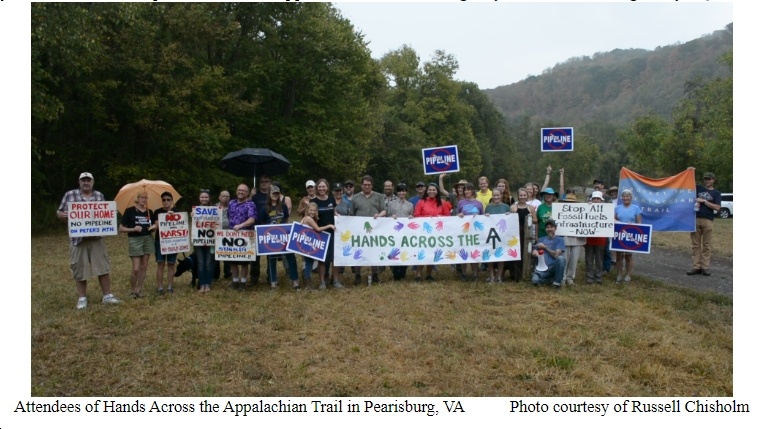 In Lyndhurst, at Humpback Rocks, attendees heard from Joyce Burton of Friends of Nelson; artist Amelia Williams, who presented her art exhibit "The Ties that Bind;" Kirk Bowers of the Sierra Club; Bobby Whitescarver, a farmer and retired soil conservationist with USDA; Eric Curren, Staunton City Councilor; and State Senator Creigh Deeds. Guests enjoyed live music, participated in the interactive art exhibit and heard about ways to protect and preserve the Appalachian Trail from environmental impacts such as the potential Atlantic Coast Pipeline.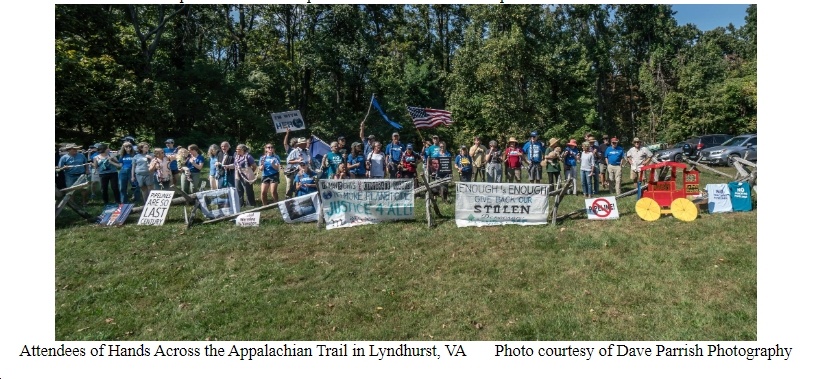 In Bluemont at Bears Den, attendees heard from Peter Weeks, President of the Friends of the Blue Ridge Mountains; Natalie Pien of 350 Loudoun; Jon Sokolow, Attorney, writer and activist; and Karen Campblin, Environmental and Climate Justice Chair of the Virginia State Conference of the NAACP. The need for protective measures for the Appalachian Trail, Virginia's environment and tourism, and the move toward clean energy sources and renewable energy campaigns around the state were highlighted topics. Hosts discussed the recent 100% renewable energy plan from Arlington, VA and the intersection of environmental justice, social justice and the need to transition to clean energy.
The Mountain Valley and Atlantic Coast pipelines propose to cross several nationally known and highly popular public recreational areas including the iconic Appalachian Trail. Dedicated work from volunteers, community groups, allies, legal advocates and individuals has led to Stop Work Orders and delays of the pipelines, and includes work that has helped protect the AT.  This event is an annual gathering to celebrate and protect a national treasure, and to support future efforts to prevent both fracked-gas pipelines.
"Hands Across the Appalachian Trail" was supported by a coalition of groups including Sierra Club Virginia Chapter, P.O.W.H.R., Friends of Nelson, 350 Loudoun, Appalachian Voices, Food & Water Watch, Wild Virginia, Preserve Monroe, Save Monroe, Summers County Residents Against the Pipeline, Preserve Giles, Preserve Craig, Preserve Salem, Chesapeake Climate Action Network, Allegheny-Blue Ridge Alliance, Friends of Buckingham and more.
 For additional quotes, photographs or video content, please contact jessica.sims@sierraclub.org or 804-366-0745
#####
About the Sierra Club Virginia Chapter: The Virginia Chapter of the Sierra Club is over 20,000 members strong. We are your friends and neighbors working to build healthy, livable communities, and to conserve and protect our climate and environment. The Virginia Chapter is part of the national Sierra Club, the nation's largest and most influential grassroots environmental organization. For more information, visit sierraclub.org/va