Advertisement

In a little over five weeks, we'll be at the one-year anniversary of Gov. Ralph Northam's "blackface" scandal, with most Virginia Democrats (Blue Virginia included) calling for Northam to resign. Of course, Northam didn't end up resigning, and nearly 11 months later, the Washington Post just wrote an editorial discussing how Northam "came back from the political dead," and how Northam "has refocused his governorship on racial equity and reconciliation in what amounted to an extended act of public contrition and atonement."
Now, the WaPo didn't take back its call for Northam's resignation, but one of its political columnists – Karen Tumulty – tweeted (see below) "We were wrong" to have said Northam should resign. This, predictably, has the right wingnuts in a frenzy. For instance, neo-Confederate Corey Stewart, the 2018 Virginia GOP nominee for U.S. Senate, wrote on his Facebook page: "Washington Post flip flops on Gov. Northam scandal. Racist photos are now OK if you're a Democrat." The comments on that post are exactly what one would expect, by the way – such as, "Well the Washington post has their nose up Northam's butt and Northam has his nose up Michael Bloomberg butt. A never ending circle of hypocrites, crooks." And, natch, Fox "News" headlined one of its stories, "Washington Post praises Ralph Northam post-blackface scandal, says they were 'wrong' to call for resignation." On and on it goes as the right-wing outrage factory gets revved up. Whatever.

Still, notwithstanding the right wingnuts' predictable "outrage," there's a serious question in here: namely, were we wrong, or not, to have called for Gov. Northam's resignation last February? Should something that happened decades ago  – even something really bad, like having apparently put racist photos on your Med school yearbook page – constitute sufficient reason for someone to be forced to give up their public office? Should the person be given a chance to redeem himself, as Northam has been doing – at least, according to the WaPo editorial page – since February? Or not?
Check out the poll, below, and feel free to chime in…Were We "Wrong" or Right to Call for Gov. Northam's Resignation?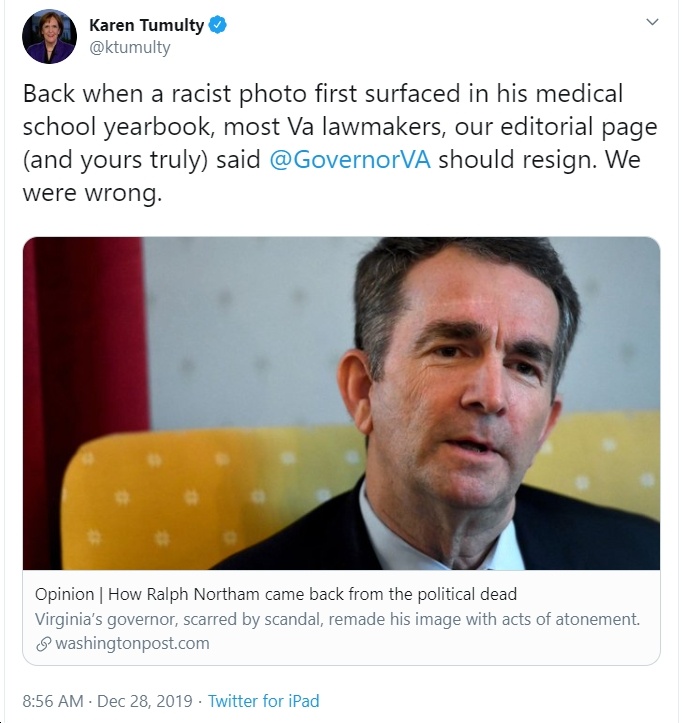 There's no paywall on Blue Virginia, and we definitely want to keep it that way! If you want to help support our work, you can donate here - thanks!
Also, you can
sign up for our weekly email list here
.