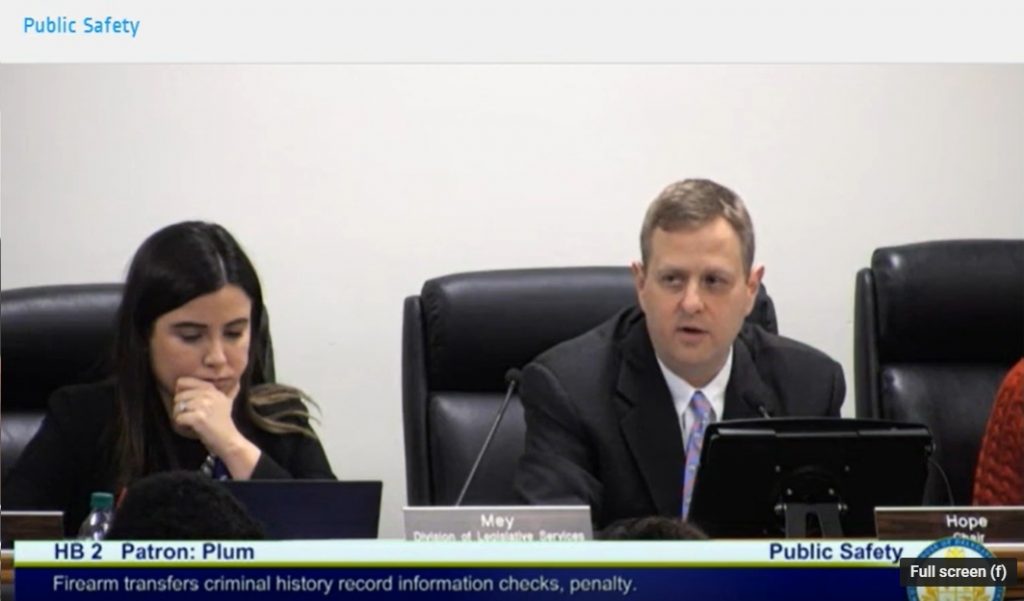 Excellent job by Del. Patrick Hope this morning, chairing the Public Safety Committee, and facilitating the passage of seven gun violence prevention bills. As Del. Alfonso Lopez writes, these bills are: universal background checks, "red flag" protective orders, "one handgun a month," reporting lost/stolen guns, local authority/ban guns in government buildings, children's access protections, protective orders and firearms. Also, see below for video and for statements by Speaker Eileen Filler-Corn, Moms Demand Action, Everytown for Gun Safety and the Coalition to Stop Gun Violence, on the passage of these bills from committee. Now, on to the floor of the House of Delegates, where all of these bills should pass easily, and then hopefully through the State Senate as well and to Gov. Northam's desk for his signature.
Speaker Filler-Corn Statement on House Public Safety Committee Passage of Gun Violence Prevention Legislation
Richmond, VA– Eileen Filler-Corn, Speaker of the Virginia House of Delegates, today released the following statement on the House Public Safety Committee's passage of common-sense gun violence prevention legislation.

"Our action today is for the families who have lost loved ones as a result of gun violence, the mothers and fathers who have seen their children's lives end senselessly at the barrel of a gun, the high school students who should not have to worry when they get on the bus in the morning if they will return home.

Virginians spoke clearly when they went to the polls in November. They had seen enough inaction and too many family members, friends, neighbors and co-workers affected by by gun violence. They turned out in record numbers to demand action from the General Assembly to make their communities safer. Today we delivered by moving forward with bills that will save lives.

Thank you to Chairman Patrick Hope and bill patrons Ken Plum, Jeff Bourne, Marcia Price, Cliff Hayes, Rip Sullivan, Jeion Ward and Mike Mullin for their work in making today's progress happen."
Virginia House Public Safety Committee Passes Seven Gun Violence Prevention Bills
Washington, DC (January 24, 2020) — This morning, the Virginia House Public Safety Committee passed all seven gun violence prevention bills on the docket. These bills include establishing universal background checks, establishing an Extreme Risk Protection Order, establishing child access prevention laws, requiring lost and stolen firearms to be reported within 24 hours, limiting handgun purchases to one per month, prohibiting domestic abusers from knowingly possessing a firearm while a permanent protective order is in effect, and granting localities authority to regulate firearms. These bills will be brought to the floor next week for a full vote.
Coalition to Stop Gun Violence Virginia State Director Lori Haas issued the following statement:
"We are pleased to see these seven bills pass the Virginia House Public Safety Committee. The committee has clearly heard the wishes of Virginians loud and clear. Today, we are one step closer to making the Commonwealth of Virginia a safer place for everyone and stopping gun violence in all its forms.
"We look forward to seeing these bills come up for a full vote in the House of Delegates next week; we are hopeful that Virginia delegates will do what they were elected to do and pass these bills without delay."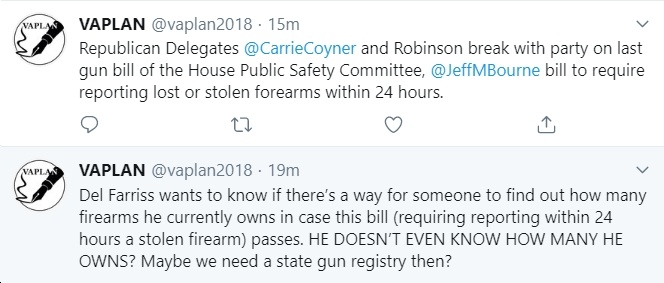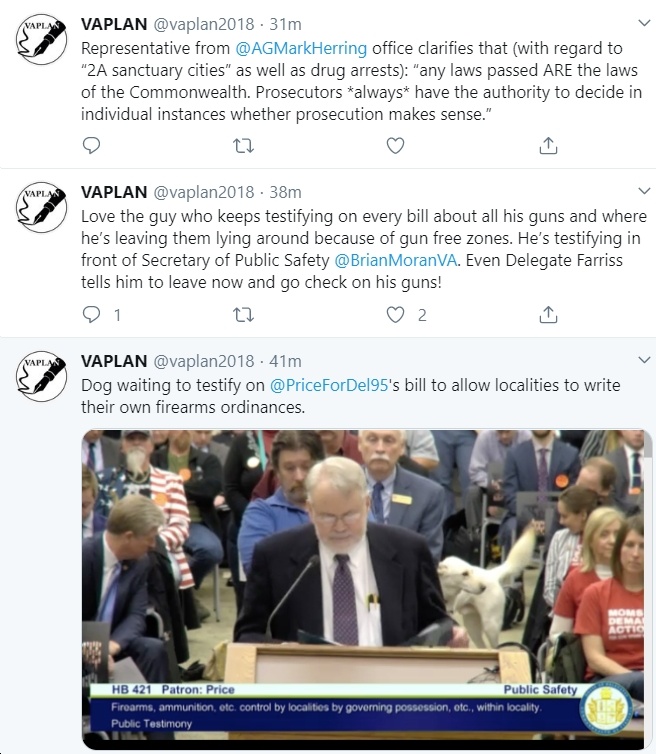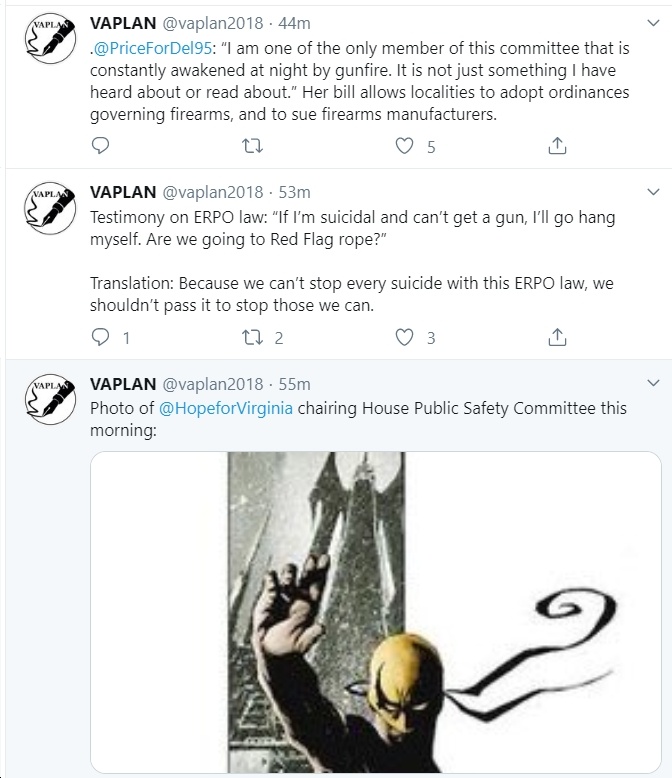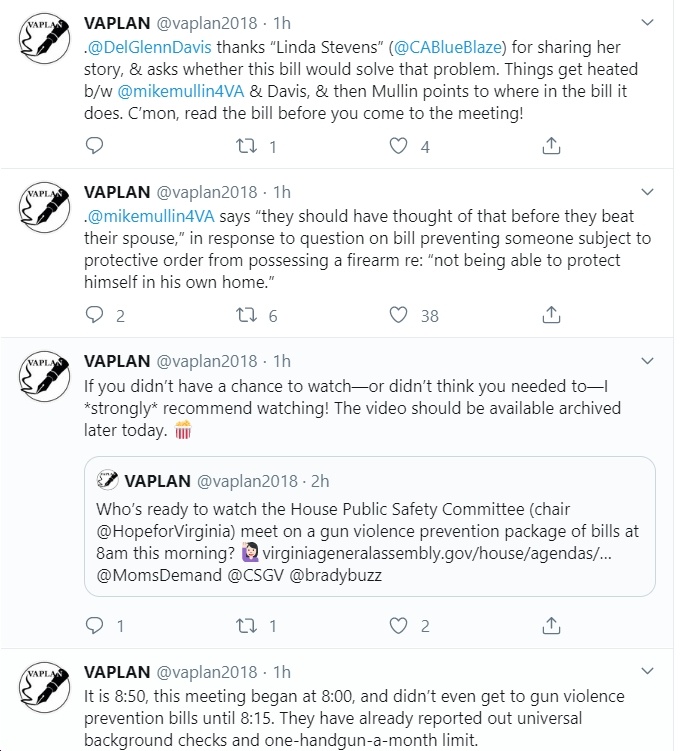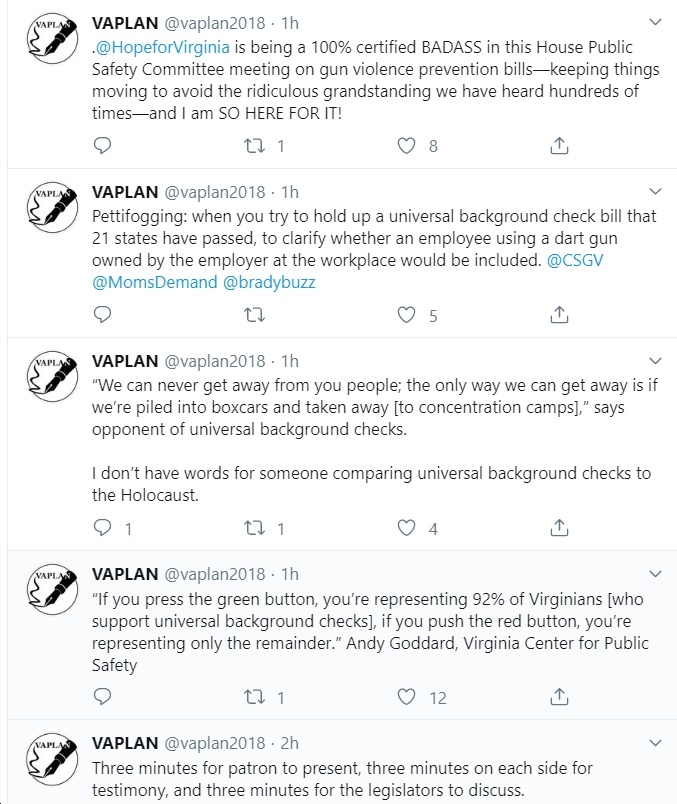 VIRGINIA MOMS DEMAND ACTION, EVERYTOWN APPLAUD VIRGINIA HOUSE COMMITTEE FOR PASSING GUN SAFETY LEGISLATION
RICHMOND, Va. — The Virginia chapter of Moms Demand Action for Gun Sense in America, part of Everytown for Gun Safety, today applauded the Virginia House Committee on Public Safety for passing a slate of gun safety bills, including legislation to close dangerous gaps in Virginia's background check laws and empower law enforcement to seek extreme risk protection orders when an individual exhibits dangerous warning signs.
"We've seen a sea change on gun safety in Virginia, and today's vote is further proof of that," said Nancy Spooner, a volunteer with the Virginia chapter of Moms Demand Action for Gun Sense in America. "Last session, common-sense gun legislation wasn't even given serious consideration, but thanks to the new gun sense majority, we're one step closer to a safer Virginia. We're grateful to our elected officials for taking a stand on gun safety."
In November, gun safety was the number one issue for voters in Virginia and both chambers flipped to gun sense majorities — even in the NRA's own backyard. Recent polling has continued to show that a bipartisan majority of Virginians favor gun safety laws, with large majorities supporting background checks and red flag laws.
On the first day of the 2020 legislative session, the Virginia chapter of Moms Demand Action held their annual advocacy day and had more than 70 meetings with lawmakers to show their support. On Monday, as gun extremists descended on Richmond, Virginia to intimidate lawmakers, Moms Demand Action held a phone bank to support lawmakers who have stood up for common-sense gun safety policies. More than 100 volunteers with Moms Demand Action from Virginia and 23 states made nearly 3,000 calls on Monday alone.