Remember how Virginia House Minority Leader Todd Gilbert (R) was whining the other day about how Democrats weren't churning out legislation fast enough?  Based on the slew of gun violence prevention bills being churned out today (see below), and all the other progressive legislation now moving quickly through the House of Delegates, you've got to wonder if Gilbert is regretting he ever uttered those words! LOL
7 GVP bills passed the Virginia House of Delegates today, and those who voted in favor are truly saving lives. My heart is full. The work continues until each strong bill becomes Virginia law. #VotesandLaws #IStandWithVirginia

— Lori Haas (@LoriHaasVA) January 30, 2020
From Del. Rip Sullivan (D)'s office:
Delegate Sullivan's "Red Flag" Bill Passes Virginia House of Delegates
RICHMOND, Va. – Delegate Rip Sullivan's bill, HB 674, to create substantial risk orders in the Commonwealth today passed the Virginia House of Delegates. If passed by the Senate and signed by the Governor, this bill will be a substantial step in the right direction in the effort to curb gun violence in our communities.
"Every death caused by gun violence is a tragedy – what is also heartbreaking is that many of these deaths are preventable. This bill is similar to legislation passed in 17 other states and the District of Columbia and would enable law enforcement to stop gun violence before a single shot is fired," said Delegate Sullivan. "We have all heard the saying, 'if you see something, say something,' but in Virginia, law enforcement does not currently have the tools it needs to 'do something' if someone close to the person who is clearly at risk of harming himself or others reports the issue."
"A study by the Secret Service National Threat Assessment Center found in a study of mass shootings in the U.S. that '[n]early all of the attackers engaged in prior threatening or concerning communications,' and in many instances family members and friends contacted police to share their concerns but no action could legally be taken[1]. HB 674 will help avert these devastating mass shootings and keep us safer."
"This is also as much an effort to prevent suicides by firearm, which constitute nearly two-thirds of gun-related deaths in Virginia as it is an effort to prevent homicides and mass shootings[2]. If a mother, for example, knows that her child is suicidal and owns a firearm, she will be able to remove this deadly weapon from his or her home. Studies show that suicide-by-firearm rates drop substantially in states with 'Red Flag' laws, and it is long overdue that Virginia lawmakers take action on this epidemic[3]."
"I have worked closely over the last several years with stakeholders to guarantee that this bill includes extensive due process and respect for the Second Amendment while ensuring that Virginians will finally be able to make a meaningful difference in the fight to stop the ongoing gun violence crisis," he concluded.
HB 674 will create a judicial process through which law enforcement can petition a judge to prohibit individuals deemed at substantial risk of harming themselves or others from purchasing, possessing, or transporting firearms. Laws like this are often referred to as "Red Flag" laws, Gun Violence Restraining Orders, or Extreme Risk Protective Orders.
The text of HB 674 can be accessed here.
---
###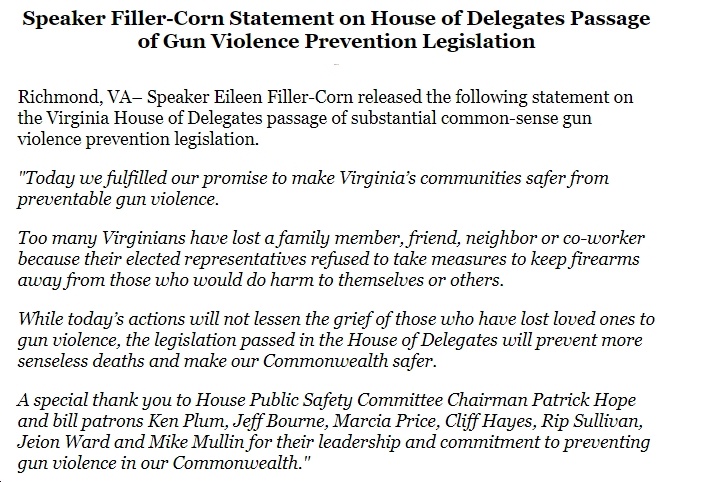 From the Virginia House Democratic Caucus:
Virginia's House of Delegates Passes Gun Reform Legislation
RICHMOND—The House of Delegates has passed seven Democratic-sponsored gun safety bills intended to prevent gun violence. The bills address universal background checks, requirements to report lost and stolen firearms, granting localities authority to determine how firearms may be regulated, child access prevention, substantial risk protective orders, restoring a limit on the number of gun purchases a person may make per month, and ensuring persons under a protective order do not possess a firearm.
"Today we answer the majority of Virginians who called for gun violence prevention legislation at the polls last November," said House Majority Leader Charniele Herring. "Our goal is to save lives and promote responsible gun ownership in the Commonwealth. Public safety is our number one concern."
This series of bills, which were reported by the Public Safety Committee last week, now moves to the Virginia Senate for approval.
In 2019, a blue wave swept Democrats into the majority in the House of Delegates for the first time in 20 years. Gun violence prevention was a core campaign promise for Democrats statewide, proving to be a key issue with the voters. A recent Christopher Newport University poll summary reported that Virginia voters are "firmly in support" of gun safety measures, with 86 percent of Virginia voters favoring universal background checks, and 73 percent behind temporary protective orders removing guns if the legal owner is determined to pose a threat of harm to self or others (nicknamed as a "red flag" law).
"Gun violence prevention is one of the greatest legislative priorities for House Democrats in the 2020 session," said House Democratic Caucus Chair and patron of HB 674, Rip Sullivan. "We listened closely to voters' concerns and are taking meaningful action to address the gun violence crisis in Virginia. I've worked on this important issue for a long time, and I am thrilled that we have taken this major step forward to fulfill our promise on gun safety reform."
Summaries of the gun safety legislation which passed today: