Advertisement

by A Siegel
Between a Dominion Power Electric School Bus (ESB) project and Governor Northam ESB demonstration programs, Virginia is on the cusp of becoming the national leader of ESB adoption and, through a major acquisition program, could change the game nationally when it comes ESBs and, potentially, government investment in electrifying large vehicle fleets.

There are, at this time, at least two ESB bills in the Virginia legislature. One, from Delegate Kaye Kory, essentially legislates the Dominion program. The other (HB1140), from Delegate Mark Keam, would expand ESBs across the Commonwealth, foster prioritizing community (rather than solely utility) value streams in ESB investments, and mandate 100% ESBs by 2030. Considering that transitioning 15,000 or so diesel school buses to electricity will provide, perhaps, $10s of billions in return and value for Virginia, involve anywhere from two to over five billion dollars in investment over the next decade, and have impacts on Virginia and Virginians for decades to come, it is understandable that people have questions and uncertainties about ESBs, these pieces of legislation, and how to move forward.
How real are the financial savings?
What are the benefit streams?
Should Dominion Power own the school buses?
Who should earn money from using the batteries to make the grid work better?
And …
Exploring such questions reveals a fundamental truth: we (writ large: legislators, activists, interest groups, taxpayers) don't know what we don't know even as a Dominion pilot ESB project advances and legislation is moving forward.
About ESBs: Some things to remember/consider
A critical thing to keep in mind is that ESBs have / will have a huge range of benefit streams: improve student and community health; reduce operating costs; improve grid performance and reliability; reduce pollution (noise, particulates, greenhouse gases); boost educational achievements; and so on. Calculating and understanding the systems-of-systems benefits and value streams of multi-solving paths is a complicated challenge and, I would assert, poorly understood as Virginia moves forward toward a market-leading, decade+-long, multi-billion dollar (set of) ESB program(s).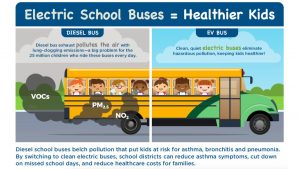 With the above (discussed more robustly here) in mind,
Legislate with full value streams in mind

Avoid getting too caught up in narrow issues
Do not allow any specific benefit / stakeholder drive program structure and priorities
Create structure so that cost burden is not (too) unevenly distributed compared to benefit streams

Ratepayers should not, imo, bear the full costs of an ESB program unless they are compensated from benefit streams

Create a path to foster better understanding and calculation of ESB program benefit streams

Best: legislate an analytical team/process that will enabled better informed decision-making into the future

Prioritize flexible/robust legislation

Recognize that this is an evolving/tough space

Enact legislation that gives space/recognizes that it will require change/modification in years ahead

Require "Made-in-Virginia" content

This could lead to $100s of millions, per year, of additional business in Virginia and thousands of well-paying jobs.
There's no paywall on Blue Virginia, and we definitely want to keep it that way! If you want to help support our work, you can donate here - thanks!
Also, you can
sign up for our weekly email list here
.