Advertisement

With just nine days until Super Tuesday, including the Virginia Democratic presidential primary, things are really starting to ramp up – and heat up – in the Virginia political world (in addition to everything going in the Virginia General Assembly, of course). See below for just a few of the many comments, reactions and analyses by Virginia politicos, regarding the 2020 Democratic presidential primaries/caucuses, that popped up in my Twitter feed the past day or so. This is just a snapshot, of course, and not necessarily a representative or comprehensive sample by any means. Also, I'll add more as I see them…and if you see anything interesting, please post it in the comments section.
Now that Sanders has won Nevada, I've gone ahead and updated my forecast for locality winners for the Virginia Democratic Primary for President (March 3rd). This is assuming Biden holds his 2nd place finish in Nevada. If not, I'll delete and readjust. Sanders favored to win VA. pic.twitter.com/TjljOqjJ4o

— Chaz Nuttycombe (@ChazNuttycombe) February 22, 2020

If all 8 candidates in the race right now are in on Super Tuesday, this is how I currently think things would play out here in the Commonwealth:

1. Sanders
2. Biden
3. Bloomberg
4. Buttigieg
5. Warren
6. Klobuchar
7. Steyer
8. Gabbard

— Chaz Nuttycombe (@ChazNuttycombe) February 22, 2020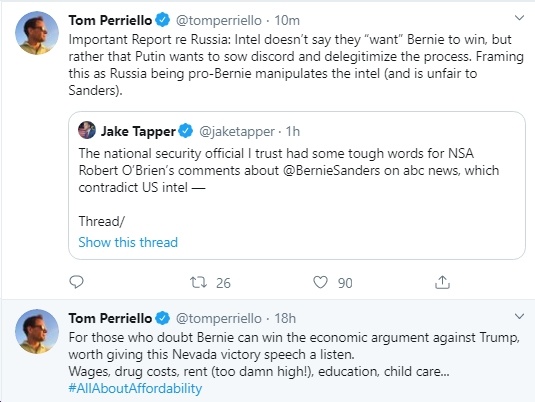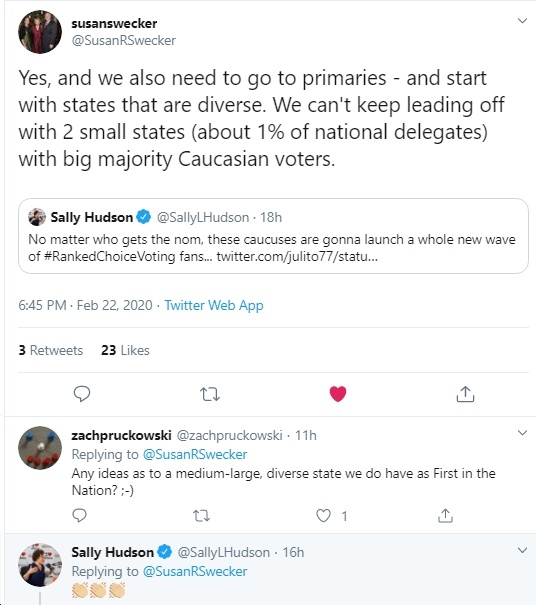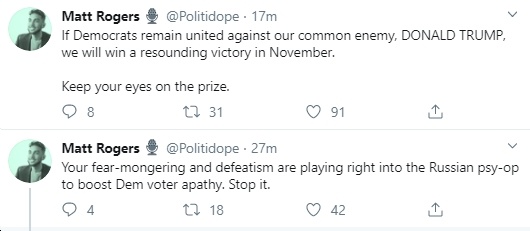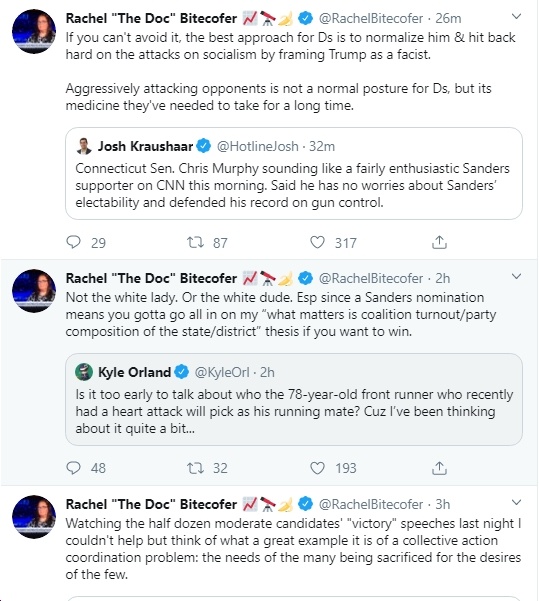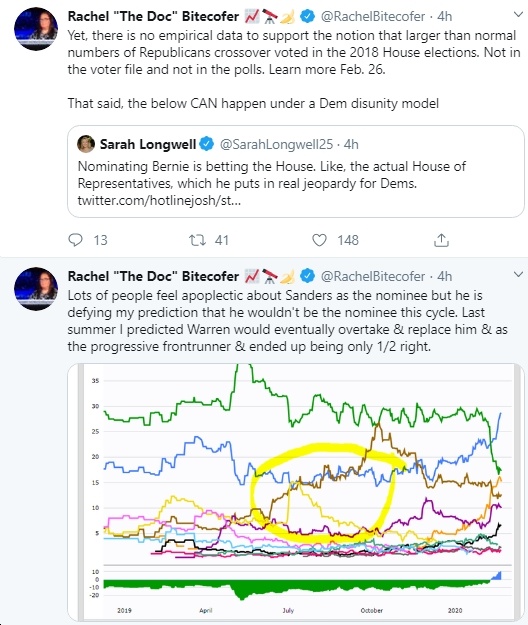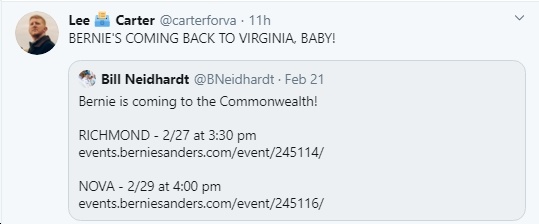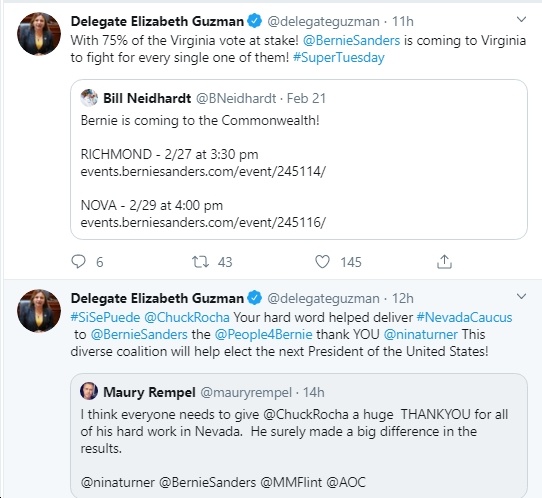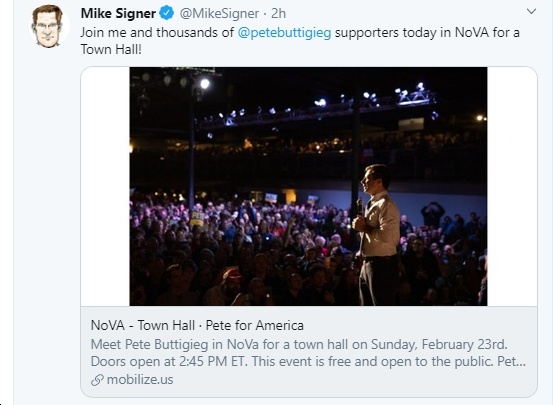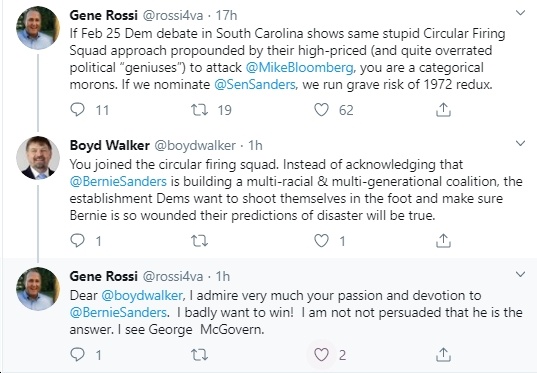 "This moment in history has come to you." Get in it. @Virginia4Warren https://t.co/TKT3Wkbhw1

— Pat Hynes (@PatHynes2020) February 23, 2020
Rep. Gerry Connolly says the reaction to Russian interference by Sen. Sanders and Pres. Trump are "night and day."

"Bernie couldn't have been more forthright in condemning that interference … In contrast with Donald Trump still saying 'I think that's fake news.'" pic.twitter.com/QIlJYgbws3

— The Situation Room (@CNNSitRoom) February 21, 2020
Bad comparison. Bloomberg will spend more on this campaign than Steyers entire net worth. https://t.co/MJsx0huFiP

— Ben Tribbett (@notlarrysabato) February 23, 2020
The @DNC @DNCWarRoom & Nevada Dem Party @nvdems have greatly disappointed many folks who wanted DNC to redeem itself after historic Iowa disaster. Yet, do we really only have 50% of returns in 19 hours after the start. Oy vey! Thank goodness the quest for 1,991 is a marathon.

— Gene Rossi (@rossi4va) February 23, 2020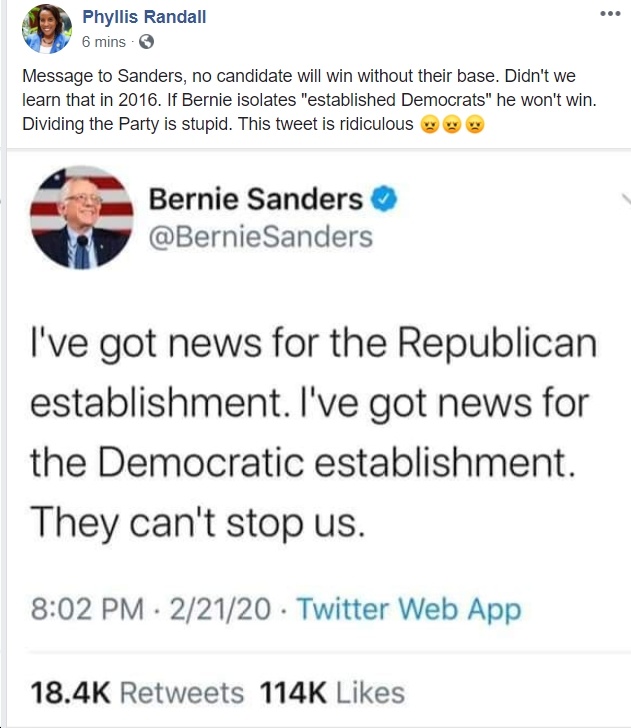 So good to welcome back to Virginia my friends @PeteButtigieg and @Chas10Buttigieg as we prepare for #SuperTuesday on March 3! pic.twitter.com/dvBeSULlVj

— Mark L. Keam (@MarkKeam) February 23, 2020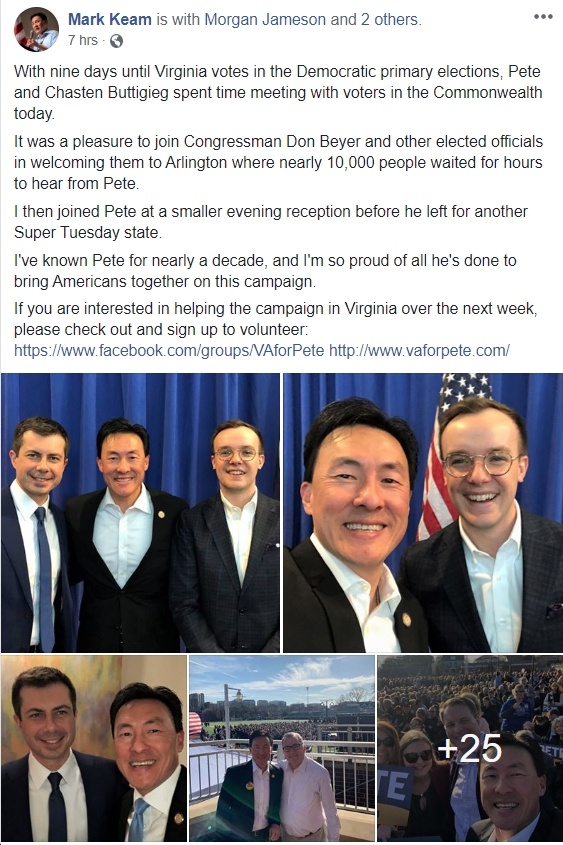 There's no paywall on Blue Virginia, and we definitely want to keep it that way! If you want to help support our work, you can donate here - thanks!
Also, you can
sign up for our weekly email list here
.