You might recall a few weeks ago (on January 18), when political prognosticators Chaz Nuttycombe and Matt "Politidope" Rogers were on the Gene Rossi Show and presented WILDLY different outlooks for this November's presidential election. At the time, Rogers predicted that the Democratic nominee would get "north of 310…316 [electoral votes]…because, fundamentally, the landscape is not good for the president…this incredibly unpopular, many would say criminal, president has put other states into play that Republicans haven't had to worry about spending money in for decades – Texas, Arizona, Georgia…Florida…Ohio, possibly even Kansas." In stark contrast, Chaz Nuttycombe said he was "far more bearish on the Democrats' chances in the presidential election; I really see it as a tossup."
Now, a month later, Rogers returned to the Gene Rossi Show (check out the audio, below) and, clearly, hasn't forgotten about Chaz's predictions. According to Rogers, speaking a little while ago on the radio:
"…our guest last time that was on with me [Chaz Nuttycombe]…I just fundamentally, I don't know where that guy was coming from with his with his stuff to be honest. He put out a map that he predicts that possibly New Hampshire's going red…not looking at the data…Virginia, I cannot envision a scenario where Trump is on the ballot again, we've been waiting for him honestly here in Virginia…in '17, Ralph Northam wins by nearly 10 points, Democrats win the popular vote by 10 points, Kaine wins by upper teens in '18…'19 we do it again….Everybody needs to still get out to vote…find people who aren't registered and get them out to vote. We've got to run these margins up. And yes, we should beat this clown by 10 million votes nationwide…there's no way that this clown wins Virginia – period."
Clearly, Chaz Nuttycombe has a different view on this, as he took to Twitter to respond to Matt Rogers: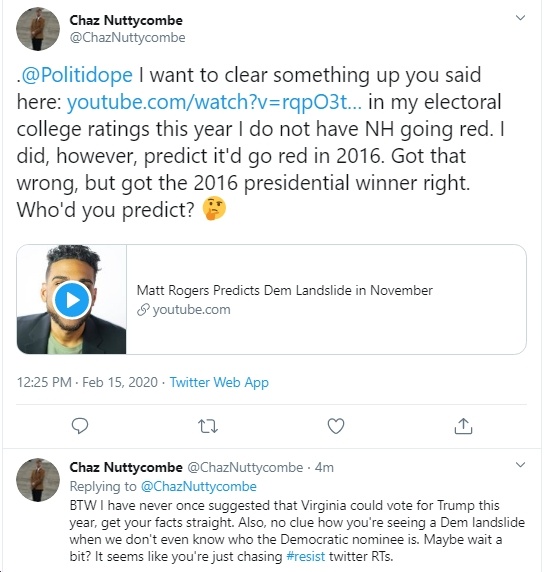 Chaz added, in a message to me:
"All Matt Rogers does is post #resist Twitter catnip, saying that Democrats are gonna win a landslide in every single election. He predicted Democrats would get 25 seats in the State Senate, which was wildly bullish on their odds. Did he really think we'd win every single competitive race in that chamber, which would include two Trump districts? Come on."
So…for the record, a month ago I was leaning more in Matt Rogers' direction on the November elections, but now, with the increasingly contentious Democratic primary, Trump's acquittal and no evidence that Trump's approval ratings have fallen due to impeachment, I'm in a more pessimistic mood these days, much closer to Chaz Nuttycombe than I was a few weeks ago. Anyway, IMHO it's an interesting back-and-forth between Rogers and Nuttycombe – both of whom I like, by the way. Feel free to weigh in!
P.S. For the record, Chaz's final 2019 Virginia predictions were 56D-44R in the House of Delegates (very close; ended up 55D-45R) and 23D-17R in the State Senate (that one ended up 21D-19R in a very disappointing night for Senate Dems). As for Matt Rogers, he tells me that, while his State Senate prediction was off (too optimistic), he "predicted the House perfectly, with 55 [Democratic-held] seats."
UPDATE: Here's the full audio of Matt Rogers' interview with Gene Rossi.