Advertisement

It was a long night in the Virginia House of Delegates Labor and Commerce Subcommittee #3 last night, discussing and voting on a slew of energy legislation, including Del. Sam Rasoul's HB77 ("Green New Deal" – GND) and Del. Rip Sullivan's HB1526 ("Virginia Clean Economy Act" – VCEA), among others. See below for a press release, tweets and video of the results, the most important of which were the subcommittee reporting out both the VCEA (to the House Labor and Commerce Committee) and the GND (to the House Appropriations Committee, via the full House Labor and Commerce Committee).
Prior to reporting, as you can see from the following video, there were many speakers for and against those two bills, with the VCEA supported by a broad coalition of environmental and clean energy groups, plus – kind of astoundingly, if you think about it – Dominion Energy, Washington Gas, and Appalachian Power. As for the GND, speakers in support included numerous environmental advocates – from the Sunrise Movement, Sierra Club, Chesapeake Climate Action Network (CCAN), etc. – while opponents included, unsurprisingly, natural gas industry interests (e.g., the Virginia Oil and Gas Association, Virginia Natural Gas, Washington Gas, Columbia Gas) plus the electric co-ops, Municipal Electric Power Association, Virginia Chamber of Commerce, etc.

What that mix of speakers indicates politically, by the way, is that it appears highly like the VCEA – as well as numerous other clean energy bills – will end up passing the Virginia General Assembly. As for the GND, it almost certainly will *not* pass the Virginia General Assembly (we'll see soon enough, given that the key "crossover" day is just six days from now), but clearly the push for an approach like the GND is *not* going away.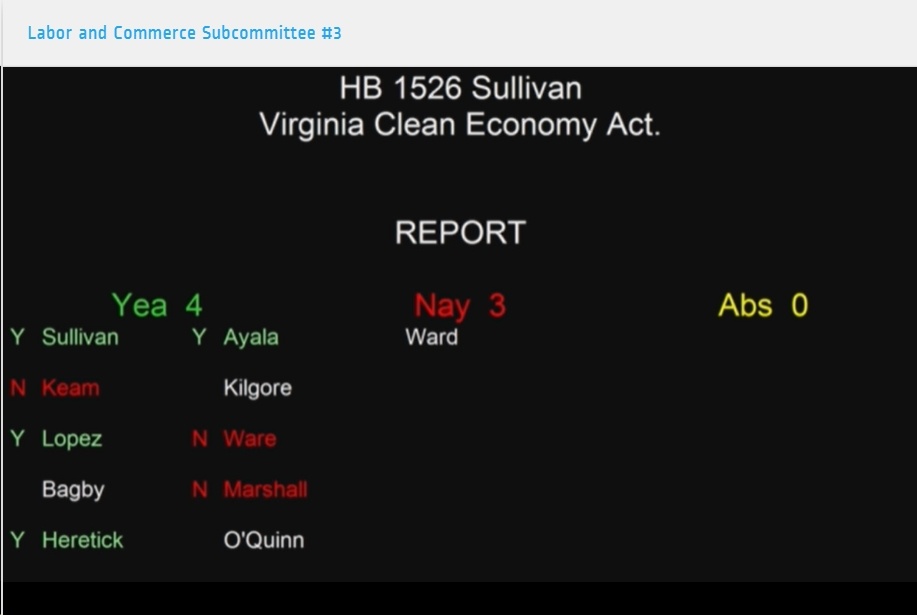 For immediate release: February 5, 2020

For information: Denise Robbins, CCAN Action Fund

Advocates Thank Legislators for taking Bold Climate Action

Environmental and Clean Energy Groups Praise Key Subcommittee for Advancing the Virginia Clean Economy Act 

RICHMOND – Following an important subcommittee hearing, environmental and clean energy groups joined in praised members of the House of Delegates for taking bold and meaningful to address climate change and transform Virginia's energy economy. Last night, Delegate Rip Sullivan's Subcommittee of the House Labor & Commerce Committee met and voted to advance the Virginia Clean Economy Act (VCEA).

Introduced in December with the backing of a broad coalition of groups from around Virginia, the VCEA, of which Del. Sullivan is a chief co-patron, would address climate change in the Commonwealth by requiring that 100% of our power come from clean sources and eliminating utility pollution by 2050. The VCEA would accomplish this making major investments in energy efficiency and ensuring that the transition to a 100% clean energy economy doesn't hurt ratepayers.

Last night's vote represents one of the first steps along the path to enactment for the VCEA, and as it comes up for its first vote in the House, a broad coalition of stakeholders is still at the table ensuring strong consensus behind this bold strategy to address climate change.

"With this vote, Virginia moves one step closer to historic climate action," said Harrison Wallace, Virginia Director of CCAN Action Fund. "This would have been unthinkable just one year ago. Voters across the Commonwealth demanded serious climate legislation and these members are delivering on that call today."

"Now is the time for the General Assembly to take bold action on climate change," said Mary Rafferty, Executive Director of Virginia Conservation Network. "The Virginia Clean Economy Act sends a clear message: Virginians want the Commonwealth to make climate action a reality; we're relying on the House Labor & Commerce committee members to hear this call."

"Virginians are tired of inaction when it comes to addressing the climate crisis – they want results and it's time for the legislature to deliver," said Michael Town, executive director of the Virginia League of Conservation Voters. "We look forward to moving the Virginia Clean Economy Act forward and putting the Commonwealth on track to 100 percent clean energy and cleaner air for all Virginians."

"We are heartened by the work being done by our coalition partners and members of the General Assembly to bolster the Virginia Clean Economy Act in the last several days," said Advanced Energy Economy Virginia Executive Director Harry Godfrey. "Moving forward, AEE is excited to work with the legislature to make sure Virginia's energy future is free of carbon emissions while strengthening the economy, protecting consumers and fighting the climate crisis right here at home."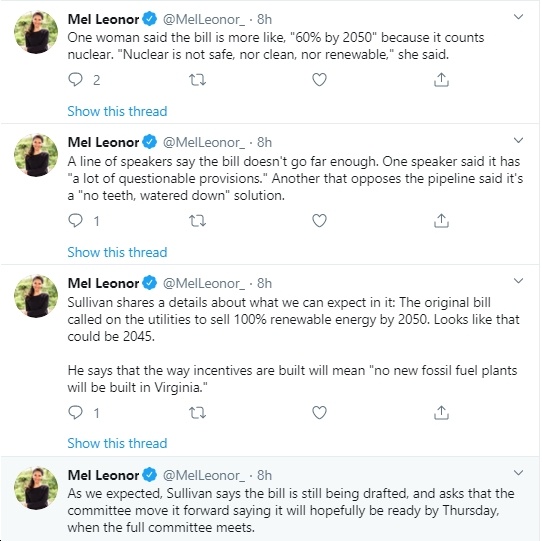 This is the line in support of HB 77.

Many folks waited 14+ hours to testify for a plan that will address the inequity and climate crises properly. #GNDVA #GND pic.twitter.com/FWmagKjScV

— Green New Deal VA (@GreenNewDealVA) February 5, 2020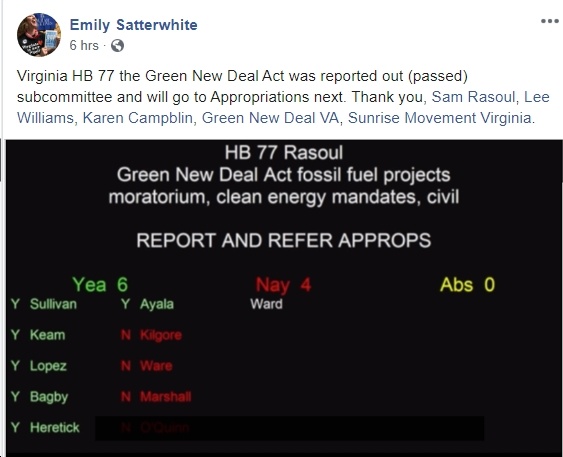 The Green New Deal Act, HB 77, passed out of subcommittee!

Thanks for the support from @SunriseVirginia, @GreenNewDealVA and the 60+ coalition group members for pushing this bold plan to address the inequity and climate crises.

Next step ➡️ full Labor & Commerce pic.twitter.com/yAuyXpu5IH

— Sam Rasoul (@Sam_Rasoul) February 5, 2020
HB1634 (Del. Jay Jones) Reports 9-1
HB1576 Energy Efficiency Bill Reports 10-0; very interesting to see a bill by Del. Terry Kilgore (R) greatly praised by clean energy and enviro advocates
Another bill by Del. Terry Kilgore (R) praised by enviros, solar power advocates
Video: HB528 Reports from subcommittee despite opposition from Dominion Energy's representative, Bill Murray
Virginia Energy Plan (HB714) Reports from House Subcommittee
There's no paywall on Blue Virginia, and we definitely want to keep it that way! If you want to help support our work, you can donate here - thanks!
Also, you can
sign up for our weekly email list here
.