by A Siegel
Governor Northam has ordered, in line with public health advisories around the world, that the Commonwealth's K-12 schools suspend in-person education as part of the efforts for social distancing to flatten the curve of coronavirus spread.  Virginia's public universities have all adopted some form of move to online education (either for an interim period or for the rest of the semester). Of Virginia's large enrollment universities, Lynchburg's Liberty University stands alone in expecting its students to return from spring vacation for "normal" in-person classes starting Monday.
"These students come from every nook and cranny on the planet Earth … Even if a handful of people contracted the virus, we've basically made a petri dish for the virus. And then we spread it when the semester ends in about six weeks, all over the world."
When every competent public health official in the world is calling on social distancing to flatten the curve and after Trump announced a National Emergency, for Jerry Falwell, Jr's, Liberty University it is "operational status: Normal" today.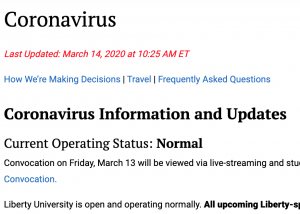 Even some within the Liberty University community are expressing their outrage over Falwell's subordination of civic responsibility to his devotional allegiance to Trump.
"I think it's gross," said Elizabeth Lake, 22, a senior math major. "We're supposed to be taking preventative action, and he's not doing that because of his political views."
Falwell, who pontificated yesterday on Fox about how coronavirus is a plot to get Trump, is quite clearly acting contrary to public health guidance and putting at risk not just Liberty University's direct community but the general community. If just one of Liberty's 16,000 returning students has coronavirus, that could well mean a petri dish sending out 1,000s back into the world at the end of the semester.
Jerry Falwell, Jr, has been demonstrating (for years now) a devotional willingness (an enthusiasm) to support and disseminate Trump's anti-science absurdities and destructive policies.  With declaring Liberty University to be a coronavirus petri dish, Falwell is perhaps even more explicitly tying his 'day job' to increasing the dangers to broader community.
Falwell has long been an active threat to the health of American political discourse and Democracy.  He is now quite clearly a threat to public health.