A new poll is out today, from the Virginia Commonwealth University's Wilder School of Government and Public Affairs. See below for the highlights.
First off, Virginians overwhelmingly (76%-22%) approve of Gov. Northam's handling of the coronavirus crisis, "with 40% strongly approving."
Note that Northam "enjoys a high level of approval regardless of party affiliation," including "7-in-10 Republicans and independents strongly or somewhat approving" and "nine-in-10 Democrats…with 55% strongly approving."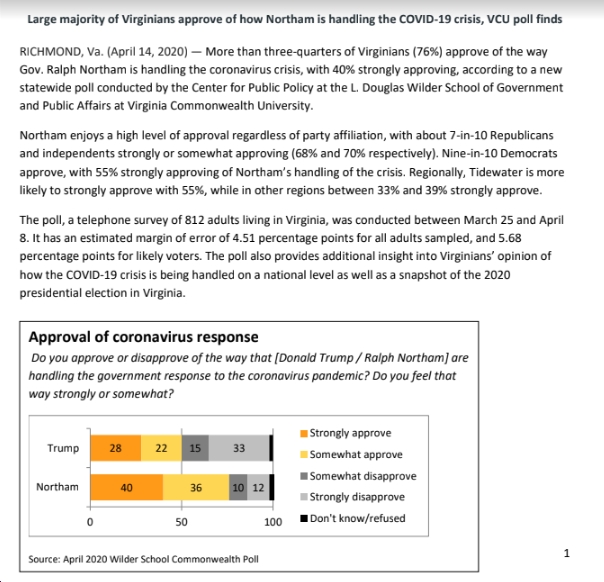 Next, on the presidential race, Joe Biden holds a strong (10-point) lead over Donald Trump "among likely voters in Virginia."
For comparison purposes, note that Barack Obama won Virginia by 6 points in 2008 and 4 points in 2012, while Hillary Clinton won Virginia by 5 points in 2016.
Also note that Ralph Northam won the governor's election in 2017 by 8.9 points. So…if Biden actually does end up winning Virginia by 10 points, it would be a greater margin than Obama, Clinton or Northam.
A 10-point Biden win this November also would, almost certainly, be a big help to the reelection campaigns of Rep. Elaine Luria (D-VA02) and Rep. Abigail Spanberger (D-VA07), as well as a potential boost to the Democratic nominees for Congress in VA01 and VA05.
Also note the detailed breakouts on the Biden vs. Trump results: 1) Biden leads in every region of Virginia, except for the "West"; 2) Biden holds a huge lead (57%-36%) among women, while trailing by 4 points among men; 3) in terms of age, Biden's biggest lead is among those in the 18-34 bracket (59%-27%), followed by those in the 34-44 range (56%-37%), and getting narrower the older the range goes; 4) in terms of education level, Biden holds a huge lead (58%-34%) among college graduates, a narrow lead (50%-43%) among those with some college and trails by 13 points (40%-53%) among those with a high school degree or less; 5) Trump leads by 12 points (53%-41%) among white voters but trails by 60 points (15%-75%) among minority voters.