Here are the statements I've received, so far, from announced Arlington County Board special election (to replace Erik Gutshall, who sadly was forced to resign while being treated for brain cancer) Democratic candidates. For more details on that, see here. The candidates so far are: Barbara Kanninen; Chanda Choun; Nicole Merlene; Takis Karantonis.
Barbara Kanninen to Run for Arlington County Board
On April 24 Barbara Kanninen announced that she is seeking election to the Arlington County Board. "I am running for Arlington County Board to bring my experience as a trusted, collaborative leader to fight for our community at this difficult time," said Kanninen, who has served on the Arlington School Board since 2015.
The special election for the seat will be held on July 7, 2020. Kanninen is running to fill the seat held until early April by Erik Gutshall, who died of brain cancer on April 16, 2020.
"Experience matters in this election," said Kanninen. "With the onslaught of COVID-19, our community's needs are growing rapidly. We are facing an economic downturn: County revenues are declining, and inequities are intensifying. Our understanding and valuing of essential services and workers have evolved. As a County Board member during this crisis, I will dig in to provide for our community's most urgent and immediate needs—food, housing, social services, and support for our essential workforce—and I will invest in restoring and re-building a robust and vibrant economy that spans every neighborhood in Arlington and serves the full community."
This moment calls not only for crisis management, Kanninen stressed, but also for leadership in pursuit of a thriving and resilient community in the years to come. "Going forward, I will work toward a vision for a better, stronger Arlington, one that contributes equitably to everyone's quality of life, including well-run core government services, great parks and schools, and a diversified economy," she said. "I will also push forward on important issues we face, including small business support, affordable housing, long-term planning, and sustainability. And I will promote our shared values of supporting human needs and continuing to be a welcoming, inclusive community."
Kanninen's track record of sound, effective leadership at the county level has earned her the support of current and former local officials. Virginia Attorney General Mark Herring said, "I am proud to endorse Barbara Kanninen for Arlington County Board. She is a true advocate for children, families, and those in need. Her proven leadership and experience will help steer Arlington forward and toward a more dynamic and equitable community that serves and supports everyone."
"I enthusiastically endorse Barbara Kanninen for the Arlington County Board. I know Barbara will honor our Democratic values and work diligently to make Arlington a welcoming and inclusive community. She has served Arlington as a member of the School Board and advocated for policies that promote livable, green neighborhoods. Join me in supporting Barbara Kanninen, a proven leader," said Virginia State Senator Barbara Favola.
"This unprecedented time demands board members who are experienced and steady leaders," said Virginia State Senator Adam Ebbin. "Barbara Kanninen's commitment, proven leadership, and intense knowledge of county affairs will serve Arlington well, and I'm proud to support her."
"Barbara brings experience and expertise as a 27-year Arlington resident, elected official, PhD economist, parent, long-time community leader, and founder of a youth sports league," said Arlington School Board member Reid Goldstein. "Her unique qualifications prepare her well to serve all of us on the County Board."
Arlington County Treasurer Carla de la Pava said: "Experience is critical right now, and Barbara's deep knowledge and understanding of our county's budget and resources will be invaluable when she is on the County Board."
About Barbara Kanninen
Kanninen is a PhD economist, community activist, and Democratic leader who has served Arlington in a variety of ways for nearly three decades. First elected to the School Board in 2014, Kanninen was re-elected in 2018. As a School Board member, she has been an active collaborator with the County Board, helping form the Joint Facilities Advisory Committee and serving on the School Board–County Board 2×2 committee since its inception. She is a co-founder of the Youth Ultimate League of Arlington and was a member of the County Board's Fiscal Affairs Advisory Committee. Most recently, she has been an active member of Arlington's Complete Count Committee to ensure that all Arlingtonians are counted in the 2020 Census.
In 2017 Washingtonian magazine named her one of the Most Powerful Women in Washington—the only elected official in Arlington named to the magazine's list. She was elected as a national delegate to the 2012 Democratic National Convention, and in 2016 she was co-chair of the Arlington Democrats' Joint Campaign. As a member of the School Board, she was awarded the 2015 AGLA Equality Award and the Public Outreach and Engagement Award from the Virginia Chapter of the American Planning Association.
Kanninen and her husband have lived in Arlington for 27 years and have two sons who are lifelong Arlingtonians.
For more information on Barbara Kanninen's campaign, contact Sheri Robey Lapan at sheri@robeylapan.net or go to https://www.bk4arlington.com.
**************************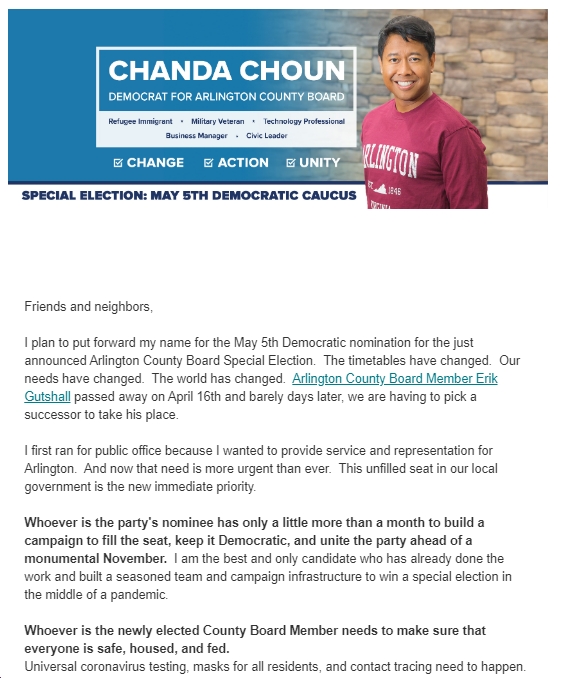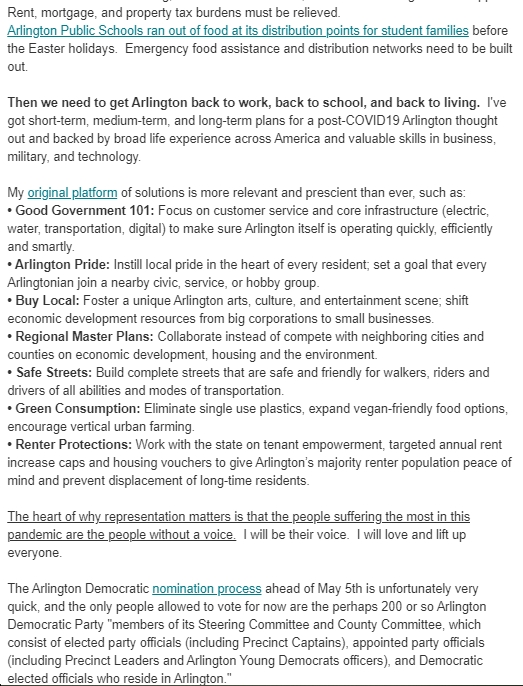 **************************
Friend,
We are living in unprecedented times.
In the midst of so many challenges in our community, we grieve the loss of our dear friend, Erik Gutshall. His passion for our community and dedication to public service made Arlington a better place for everyone. His friendship made all of us better people.
COVID-19 is challenging our community in significant ways, and we will feel the impact of this pandemic for years to come. Many of us are feeling isolated and overwhelmed. Small businesses – coffee shops, boutiques, restaurants – the gathering places that define our culture have been decimated. Hourly workers are struggling to feed their families and pay the bills. Parents are struggling to balance working from home and their kid's at-home learning. This pandemic is shining a spotlight on the inequalities we already knew existed.
Now more than ever we need elected leaders with a vision for our future and a plan to take on the difficult battles and budgets ahead to build a better Arlington.
It's for that very reason that I am running for the Arlington County Board in the upcoming special election.
I have called Arlington home my entire life and have served this community in a variety of capacities:
Arlington County Economic Development Commissioner
Arlington County Civic Federation Board of Directors
Arlington County Small Business Working Group
Arlington County Vision Zero Pedestrian Safety Advisory Group
Rosslyn Core Transportation Advisory Group
Rosslyn Civic Association Board of Directors
Civic Federation Budget, Public Health & Safety, and Legislative Committees
NORML Delegate
Energize Arlington Leadership
Arlington Young Democrats Board of Directors
Arlington Democrats Sustaining Donors Chair, Steering Committee
I've felt a call to serve my community many times before deciding to run for office. As an Economic Development Commissioner and member of the county's Small Business Working Group, I fought to attract and retain businesses in Arlington to improve our budget revenues.  As Vice President of the Arlington County Civic Federation, I worked with the County Manager so that neighborhood voices, renters, and those with limited time to participate in the civic process were heard.
I grew up here in Arlington and went through Arlington Public Schools. My mom is a teacher in our schools. Like over half of Arlington households, I rent, a perspective that is missing from the board. Arlington will be my forever home and I have a stake in our long-term success.
If given the opportunity to serve you on the County Board, I will prioritize policies that create a better future for everyone.
Fight for the environment including our 2050 carbon-neutral goal and the parks.
Support small and legacy businesses by streamlining permitting processes, adjusting signage rules that allow for art on buildings, and investing in emerging startups.
Equitably invest in North and South Arlington by putting an intentional focus on north-south arteries in addition to our east-west corridors.
Data-driven, long-term sustainable planning for schools, transportation, parks, and other government infrastructure and services.
Expand middle-income housing by responsibly growing our housing stock around public transportation.
Enhance county mental health services to better support families in crisis.
To be victorious in this special election, we need a dynamic candidate with a deep understanding of the immediate and long term issues Arlington faces, and who knows the ins and outs of the County Board process to solve them.
I look forward to speaking with each and every one of you individually in the coming days to have an in-depth conversation on the issues that are important to you and my vision for Arlington's future.
I hope to earn your support in the May 8th Democratic Caucus.  You can learn more about me and my campaign HERE.
Stay safe. Stay hopeful,
Nicole Merlene
UPDATED 4/29: Add Takis Karantonis to the list of candidates!
I am running for County Board because I am proud of what Arlington is and stands for. My voice, my way of thinking, and my politics are rooted in civic engagement and day-to-day involvement with our community. I am proud to live in a place that values safe and walkable neighborhoods; ethnic and cultural diversity; excellent schools, public places and facilities; accountable governance; an unwavering commitment to community involvement; and neighbors, like you, who uphold and sustain these values.
I stand and advocate for:
● Equitable Governance – A government that ensures that Arlington works for all and leaves nobody behind. Refocusing attention to meaningful support and inclusion of Arlington's marginalized communities in decision-making at all levels.
● Fiscal Sustainability and Resilience – Support for our small business ecosystem and the many jobs it sustains. Addressing the school enrollment crisis in collaboration with the School Board using smart solutions that will stretch the dollars without compromising the quality of our schools. Containing any adverse effects of corporate development in Arlington, while working with companies to leverage collaborative solutions for positive outcomes.
● Environmental Sustainability and Resilience – Confronting the climate crisis through courageous choices that will make Arlington a leader in reducing our carbon footprint. Urban mobility that puts the pedestrian, the cyclist and the user of public transit in the center.
● Principled and Inclusive Long-Term Planning – Housing affordability policies to prevent the displacement of people at the very heart of our society (e.g., missing middle housing). Investment in strategic corridor development on Columbia Pike, Lee Highway and Richmond Highway. Modern reform of zoning and land use. Champion the initiative to develop a long-term plan for Arlington schools and public facilities.
Arlington welcomed my wife and me 14 years ago and provided a pathway to contribute to the common good as active citizens. I am a progressive Democrat who stands for a government that ensures that Arlington works for all and leaves nobody behind. I am an economist, environmentalist, urbanist, and planner. I have served as the Executive Director of the Columbia Pike Revitalization Organization (CPRO), served on several County commissions and advisory groups, am active in my civic association, a former chair of Arlingtonians for a Clean Environment (ACE, now EcoAction), and vice-chair of the Alliance for Housing Solutions (AHS). As a microlending technical advisor, I experience daily the pressures on our small businesses. I know what it takes to build resilience from the bottom up, to do more with less, and keep people employed.
I am the only candidate in this race with an extensive background, education, experience, and commitment in planning. I know that whether it is about housing, transportation, managing the school enrollment challenge, confronting the climate crisis, or improving our parks and public spaces, there is no other way to success but thorough, principled, and decidedly inclusive planning. I am experienced in negotiating policies related to urban development, zoning and land use, and making sure that infrastructure, transportation, school capacity, open spaces, and public facilities serve the vision and diverse needs of people and communities first. This is our strength as a community and I will make sure it continues to be so.
Our common base of valuing diversity, inclusivity, empowerment and mutual respect defines who we are and demands that everyone in Arlington has a seat at the table. The COVID-19 pandemic has brought to the surface previously invisible vulnerabilities. The precarious gig-economy turned out to be neither innovative nor resilient. Our social safety net, despite Arlingtonians' generous philanthropy, is structurally weak. We need to rebalance our priorities to include and provide for those among us who are socially and economically vulnerable, and to serve our minorities, young families, seniors on fixed incomes, people with disabilities and people at the fringes of our society.
In these difficult times, evidenced by the extreme constraints of this nomination process, I respectfully ask for your support so that we, together, can build the better Arlington that everyone deserves.