by Cindy
With Governor Northam urging the Virginia Department of Corrections to make use of early release to ease the spread of COVID-19 in prisons; and with the spotlight on the Parole Board for granting parole to a 64 year old man convicted over forty years ago of murdering a police officer (in addition to him being a model prisoner while incarcerated, there is evidence—that the Parole Board found very compelling—that he may not have been guilty in the first place), House and Senate Minority Leaders Gilbert and Norment, along with Delegate Bell and Senator Obenshain just drafted a letter asking for a moratorium on parole for violent offenses. This is pure fearmongering, given the already incredibly low rate of parole-granting among all those incarcerated.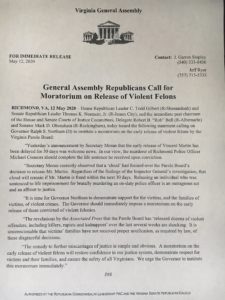 Virginia abolished discretionary parole in 1995. Only those who were sentenced prior to the law being changed and those who are eligible for geriatric parole due to age and/or terminal illness can petition the Parole Board. Despite it being found unconstitutional – violating the 8th Amendment against cruel and unusual punishment–to sentence a juvenile to life without the possibility of parole for non-homicide cases, Virginia does not allow people serving sentences for juvenile crimes to petition for parole, except when they're old enough to apply through the geriatric parole system.
Not only is parole restricted to a limited set of cases in Virginia. It's also very rarely granted. That is still true under the Parole Boards appointed by successive Democratic governors (Governor McAuliffe replaced the McDonnell-appointed Board chair in 2017 to speed up reforms; and Governor Northam recently added criminal justice advocate Kemba Smith Pradia, who received a Presidential pardon for a federal crack trafficking conviction). Since 2014, of the approximately 2,900 applications for geriatric parole, only 147 (5%) have been granted. Of the 151 inmates older than 80 who have applied for parole, six have been granted—a 92 year old was denied.
But with Democrats taking the majority in the General Assembly in 2019, a bill passed (Senator Marsden and Delegate Lindsey) to allow people who were convicted of one or more felony offenses committed while a juvenile to petition for parole after serving at least 20 years of their sentence. The bill even had bipartisan support in the Senate, with Norment himself, and six other Republican senators voting yes.
The moratorium the GOP are seeking would halt parole petitions for those sentenced for violent crimes prior to 1995, for geriatric inmates, and would effectively (temporarily) kill the bill that the General Assembly just passed. It should perhaps also be mentioned that "violent" is quite liberally defined in the Virginia criminal code. It includes such things as "threatening the Governor or his family" (regardless of any actual harm), obstructing a canal, throwing an object from the roof of a building with the intent to harm (even if no one was actually harmed)
Note too that the sentences juries handed out for those offenses prior to 1995 were based on the expectation that the offender would be able to petition for parole—they're likely to be harsher sentences than the jury would have sought had they known parole would be prohibited. This was already a problem for those sentenced between 1995 and a 2000 Supreme Court ruling that juries must be informed that parole had been eliminated. In fact, a bill this year by Delegate Lindsey and Senator McClellan allowed certain people sentenced during that period to become eligible for parole. It was deemed important enough that Governor Northam put an emergency clause on it, so that it would take effect immediately upon his signing. Under this proposed moratorium, some made eligible by this new law might also no longer be.
In an unusually swift and strong response, Governor Northam made it clear he rejected the notion of a kneejerk reaction of a moratorium. His spokesperson said "Governor Northam has worked to create a fairer criminal justice system, and safe parole is an important part of that work." Exactly. It seems the GOP only wants a parole system as long as no one is ever actually paroled.