Advertisement

Check out this petition from "African-American Evangelical pastors, ministry leaders, and former athletes who are alumni of Liberty University," which has now been signed by 26,000+ people, dishing out some well-deserved scorn for Liberty University President Jerry Falwell, following Falwell's latest buffoonery (also see Liberty U. Professor Resigns After Falwell's "Governor Blackface" Mask Tweets). To quote the letter:
"While we rejoice in God's grace in advancing this mission, we, however, have been disappointed and deeply grieved by your incendiary rhetoric over the past several years."
" The latest example is your May 27 tweet of a face mask with an image of two people, one in a KKK robe and hood and one appearing in blackface. While your tweet may have been in-jest about Virginia's Governor, it made light of our nation's painful history of slavery and racism. It is what we're called to reject as followers of Christ"
"The reckless nature of this tweet is a microcosm of the past several years of divisive rhetoric that does not display the kind of Christian witness that the Gospel demands of us, nor does it represent the Christlike leadership that Liberty University deserves. It has brought further disgrace to Jesus Christ and Liberty University."
"For several years, you have said and defended inappropriate statements that represent Liberty and our faith very poorly. You have belittled staff, students and parents, you have defended inappropriate behaviors of politicians, encouraged violence, and disrespected people of other faiths"
"We are writing to urge you to stop this infantile behavior and lead our alma mater with dignity as your father did."
"A review of your social media and statements during your presidency would lead many to believe that you care much more about politics than Jesus Christ, Evangelism, and the discipleship of students. It has become obvious to many that your heart is in politics more than Christian academia or ministry, so we would encourage you to leave the position of school president and pursue politics full-time."
"Your statements hurt the ability of Liberty alumni to obtain jobs and have a voice in the culture. Having the school's name on a resume can be a liability to many of our graduates."
"Because of your callous rhetoric, we can no longer in good faith encourage students to attend our alma mater or accept athletic scholarships."
"In closing, we ask you to withdraw your racist tweet immediately and make a public apology."
So true. But don't anyone hold your breath, as most likely, Falwell isn't going anywhere…except maybe to hang out with his hero Donald Trump, his endorsee Denver Riggleman, or maybe his favorite "pool boy?" LOL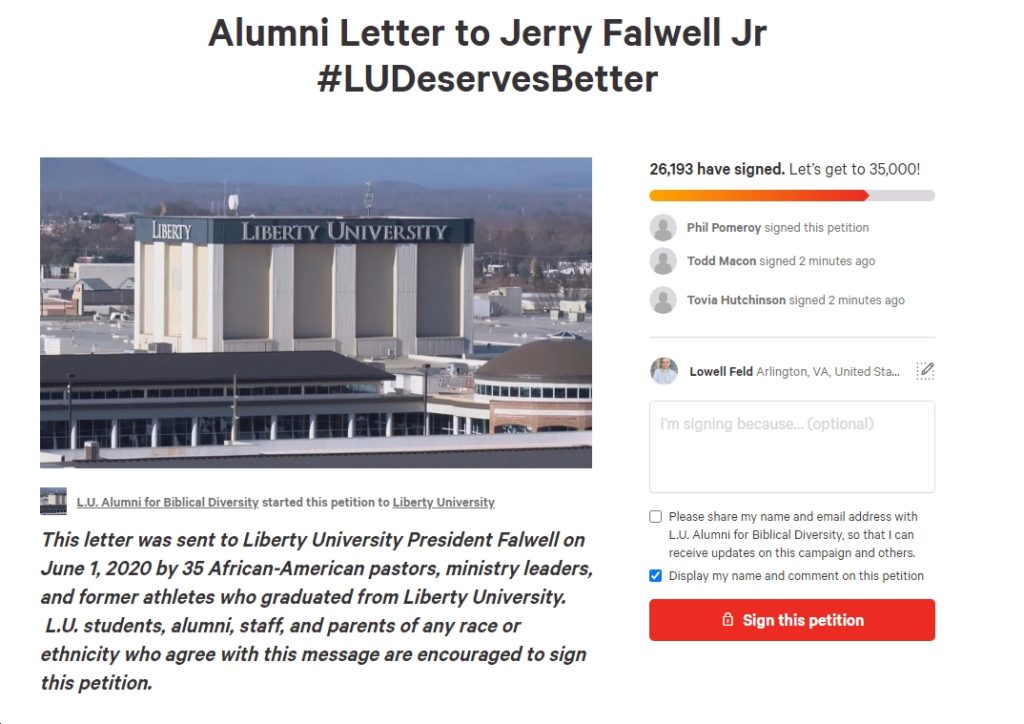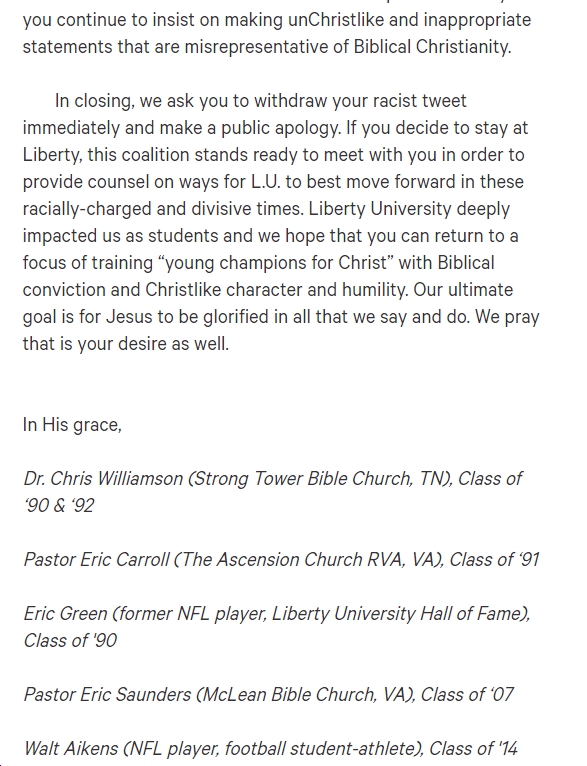 There's no paywall on Blue Virginia, and we definitely want to keep it that way! If you want to help support our work, you can donate here - thanks!
Also, you can
sign up for our weekly email list here
.