Over the past few weeks, since the murder of George Floyd, there have been innumerable public marches and protests against systemic racism and police brutality in this country. There has also been a "seismic shift in white people's opinions about racism," with " 76 percent of Americans now say[ing] racial discrimination in the US is a big problem, up from 51 percent in 2015," and with "public support for the Black Lives Matter movement increas[ing] almost as much in the past two weeks as it did in the previous two years, according to the New York Times."
Sad to say, this "seismic shift" does not appear to have experienced by the Loudoun County Young Republicans, who are now "call[ing] for the recall of Loudoun County Board of Supervisors Chair Phyllis Randall for her violation of Phase 1 of Forward Virginia Guidelines and also the 14th Amendment to the United States Constitution." Note that Randall is the first African-American County Board Chair in Loudoun County's history, and also "the first woman of color in Virginia's history to be an elected chair of a county Board." Yet, as Loudoun Now reported yesterday:
"The Loudoun County Young Republicans have launched an effort to recall County Chairwoman Phyllis J. Randall (D-At Large) over her participation in a rally against police violence and racial injustice in Leesburg Sunday, May 31.
The rally, organized in the wake of the latest series of high-profile police killings of black people, including Breonna Taylor in Louisville, KY, and most recently George Floyd in Minneapolis, MN, drew more than a thousand people into downtown Leesburg. Although almost all wore masks, social distancing was impossible in the tightly-packed streets courthouse green.
By participating and speaking at the rally, the group alleges, Randall violated their 14th Amendment right to equal treatment under the law, since the governor's orders closing or limiting businesses and public gatherings were still in place.
[…]
A 2016 Loudoun Now photo of Randall featured above the petition on the Young Republicans website is used uncredited and without permission and has been darkened from the original."
By the way, note that Randall won her election last November overwhelmingly (57%-39%) over the former Virginia GOP Chair, John Whitbeck, despite being heavily outspent. Also note that today's Loudoun County is a highly diverse place, where Republicans have seen their vote shares decline sharply in recent years. It's stunts like this latest one, by the Loudoun County Young Republicans, that illustrate why that's the case…
P.S. As far as I'm aware, there's no provision in Virginia law for such a recall…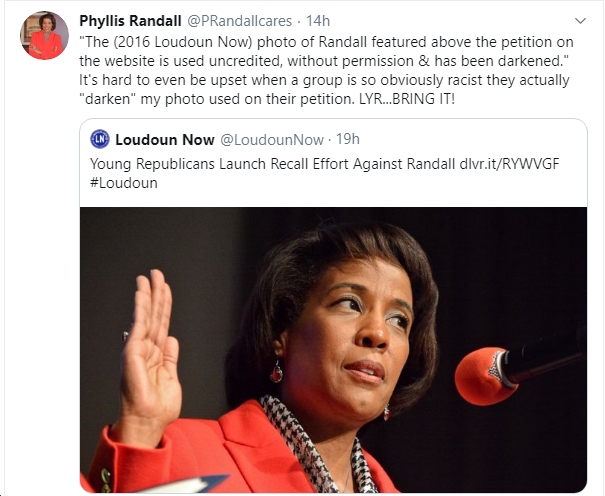 This is the picture they used. Now let me clear, I would be proud if my skin tone were darker, but the fact is them darkening my picture is racist. If you don't know that, you're part of the problem. pic.twitter.com/wQlL9D8JAb

— Phyllis Randall (@PRandallcares) June 13, 2020