by Brandon Jarvis
While social distancing has become the norm in recent months to try and keep COVID-19 numbers low, outrage over the murder of George Floyd by police has brought Richmonders our of their homes and into the streets by the tens of thousands in recent days.
Dr. Danny Avula, the city's health director said he and the health district stand with the community, but he also acknowledged that he is expecting positive case numbers to rise following the mass-gatherings. He stressed the importance of wearing masks, noting that his daughter and wife have been doing so as they attend the protests.
Mayor Levar Stoney, in a press conference on Friday, said that as of Friday morning, there were 1,527 cases of COVID-19 in the City of Richmond, 13 total positive cases in the city's workforce, and that 25 Richmond residents have lost their lives to COVID-19. The mayor acknowledged that fear of COVID-19 is no reason for protesters to not march.
"Despite the fact that we are in the middle of a pandemic, there were frequent mass gatherings," he said. "There comes a time when the right thing to do is march."
The City of Richmond now has several testing options available, with more being added each week. Stoney announced on Friday that CVS will be providing drive-up testing at some locations in the city. RVAstrong.org/testing can provide residents with information on how to get tested for COVID-19. Stoney urged protesters to take advantage of these testing opportunities "whether you wore a mask or not".
Stoney says he was tested last Saturday, and that he will be tested again soon because he was in close contact with people while he marched with protesters on Tuesday night from the Capitol to the Robert. E. Lee statue on Monument Avenue.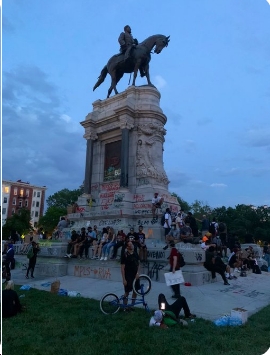 The Mayor acknowledged that this has been painful and emotional for him.
"A man died because there was a knee on his neck, which should never happen in this country," he said. "I have been on the verge of tears on many occasions this past week."
Stoney said he witnessed the pain at his meeting on City Hall's steps on Tuesday when he met with protesters to apologize for the tear gas that was deployed on peaceful protestors by Richmond Police on Monday night.
"I heard and felt a ton of pain and frustration, these folks have the weight of the world on their shoulders, they're carrying us right now."
Moving forward, Mayor Stoney says that several steps will be taken to help the community heal and make Richmond an inclusive city. These steps include a mental health crisis alert – better known in Richmond as the "Marcus Alert" – which would help Richmond's Police and Behavioral Health Authority work together on calls related to people experiencing a mental or behavioral health crisis. Stoney said his administration is committed to establishing a citizen review board that will consist of a diverse group of stakeholders similar to the one in place in Fairfax County. Stoney noted, however, that the authority of the board has yet to be determined. City Hall will also implement a racial equity training program, moving forward, to ensure that city operations are inclusive and equitable.
"At City Hall, in collaboration with Councilmembers Newbille & Robertson, we will implement racial equity training for staff & an equity study." said Stoney. "We're dedicated to reviewing city policies, practices & procedures for equity & inclusivity, and making changes where needed."
Stoney also noted that he will be introducing an ordinance alongside Councilman Mike Jones that will remove all of the city-owned Confederate statues along Monument Avenue. "These are symbols of hate." All nine of the members of City Council have already said that they will support this ordinance.
Prior to his press conference, Mayor Stoney tweeted that he is urging Richmond's Commonwealth Attorney, Colette McEachin, to drop charges against protesters that violated the curfew that was in place earlier this week.
"I've spoken with the Richmond Commonwealth's Attorney, Colette McEachin, and I made it clear that peaceful protesters who were arrested solely for violating curfew should have their charges dropped."
McEachin has yet to make a statement on this matter, but a statement is expected from her office soon.
Mayor Stoney urged the crowd to continue protesting peacefully and to not damage any property in the city. Noting that damaging property hurts the community that the protesters are working to uplift.
"I urge my fellow Richmonders to continue to protest peacefully and show respect for our city and its residents, the city that you love," Stoney said. "We are not as good as we thought we were. We have to put a mirror in front of us. We have to ask ourselves, do we approve of the image that is being reflected back at us."