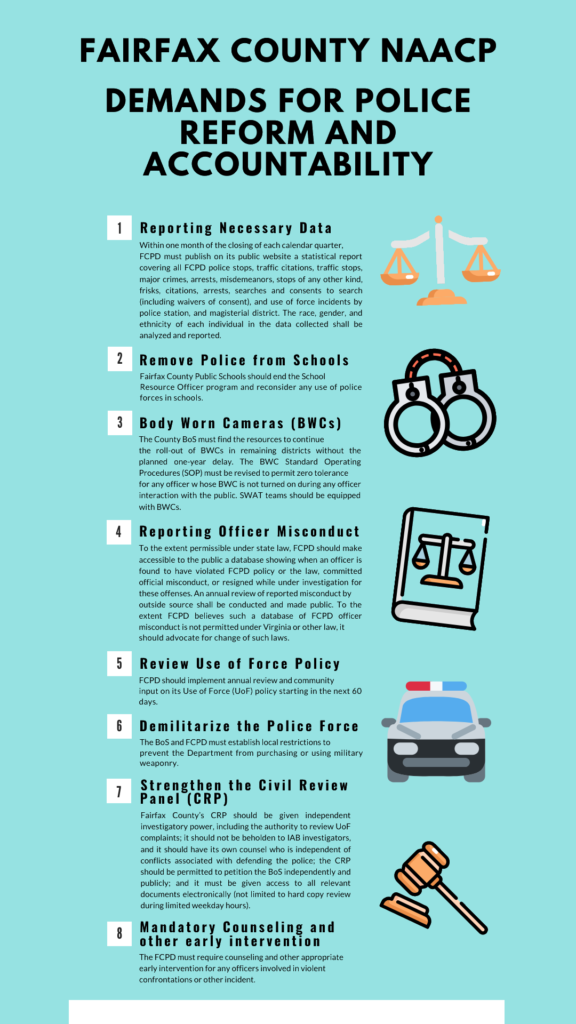 See below for some thoughts from Fairfax County NAACP President Sean Perryman regarding the Fairfax NAACP's townhall last night – with Fairfax County Police Chief Ed Roessler; Fairfax County Board Chair Jeff McKay; Fairfax County Supervisors James Walkinshaw, Dalia Palchik, Penny Gross, Dan Storck, Supervisor Rodney Lusk, Walter Alcorn, Kathy Smith and John Foust; Delegates Marcus Simons and Vivian Watts; etc. –  on "Proposals for Police Reform." Also, see below for video of the forum, which was *very* interesting and worth watching, including a frustrating discussion on the "publishing of data that was promised two years ago," as well as some "anecdotal" – but apparently false – comments by Supervisor Penny Gross on school resource officers. And click on the image to the right for the Fairfax County NAACP's very reasonable "demands for police reform and accountability." Finally, I agree with Sean Perryman that there needs to be a sense of urgency on all of this…really should have been that urgency for years now, but certainly what we've seen the past few weeks in this country.
"Our townhall from last night has over 3,000 views. A couple of thoughts below as well as an update for those that you watched.
I was a bit surprised at the lack of urgency and frankly the seeming inability to answer some basic questions from the Board of Supervisors.
Here's what we know: in a county where Black people make up a little bit less than 10 percent of the population, we make up nearly 50 percent of the use of force. That's it. That alone should have every Board of Supervisor demanding answers and reform. It seemed not to register.
Despite knowing this and it being a static trend for the last five years, the Board often cited the need for more data. When pressed on the publishing of data that was promised two years ago, we were told by the chief of police about how they had to fire a vendor and how things are still entered manually. I'm sorry but how the board would allow this type of answer is beyond me.
I encourage people to watch the video if only to see that there seems to not just be resistance from certain board members to change but a real lack of understanding of the problem.
In response to our recommendation of removing SROs from schools, one board member cited a drive by shooting at a school that she believed happened 20 years ago and the relationship between one student and one SRO that she knew. I hope it's terrifying to everyone that any elected official is setting policy on anecdotal evidence in the face of a mountain of data to the contrary. It should be equally disturbing that she seems to have no recognition that Black people have a very different lived experience than White people when it comes to law enforcement.
But put that aside, here's the kicker: her drive by shooting didn't even happen. One of our members quickly sent a source to disprove that the the shooting ever happened. I'm leaving it in the comments.
There's much work to be done and the Board of Supervisors have to realize that the disproportionate use of force towards Black people in this county is unacceptable.
What do we do? Well over the next days and weeks, Fairfax County NAACP will have calls to action where we let the Board know the importance of this issue.
We should start with Supervisor Penny Gross. Supervisor Gross shared the story above and spent about a total of 7 minutes on the call. If she's your supervisor, please email her at mason@fairfaxcounty.gov or call her office at 703-256-7717. Let her know you expect policy to be data driven and that she should adopt the Fairfax NAACP's recommendation.
You've been looking for ways to get involved for weeks. Take five minutes and call your supervisor."