Friday afternoon, the Biden campaign is holding a roundtable discussing the range of benefits and opportunities that Vice President's Build Back Better Clean Energy plan (announced Tuesday) will create for the Commonwealth, Virginia businesses, and Virginians.
Join Team Joe, Senator Mark Warner, Congressman Donald McEachin, and Delegate Kathy Tran for a virtual Biden for President roundtable in Virginia on Joe Biden's plan to help America's economy Build Back Better and create the good-paying union jobs we need to deliver an equitable clean energy future. Joining McEachin and Tran will be President of the Virginia Building and Construction Trades Council Jason Parker and Virginia Climate Leader Harrison Wallace.
This online event is from 3 to 4 pm tomorrow.  Specific details will be sent to you after your register here.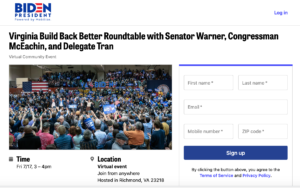 There is a lot to discuss here.
With Democratic control of the legislature, Virginia has now gone from being a laggard to real leader – especially for the South – when it comes to clean energy and climate issues. A path toward a 100% clean power system has become law. There are significant investment paths for energy efficiency. Virginia joined the Regional Greenhouse Gas Initiative (RGGI).  Virginia's first two offshore wind turbines have been installed and there is now a legal basis for these 12 megawatts to become 2.6 gigawatts (2,600 megawatts) of capacity by the middle of the decade. And there's a lot more. The measures passed by Democratic Delegates and Senators will create jobs, boost Virginia's economic competitiveness, foster a more resilient energy system, and reduce the Commonwealth's pollution with a wide range of benefits from reduced asthma rates to lowered climate impacts.
The plan that Vice President Biden laid out earlier this week calls for $2 trillion of investments in clean energy. Building on the progress that Virginia's elected Democratic leadership was able to establish in the legislative session and Governor Northam initiatives like using VW settlement money for electrification projects across the Commonwealth, Virginia will be well positioned to leverage (soon to be) President Biden's program to accelerate and expand what is already planned for Virginia. And, in the process, create even more jobs, boost the economy even more, have an ever more resilient energy system, and even more significantly reduce pollution impacts on Virginians' health and Virginia's environment.
There is far more to discuss than one hour can accommodate but this hour should be a good start for that discussion.
When Trump thinks climate, he thinks hoax.
When I think about climate, I think JOBS!
Vice President Joe Biden, 14 July 2020
Is it any surprise that the clean energy world is mobilizing to help elect Joe Biden, a Democratic-controlled Senate, and a larger Democratic Party majority in the House?