Advertisement

Thanks to Chaz Nuttycombe's CNalysis for this first look at the 2021 Virginia House of Delegates elections. Just keep in mind, as the introduction makes clear, that these are "very, very, very preliminary ratings," and that "Virginia may very well have to use its current House of Delegates map in 2021 if the US Census doesn't complete in time for the redistricting process." Also note that the analysis assumes Joe Biden will be elected president, and that the 2021 elections will be held under current district lines. And, "Obviously if either of these things does not happen, our ratings will change pretty drastically." With that, here are the ratings, along with a few of my thoughts.
"3 districts are Likely Republican, 4 districts are Lean Republican, 1 is Tilt Republican, 4 are Toss-Ups, 2 are Tilt Democrat, 8 are Lean Democrat, and 2 are Likely Democrat. The rest are currently not competitive in our view, though that of course could be subjected to change." [NOTE: The map doesn't show district numbers, but it has Democratic Delegates Roslyn Tyler, Josh Cole, Alex Askew, and Nancy Guy as Toss Ups; Democratic Delegates Wendy

Gooditis and Rodney Willett as Tilt Ds; Democratic Delegates Hala Ayala, Schuyler VanValkenberg, Lee Carter, Dan Helmer, Kelly Convirs Fowler, Lachresce Aird, Martha Mugler, and Elizabeth Guzman as Lean D; Democratic Delegates Mike

Mullin and Danica Roem as Likely Ds;

Republican Delegate Roxann Robinson as Tilt Rs; Republican Delegates Glenn Davis, Kirk Cox, Barry Knight and Rob Bloxom as Lean Rs; Republican Delegates Wilt, Coyner, and Batten as Likely Rs

]
"Currently, the chamber sits at Tilt Democrat. Democrats have a 58.8% chance of holding onto their majority in the chamber, Republicans have a 36.3% chance of winning a majority in the chamber, and the dreaded odds of a tied chamber sits at 4.9%." [NOTE: Given the assumptions made, namely that Joe Biden will be president and the 2021 Virginia House of Delegates elections will be run under current lines, I think this is a reasonable and very defensible outlook/analysis for being so early. At the minimum, it is an excellent starting point for discussion. One of the reasons I'd argue that Democrats' chances of holding the House of Delegates aren't even higher is because, with Trump out of office, almost everyone I talk to thinks there will be some reduction – the only real question being how much – in the "blue wave" Democratic intensity, enthusiasm levels we've seen since January 2017. Also, presumably, Republicans will be fired up by November 2021, assuming Democrats control Congress and the White House, and also with the high likelihood that Biden inherits a smouldering dumpster-fire disaster from Trump, including potentially very poor economic conditions, the continuing COVID-19 pandemic, and other crises which Biden will have to spend a good chunk, if not all, of his term having to fix/clean up. On the other hand, 2021 will also be a gubernatorial election year in Virginia, which means turnout will likely be high…including among Democrats, who generally tend to "drop off" the worst in the off/odd-year elections…so watch out in 2023?]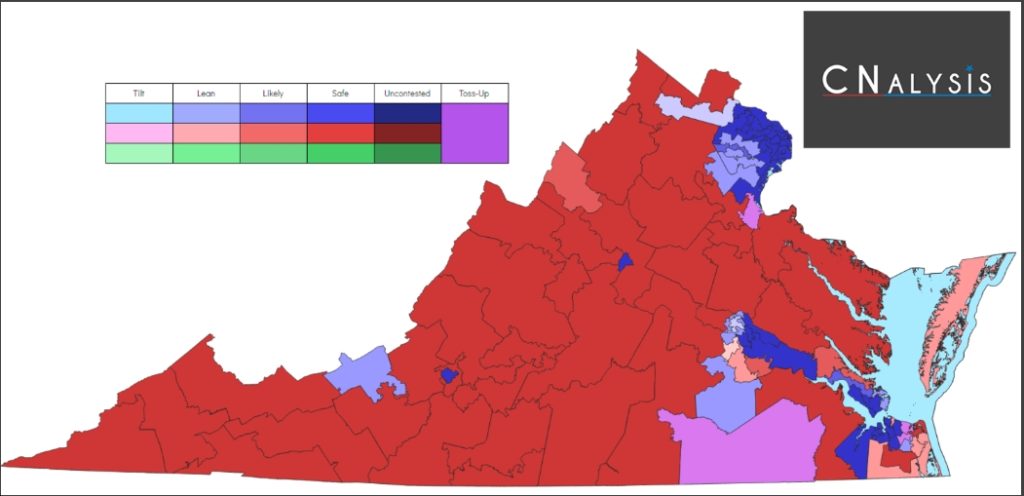 There's no paywall on Blue Virginia, and we definitely want to keep it that way! If you want to help support our work, you can donate here - thanks!
Also, you can
sign up for our weekly email list here
.