Advertisement

Former Virginia Delegate Christopher Peace is a Republican who represented HD97 (New Kent County and parts of Hanover County and King William County) from 2006 until January 2020, when he was defeated in a bitter GOP primary by Scott Wyatt, who ran at Peace from the far right. Just to be clear, Peace wasn't exactly a liberal; his Project Vote Smart scores show him getting an 81% score from the Family Foundation of Virginia, a 100% score from the National Federation of Independent Business – Virginia, a 100% score from the Virginia Citizens Defense League, etc.  But Wyatt, who defeated Peace for the nomination in June 2019, ran at Peace from his (far) right, particularly attacking him for having voted to – gasp! – expand Medicaid and bring home the billions of tax dollars Virginians were basically sending to other states. That's today's Virginia GOP, sad to say…a conservative Republican defeated for the audacity to vote in support of his constituents getting what they already paid for – health care!
Anyway, Wyatt's now in the Virginia House of Delegates, and he's also – as you can see below – active on Facebook, where he posted recently his opinion that Hanover County board members who voted to rename "Stonewall Jackson Middle School" and "Lee-Davis High School" "caved to the pressure of anarchists." "Anarchists," eh? As Peace responded, "anarchy" is "a state of disorder due to absence or nonrecognition of authority," and "Sitting authoritarian Delegate compares Hanover citizens & Americans who peacefully and successfully advocated for change to anarchists!" For good measure, Peace added:

"It is not 1860 no matter how much [Wyatt would] like it to be."
Wyatt "needs to apologize to constituents & to African Americans in Hanover whom he also 'represents'."
Wyatt will "have a hard time" doing that, of course, given his comments "celebrat[ing] the 200th birthday of President Davis."
So…any chance Peace might run again, either in a primary against Wyatt or as an independent candidate? Just a thought. 😉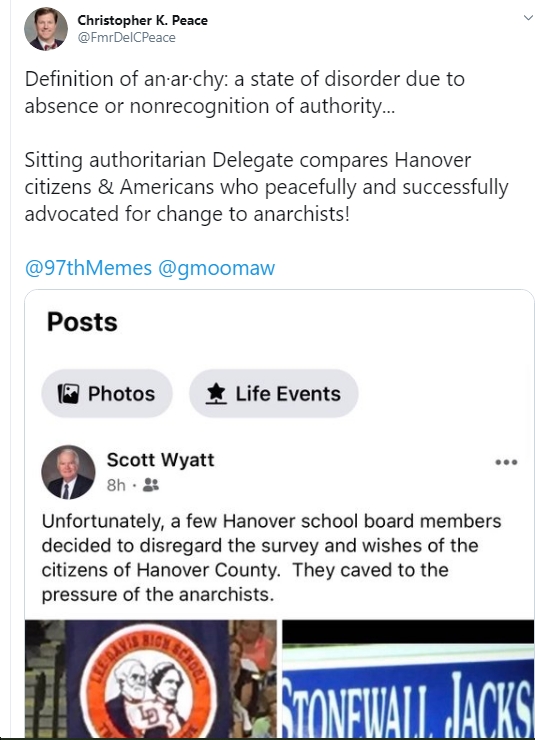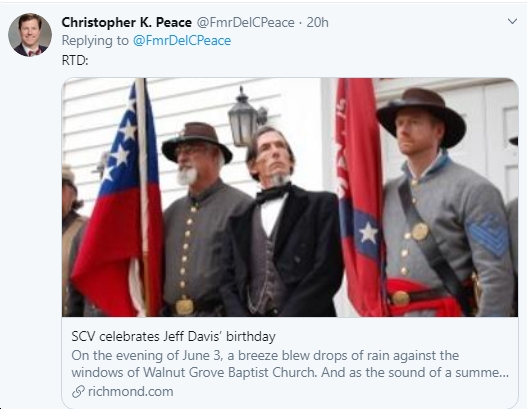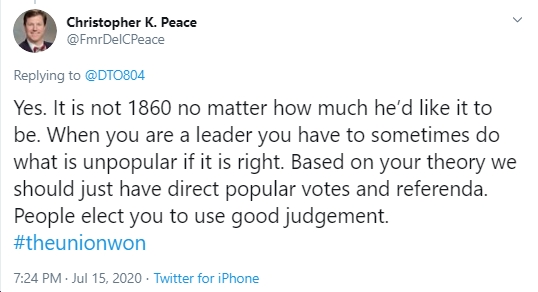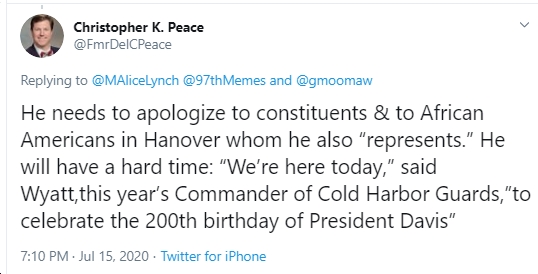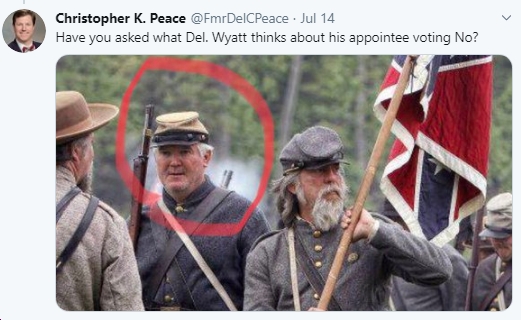 Also: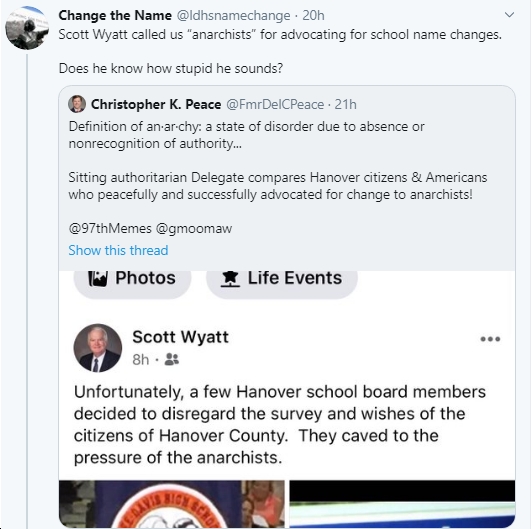 There's no paywall on Blue Virginia, and we definitely want to keep it that way! If you want to help support our work, you can donate here - thanks!
Also, you can
sign up for our weekly email list here
.