Interesting results from Public Policy Polling – a "B" rated pollster (D +0.3 points) by fivethirtyeight.com, showing Democrat Dr. Cameron Webb up 3 points (46%-43%) over far-right, ethically challenged, COVID-regulation-flouting Republican Bob Good in VA05. The poll also shows Trump beating Biden by 3 points (50%-47%) in VA05, a district Trump won by 14 points (55%-41%) in 2016. So that's a huge improvement for Democrats right there. Finally, Sen. Mark Warner leads Republican Daniel Gade by 1 point (48%-47%) in VA05. In sum, Webb is outperforming both Biden and Warner, albeit only by a few points…but those few points could be absolutely crucial!
P.S. Another recent poll in VA05 had Webb up 2 points (Global Strategy Group on October 14), so this poll isn't an "outlier" by any means. Also, see below for fivethirtyeight.com's forecasts ("Classic" and "Deluxe" models) for VA05…
UPDATE 4:05 pm – Just added 314 Action Fund's press release on this…see below.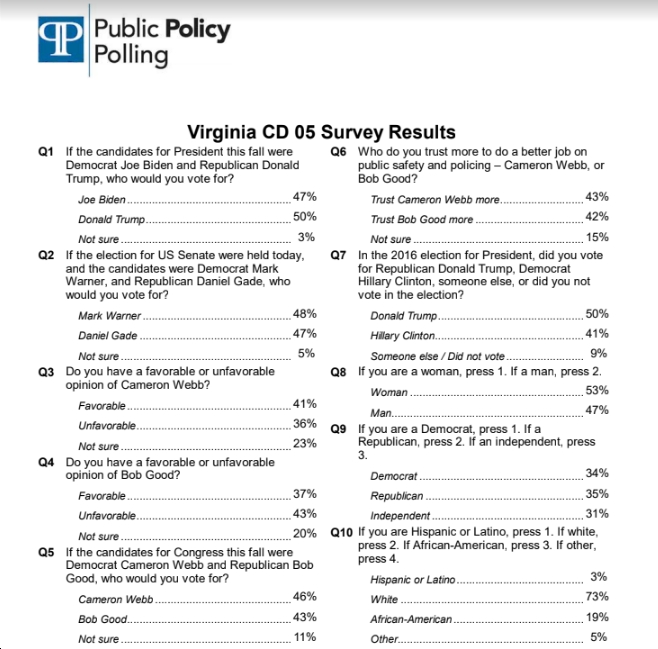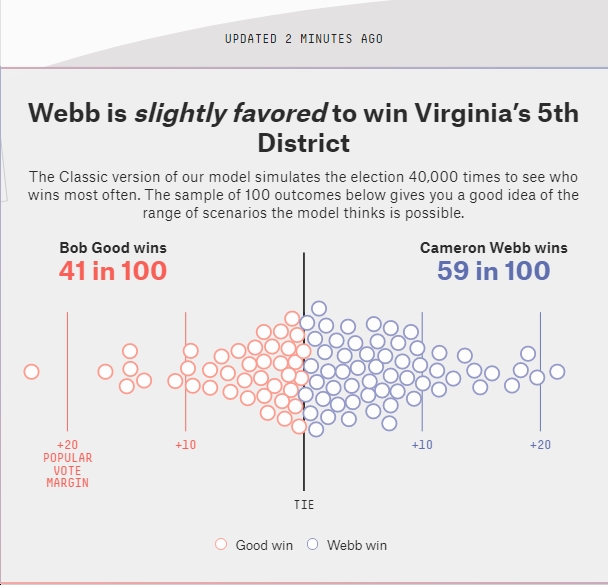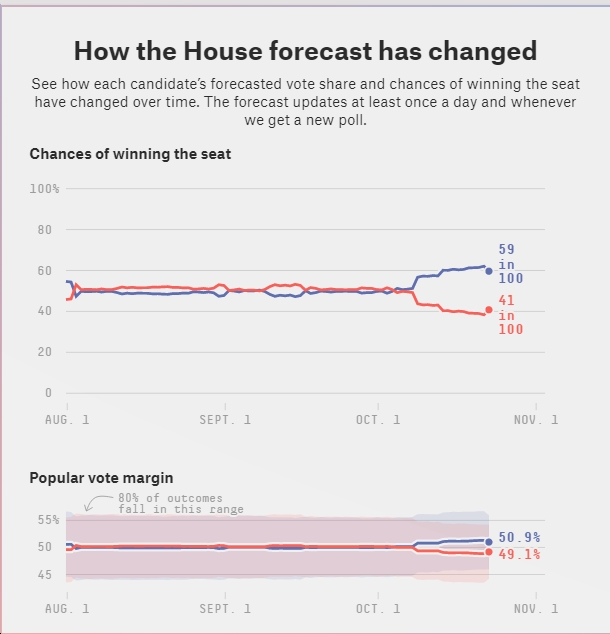 New Poll Shows Dr. Cameron Webb Maintaining Lead and Gaining Momentum in VA-05 Race
Physician and Former Obama, Trump Health Care Adviser Remains Ahead of Republican Opponent Days from Election
Philadelphia — Today, a new poll shows Dr. Cameron Webb leading Republican opponent Bob Good in the race for Virginia's fifth congressional district.
The poll, which was performed by Public Policy Polling on behalf of 314 Action Fund, shows Dr. Cameron Webb ahead of Bob Good 46% to 43% with a margin of error of 3.3%.
While President Donald Trump won the district by eleven percentage points in 2016, the poll shows Trump leading former Vice President Joe Biden by a narrower margin of 50% to 47%. Senator Mark Warner is shown leading Republican opponent Daniel Gade 48% to 47% in the district.
This is the third publicly released poll in a row showing Dr. Cameron Webb ahead of Bob Good as the campaign reaches its most final days.
The toplines can be viewed here.
In this critical race, 314 Action Fund will spend a total of $2.7 million in support of Webb, who would be the first black doctor elected to the U.S. House of Representatives. A practicing internal medicine physician, Dr. Webb continues to serve as a Hospitalist at UVA Health, where he has been directly involved in patient care amidst the COVID-19 response. Dr. Webb is also the Director of Health Policy and Equity at the University of Virginia's School of Medicine, where he both teaches and leads health policy research.
Dr. Webb previously served as a White House Fellow during the Obama and Trump administrations, contributing to the work of the White House Healthcare Team and My Brother's Keeper Initiative.
Bob Good has a long record of putting corporate special interests above the needs of vulnerable Americans. Good turned his back on working families, managing a predatory lending operation that was forced to pay back millions and opposed bipartisan funding for PPE for frontline health care workers during the coronavirus pandemic. Predatory lending operations like Bob Good's hurt veterans and buried them in debt.
Good also promises to cut Social Security, raise the retirement age, and limit benefits for older Virginians.
"From failing to report up to two million dollars in previously undisclosed assets to his anti-mask conspiracy theories on public health, it's no wonder that scam artist Bob Good has remained behind in the polls," said John Sweeney, spokesperson for 314 Action Fund. "Dr. Cameron Webb has built his campaign on a message of unity during divisive times, and his medical and policy expertise makes him uniquely qualified to lead the fight for affordable, high-quality health care. Dr. Webb will be the champion of facts and evidence-based policy making that Virginia's fifth congressional district deserves."
###
314 Action Fund is powered by a grassroots community of over two million people working to elect scientists, doctors, and STEM professionals who will use science and facts to address our most pressing issues like climate change and health care. In 2018, we played a pivotal role in flipping the U.S. House of Representatives and elected nine Democratic scientists to the House and Senate, as well as over 100 to key legislative districts. In 2020, 314 Action Fund will continue working to elect science leaders and defeat climate deniers in Congress and legislatures across the country.