See below for reactions by Virginia's Democratic U.S. Senators and U.S. Representatives to Trump's irresponsible decision to abruptly end negotiations with Democrats on a new COVID-19 relief package that's desperately needed by the American people. Who, of course, Trump doesn't "give a damn about," as Rep. Jennifer Wexton (D-VA10) correctly puts it. Also, as Sen. Mark Warner says, "Holding suffering Americans in need of assistance hostage in order to play tough guy games? The President clearly doesn't understand the gravity of this crisis." And as Sen. Tim Kaine says, "This is a colossal disservice to the American people who urgently need relief from the COVID-induced economic collapse…This isn't a game."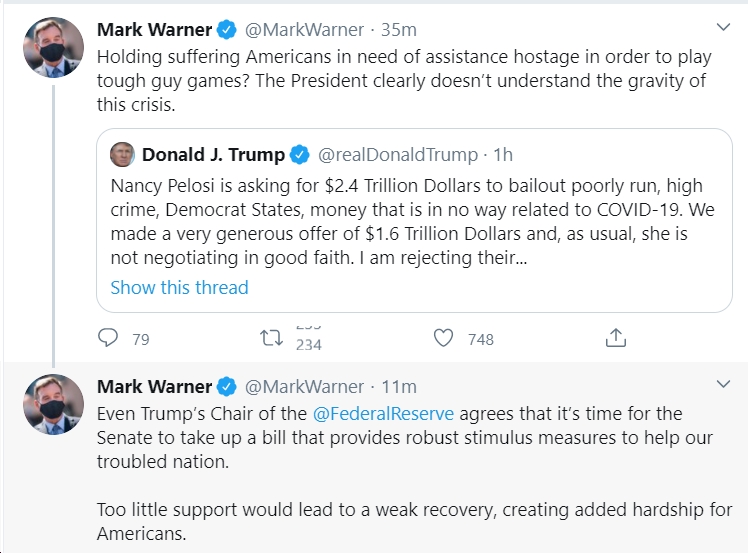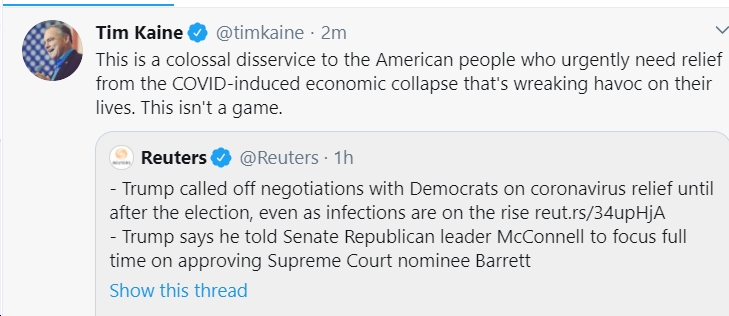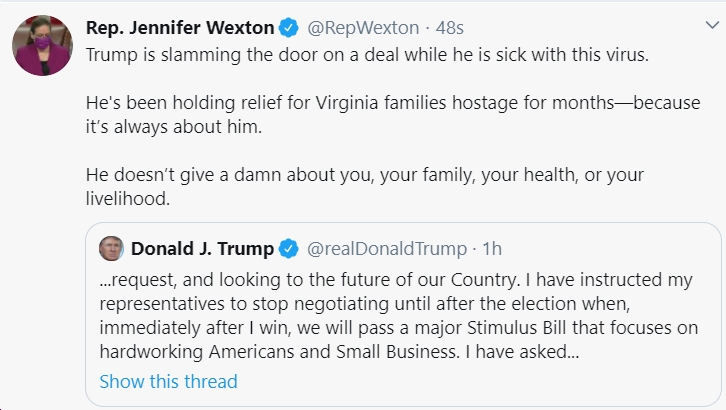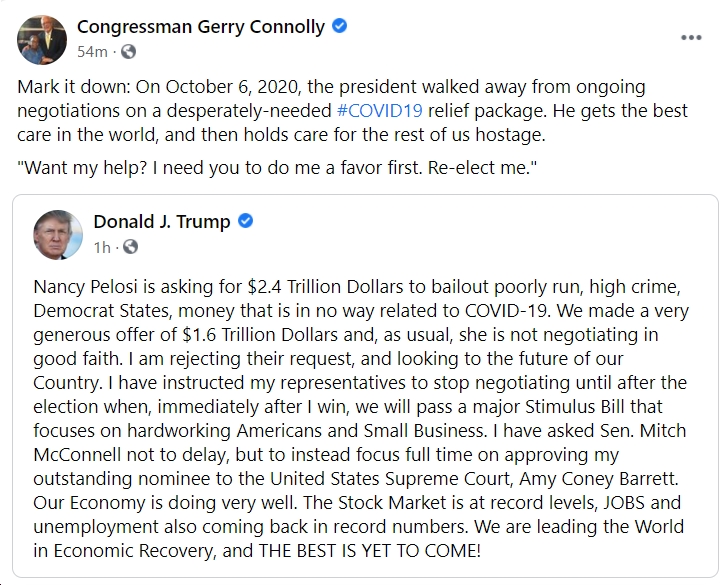 Spanberger Statement on President Trump Calling for Pause of Bipartisan COVID-19 Negotiations
WASHINGTON, D.C. – U.S. Representative Abigail Spanberger today released the following statement after President Trump signaled the end of bipartisan negotiations on COVID-19 relief until after the November general election.
"Our nation's response to COVID-19 is not a game, and as each day passes without progress on a bipartisan relief package, Americans are facing the increasing effects of hunger, bankruptcy, or the loss of a job. Just today, we heard from the Chairman of the Federal Reserve about the pressing need for additional action from Congress, or else risk further economic disaster. I've been vocal about the need for a bipartisan path forward on direct payments, unemployment assistance, and additional support for businesses — and the President throwing in the towel is not an acceptable option. The American people are tired of the political maneuvering and partisanship that has plagued Capitol Hill throughout the latter portion of the pandemic. Real livelihoods are on the line, and we can't stop fighting for the people we serve. Both Democrats and Republicans must recommit to good-faith negotiations."
Last week, Spanberger voted against the partisan Heroes Act 2.0  and called for leadership in both parties to come to an agreement on COVID-19 relief that can be approved by the U.S. Senate and be signed into law by President Trump. 
And last month, Spanberger joined her fellow Members of the Problem Solvers Caucus — comprised of 25 Democrats and 25 Republicans — to unveil the caucus' bipartisan "March to Common Ground" framework to help break the gridlock on the latest COVID-19 relief package. Click here to read the full framework.
***********
Erratic Trump Reversal On Stimulus Negotiations Imperils Economic Recovery
October 6, 2020 (Washington, D.C.) – Rep. Beyer, who serves as the top House member on Congress' Joint Economic Committee, issued the following statement after President Trump abruptly announced that he would end negotiations on a new economic stimulus package to support the economy and protect American jobs:
"President Trump's stunning reversal on stimulus negotiations could not have come at a worse time.
"Just as a bipartisan deal to support American families, boost the economy, and fight the pandemic seemed increasingly promising, the President made the bewildering decision to walk away from talks completely. His tweets justifying this erratic about-face misstated Democrats' compromise position, formalized in recently passed legislation, by hundreds of billions of dollars, showing he is either unaware of what is happening with negotiations or deliberately trying to mislead the country.
"The U.S. economy needs this deal, and last month's alarming jobs report shows how urgent that need is. Tens of millions of unemployed workers, millions of public sector jobs, and vast numbers of small businesses are on the edge of disaster. Senate Republicans behaved terribly in forcing them to wait for government assistance for months after we passed a robust Heroes Act in May. If they delay a new assistance package months longer, it will imperil the economic recovery.
"Walking away from talks means walking away from protecting schools, walking away from a strong pandemic response, and walking away from American families that need help now. It is hard to comprehend such an irrational, reckless, and destructive act."
President Trump's sudden exit from stimulus talks came hours after Fed Chair Jerome Powell warned that failure to pass another aid package could derail the economic recovery. Mass layoffs in airlines and other industries may proliferate without further government spending to support the economy, and an estimated 40 percent of restaurants are on the brink of closure.
House Democrats passed updated stimulus legislation last week with a topline of $2.2 trillion to boost the pandemic response, protect schools, fund and extend enhanced federal unemployment benefits, support small businesses, provide a new round of direct payments to American families, and strengthen the American economy.
Rep. Beyer serves as the Vice Chair and top Democrat on Congress' Joint Economic Committee, and is the author of the Worker Relief and Security Act, which would tie enhanced federal unemployment benefits to public health crisis declarations and economic conditions.