Looking at the largely final/unofficial numbers at the Virginia Department of Elections, here are a few things I found interesting and/or striking.
Joe Biden received 2,331,976 votes, far more than Clinton's 1,981,473 in 2016, also far more than Obama's 1,971,820 votes in 2012 and Obama's 1,959,532 votes in 2008.
Biden won the state by 9.3 points, which is higher than Clinton (+5 points) and Obama (+6 points in 2008, +4 points in 2012); also a bit higher than Ralph Northam's 8.9 point win in the 2017 governor's election. It seems like, far from turning back to red, as some Virginia Republicans believe might happen, if anything Virginia's getting "bluer" – at least while Trump's in the White House. We'll see what happens once he's outta there in 2021.
Sen. Mark Warner received 2,378,303, which is about 57k more vote than Biden got, winning by 11.4 points. That's a couple points better than Biden, and of course a huge improvement from the last time Warner ran  – in 2014 – when he barely eked out a victory over Ed Gillespie. Of course, 2014 was a year when Democrats did their usual thing of going to sleep other than in presidential elections. After the past four years of hell, we had better not do that EVER AGAIN.
Biden did the worst exactly where you'd expect – in bright "red" places such as far southwestern Virginia. For instance, Biden got just 15.7% of the vote in Scott County, 15.9% of the vote in Tazewell County, 16.0% in Buchanan County, 17.7% in Russell County, 18.5% in Craig County, 18.7% in Wise County, 18.9% in Grayson County, etc.
Biden did the best where you'd expect as well – in dark "blue" places in the cities, suburbs, etc. For instance, Biden got 87.7% in Petersburg, 82.9% in Charlottesville, 82.8% in Richmond City, 81.1% in Falls Church, 80.7% of the vote in Arlington County, 80.4% in Alexandria, 71.1% in Norfolk, 70.1% in Hampton, 69.6% in Williamsburg, 69.3% in Portsmouth, 69.9% in gigantic Fairfax County, 68.0% in Fairfax City, 66.2% in Fredericksburg, 65.6% in Albemarle County, 64.5% in Harrisonburg, 63.1% in Henrico County, etc.
In VA01, Democrat Qasim Rashid got 41.5% of the vote against Rep. Rob Wittman (R), winning only Prince William County (by about 6k votes) and Fredericksburg (by about 2.8k votes). Rashid only got 22.4% of the vote in New Kent County, 26.6% of the vote in Gloucester County, 26.6% in King William County, 27.0% in Mathews County, 28.9% of the vote in Fauquier County, 31.5% in Hanover County and 45.2% in Stafford County. We'll be writing more about this race in coming days, but for whatever reasons, Rashid ended up doing several points worse than Democrat Vangie Williams did in 2018, when she got 44.7% of the vote against Rep. Rob Wittman (R).
In VA02, Rep. Elaine Luria (D) won every jurisdiction except for York County (she got 45.6% there), Poquoson (she got 26.8%) and Accomack County (she got 44.3%). Luria racked up nice wins in Norfolk (54.3%-42.5%), Virginia Beach (51.6%-45.9%), Williamsburg (68.7%-28.8%), James City County (55.2%-44.2%) and Hampton (53.3%-43.1%).
In VA07, Rep. Abigail Spanberger (D) racked up her margins of victory in large Henrico County (+25k votes), Chesterfield County (+15k votes), while losing in the other jurisdictions, with the result that she appears to have ended up winning by about 5k votes.
In VA05, Dr. Cameron Webb (D) won huge in Albemarle County (+23k votes), also big in Charlottesville (+11.5k votes) and in Danville (+5k), with a tiny edge in Fluvanna County and also in Nelson County and Prince Edward County. Other than that, he lost, including big time in Pittsylvania County (-12k votes), Bedford County (-12k votes), Campbell County (-11k votes), Franklin County (-11k votes), Fauquier County (-5k votes), and Appomattox (-4k votes).
In VA10, Rep. Jennifer Wexton (D) got 56.4% overall, winning big in Loudoun County (+44k votes) and Fairfax County (+25k votes); narrowly winning Prince William County; and also winning Winchester, Manassas and Manassas Park. Wexton lost just Clarke County (by about 1.5k votes) and Frederick County (by 14k votes).
Amendment 1 won with 65.9% of the vote, losing only one jurisdiction (Arlington County), and winning big in both deep-"blue" areas like Charlottesville (73.8%), Albemarle County (73.1%) Henrico County (71.7%), Richmond (70.5%), Norfolk (69.5%), Petersburg (67.2%), Prince William County (62.2%), etc. and also in bright-"red" places like Russell County (71.8%) and Rockingham County (71.2%). In short, this amendment – despite its many flaws – was popular, and it passed by a 2:1 margin or more in wide swaths of Virginia.
Also, as I posted this morning:
VA05 stayed "red" on Tuesday night (Biden got 43.98%, Webb got 47.15%). Where did Dems win? Albemarle (Biden 65.6%, Webb 68.1%), Cville (Biden 82.9%, Webb 86.7%), Danville (Biden 60.2%, Webb 62.8%). So…Webb outperformed Biden in VA05 – there were some Trump/Webb voters – but not enough, unfortunately.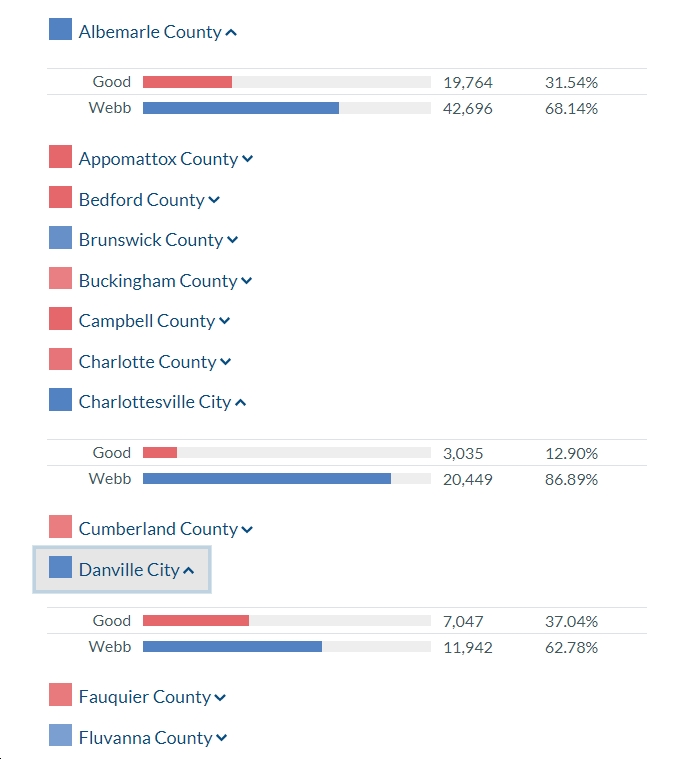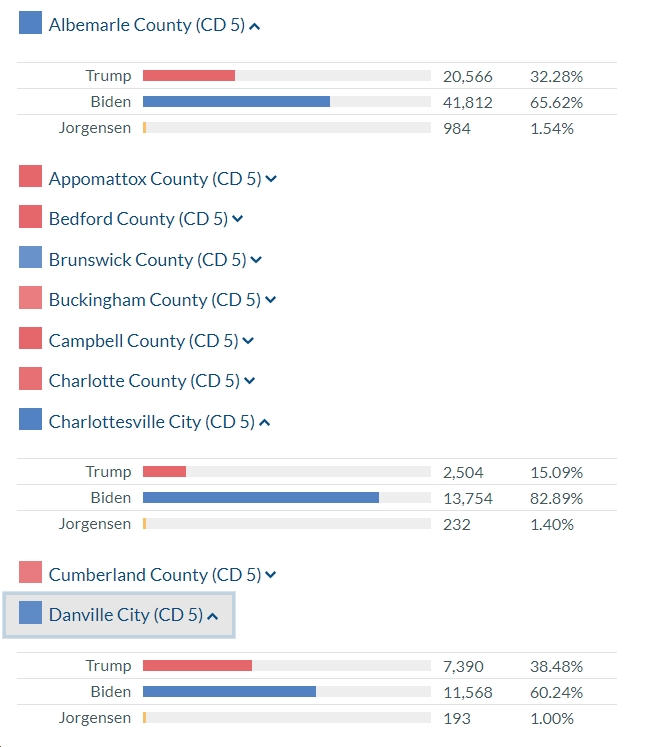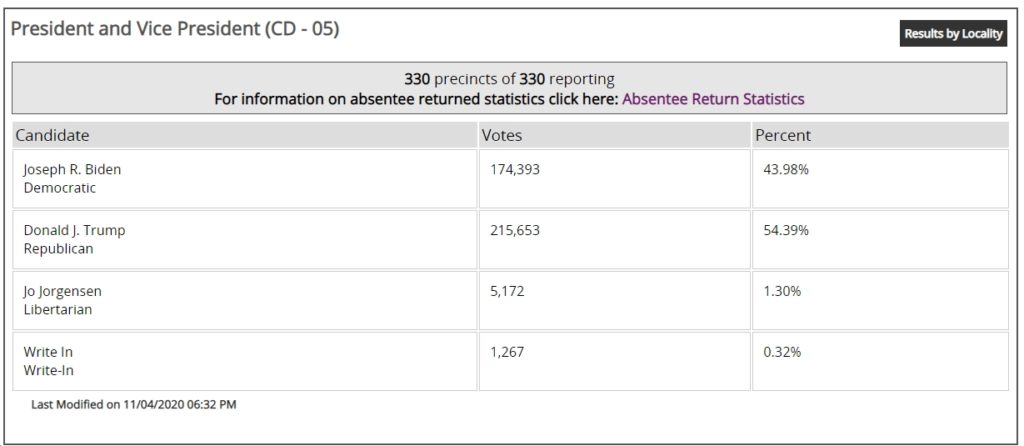 Spanberger very slightly out-performed Biden in Chesterfield County (82,151 to 81,739) and Henrico County (75,366 to 74,954). Both Chesterfield (54%-55%) and Henrico (59%-60%) went for Biden and Spanberger.