Is this what the post-election battle for the heart and soul of the Democratic Party going to look like?  First, Rep. Abigail Spanberger (D-VA07) – who barely won reelection against Republican Nick Freitas in a "purple" district – has some strong words for the House Dems' 2020 strategy and performance. Among other things, Spanberger says that "We lost races we shouldn't have lost," that "Defund police almost cost me my race," and "Don't say socialism ever again."  In response, Virginia Del. Lee Carter (D), who describes himself as a socialist, responded (see below) harshly, ripping Spanberger:
"These ghouls absolutely always think the solution to their problems is "purge the left, move further right." They never – NEVER – think that people mistrust them because of all the things they agree with Trump on. And for Spanberger, that's a lot of things."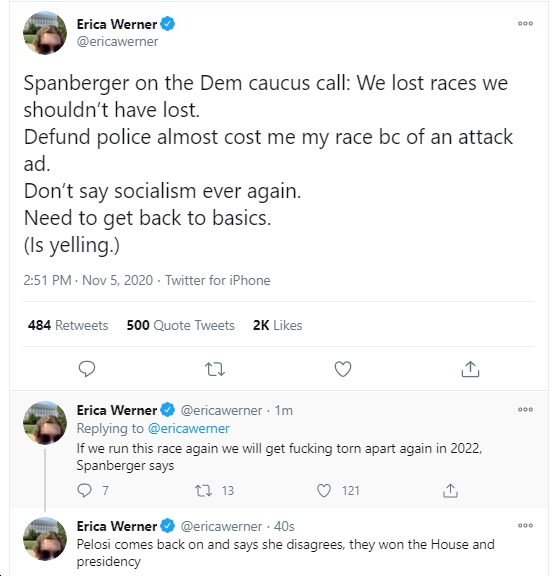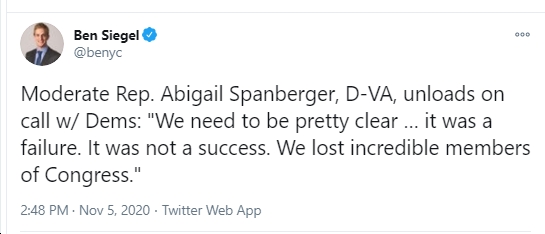 Personally, as a strong Democrat and progressive pragmatist, I have mixed feelings here. On the one hand, although of course I'm frustrated that Democrats didn't do better for U.S. House and Senate this election, not exactly sure what Spanberger's even referring to, as almost no Democrats – certainly no leading ones in the party – ever proposed that we "defund police." To the contrary, almost every Democrat, when asked, said they *opposed* doing that.  Also, I'm not sure what Spanberger is saying Democrats should have done exactly to win races such as VA05, but I'd certainly be interested to hear her thoughts. For instance, does she agree with Rachel Bitecofer's "tweetstorm" yesterday?  I definitely do. As for saying "socialism"; again, which leading Democrats ever talked about wanting "socialism?" I can't think of any. Certainly not Joe Biden or Kamala Harris (or Sen. Mark Warner, Sen. Tim Kaine, Sen. Chuck Schumer, Speaker Nancy Pelosi, etc, etc.). So I'm mostly just baffled at what Spanberger's talking about here.
As for Del. Carter, I definitely don't agree that Spanberger is a "ghoul"; that's…uh, just a wee bit harsh and quite a bit over the top. But yes, Spanberger definitely has been a relatively conservative Democrat in Congress. For instance, as this article points out, Spanberger kept her promise "not to vote for Nancy Pelosi (D-Calif.) as House speaker." She also criticized House Democrats' COVID relief bill in September and opposed the "HEROES Act" last spring. In general, Spanberger talks a lot about being in the middle, "moderate," bipartisanship, "reaching across the aisle," working with Republicans, etc, etc. So her rhetoric is definitely not going to be something the left of the Democratic Party, let alone a self-described socialist, is going to appreciate. As for Spanberger's voting record, according to Progressive Punch, she scores as one of the least-progressive Democratic members of the U.S. House. The question is whether all of this helped Spanberger got reelected. There's an argument to be made for both her and Rep. Elaine Luria, who is similar in many ways to Spanberger, as they both did win reelection. But clearly, the "left" of the party is never going to agree with any of this, let alone appreciate it. And personally, I'm highly skeptical that there are many Republicans who are going to vote for a Democrat these days, no matter how "moderate" they sound.
Bottom line: Now that the all-out effort to get rid of Trump is ending, it would not at all be surprising to see Democrats start fighting amongst themselves over the future direction of the party. That's perfectly fine, IMHO, and actually important, but we also have to be careful not to tear ourselves apart – personally, I could really do without the "ghouls"-style rhetoric – because the only ones who will gain from that are increasingly far-right Republicans…
UPDATE: Self-described socialist Del. Lee Carter responds, calling Spanberger a "ghoul"